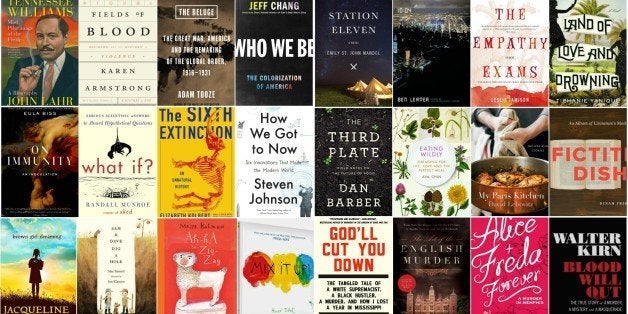 The holidays are inching ever closer, and you still haven't finished your gift shopping! (Don't lie; we can see you.) Books make the perfect gift in many ways, most practically in that you can enter a Barnes & Noble and leave with your entire shopping list completed within an hour, if you really try. There's a book for nearly everyone, and until the local bookstore closes on Christmas Eve, it's never too late to find the perfect one to put under the tree for your aunt/brother/sister's boyfriend of three months who is staying for the holidays for some reason.
Of course, books can be a risky gift, as we've noted in the past -- for a prolific reader, the concern that the giftee may already have the book looms large; for the reading-averse, the carefully chosen book may languish forgotten under their bed forever. But books can be one of the most thoughtful and thought-provoking presents, as well, so we're always in favor of taking that risk. Giving a book is a way of connecting with your loved one's inner life, showing interest in their deepest interests and possibly even starting a conversation with him or her.
There were an incredible number of amazing books released this year, many of which would make ideal gifts. But if you're not sure what to bestow upon your nearest and dearest, we've compiled a helpful guide. Here are 32 books that will make excellent gifts for anyone on your shopping list:
For Literary Nerds



Station Eleven by Emily St. John Mandel: This dystopian tale of a post-apocalyptic society follows a ragtag band of Shakespearean performers; it should appeal to both sci-fi lovers, literary fiction readers, and everyone who loves a good story.
10:04 by Ben Lerner: A poetically written, meditative novel, 10:04 is perfect for the language-lover or English major on your list.
The Empathy Exams by Leslie Jamison: These powerful, eloquent essays on pain, empathy, and how we relate to one another will satisfy any lover of longform journalism and literary nonfiction.
Land of Love And Drowning by Tiphanie Yanique: Set in the Virgin Islands, this novel blends magical realism and all-too-real issues of race and colonialism to make for a captivating yet substantive read -- and with a beachy atmosphere that will warm your recipient in the cold winter months.
For History Buffs



Tennessee Williams: Mad Pilgrimage of the Flesh by John Lahr: A bold new book on the legendary playwright that the biography-lover in your family shouldn't miss.
Fields of Blood: Religion and the History of Violence by Karen Armstrong: A compelling examination of the true forces underlying religious violence, perfect for anyone who's fascinated by religious history.
The Deluge: The Great War and the Remaking of Global Order 1916-1931 by Adam Tooze: The centennial of WWI is bringing with it many great books about the War to End All Wars, and Tooze's is one of the greatest. For your favorite war buff.
Who We Be: The Colorization of America by Jeff Chang: A more recent history and ethnography, Who We Be vibrantly depicts and discusses America's public grappling with race and multiculturalism. A must for any fan of postwar history or identity studies.
For Science Lovers



On Immunity: An Inoculation by Eula Biss: This thoughtful book blends personal reflection and empathy with scientific discussion for a readable and thorough take on immunization for the health maven on your list.
What If?: Serious Scientific Answers to Absurd Hypothetical Questions by Randall Munroe: Fans of webcomic xkcd or anyone who loves hilarious (but accurate) pop science will appreciate this book from xkcd's creator.
The Sixth Extinction: An Unnatural History by Elizabeth Kolbert: The New Yorker writer masterfully takes on the current wave of extinction due to manmade global warming, and extinction as a whole. For your family's environmentalist.
How We Got to Now: Six Innovations That Made the Modern World by Steven Johnson: This fascinating look at how modern life came to be was accompanied by a PBS series starring the author, but it's also readable and engrossing enough for the somewhat reading-averse pop-science fan on your list.
For True-Crime Enthusiasts



God'll Cut You Down: The Tangled Tale of a White Supremacist, a Black Hustler, a Murder, and How I Lost a Year in Mississippi by John Safran: Safan unravels the baffling case of a white supremacist killed by a young black man in Mississippi, in a surprisingly funny and profound book that takes on race, sexuality, and much more. For the fan of In Cold Blood.
The Art of the English Murder: From Jack the Ripper and Sherlock Holmes to Agatha Christie and Alfred Hitchcock by Lucy Worsley: This compendium traces the English obsession with murder and the rise of true-crime writing and crime fiction, a perfect primer for the Agatha Christie fan.
Alice + Freda Forever: A Murder in Memphis by Alexis Coe: A bizarre murder -- a woman planned to pose as a man to marry another woman, then murdered the other woman after their ruse was discovered -- comes to life in Coe's capable hands. For fans of historical true crime and women-centric nonfiction.
Blood Will Out: The True Story of a Murder, a Mystery, and a Masquerade by Walter Kirn: A self-reflective take on the genre, Blood Will Out examines how Kirn himself was deceived into carrying on a long friendship with a grifter and murderer who posed as a Rockefeller. It's perfect for the more introspective true-crime reader.
For Foodies



The Third Plate: Field Notes on the Future of Food by Dan Barber: Chef Dan Barber's manifesto on the need for sustainability in agriculture and for responsible food consumption will appeal to your locavore and eco-conscious loved ones.
Eating Wildly: Foraging for Life, Love and the Perfect Meal by Ava Chin: This lovely memoir infuses Chin's meditations on urban foraging with personal narrative, creating a food-themed story of inner growth any foodie could relate to.
My Paris Kitchen: Recipes and Stories by David Lebovitz: When it comes to cookbooks, you can't go wrong here; this beautiful book contains scrumptious recipes as well as charming stories of Paris, ideal for your friend who actually cooks.
Fictitious Dishes: An Album of Literature's Most Memorable Meals by Dinah Fried: This art project recreates famous meals from literature in the most photogenic way possible -- it's great for that family member who's constantly pinning food porn.
For Art Geeks



Windows on the World: Fifty Writers, Fifty Views by Matteo Pericoli: Pictures don't do justice to how lovely this volume is, and the line drawings inside are no exception. Perfect for architecture nerds.
Leonardo's Brain: Understanding da Vinci's Creative Genius by Leonard Shlain: For the art history fan, this deep dive into Leonardo da Vinci's creative process is a necessary and fascinating read.
Lena Finkle's Magic Barrel: A Graphic Novel by Anya Ulinich: For the narrative art lover, this gorgeously drawn graphic novel is the best of both worlds. The story is funny, wise and cleverly expressed, and the art is compelling.
The Thing The Book: A Monument to the Book as Object edited by Jonn Herschend and Will Rogan: For art geeks who are also book geeks, this is the greatest coffee table book ever, a reminder that books are tangible objects with design components that are frequently beautiful. A number of artists and authors collaborated on this amazing book.
For Y.A. Fans



We Were Liars by E. Lockhart: A dark, suspenseful novel about family and friendship, it's brilliantly written and a must-read for fans of Y.A. suspense, or Y.A. in general.
Grasshopper Jungle by Andrew Smith: A comic take on the sci-fi dystopia, this book is perfect for the teen on your list who prefers rude humor, adventure and giant insects.
Adam by Ariel Schrag: This intense coming-of-age novel about a boy who poses as trans to pursue a relationship with a lesbian may not be a Y.A. book, but it's a compelling read for mature teens and adults alike.
This One Summer by Mariko Tamaki, illustrated by Jillian Tamaki: Y.A. and graphic novel fans unite! This beautiful book is a must for the person on your list who loves both.
For Kids



Brown Girl Dreaming by Jacqueline Woodson: A memoir in verse, Woodson's book explores her own childhood and how it was affected by race. For any middle-grade reader, especially one with an interest in poetry or personal history.
Sam and Dave Dig a Hole by Mac Barnett, illustrated by Jon Klassen: A wryly funny picture book about two boys having an adventure together. What more needs to be said?
Ah-Ha To Zig-Zag by Maira Kalman: Kalman's stunning artwork illuminates this charming alphabet book, a keepsake for any youngster.
Mix It Up! by Hervé Tullet: For the pre-verbal set, Tullet's book uses joyful splotches to illustrate how color works with an almost interactive feel.
Popular in the Community