 The theatrical year in Chicago has ended in full gallop with two highly anticipated shows receiving full-scale, top-notch productions, playing through the new year.
War Horse, the breathtaking international hit that took London and Broadway by storm, and the Broadway blockbuster The Book of Mormon, which is now bursting into Chicago with a sure-fire Chicago resident production, are both must-see productions. But for completely different reasons.

Adapted by Nick Stafford from the Michael Morpurgo's young adult novel, War Horse was originally produced by the National Theatre of Great Britain in 2007 before moving to its Tony-winning hit run in New York's Lincoln Center. And, quite simply, it's the reason theatre exists. This epic-yet-straightforward tale of a boy and his horse who are separated and united by a war (WWI, to be exact) is told with such craft, such magnificent theatrically, it's all you can do to sit and marvel.
The title horse is "Joey," and this great, grand beast is brought to life through puppetry -- puppetry unlike anything I've seen. Handspring Puppet Company has created a majestic creature that teems with inner life. There's no stretch of the imagination in understanding why Albert (Andrew Veenstra) has fallen in deep love with this creature.
Yes, war is ugly. But through Joey, we see the humanity and suffering that cuts through enemy lines. And, I guarantee, you'll get bleary-eyed in the final, heart-pounding moments.
Speaking of bleary-eyed, you might feel that way after seeing the ticket prices for The Book of Mormon. Now that this Chicago engagement is (I'm told) sold out through March, eager patrons are turning to scalpers for a premium.
Combined that with the fact that it arrives with so much hype, I wonder why the producers even agreed to have a press night. The show, and its South Park creators, sells itself. So, naturally, I entered the Bank of America Theatre with lofty expectations.
What surprised me is that this isn't some merely sophomoric, Spamalot-esque send-up on a topic that's an easy punching bag (magic underwear, anyone?). This is actually a solidly constructed musical of the traditional sense, directed and choreographed with great flair and heart by Casey Nicholaw. While the show tends to be a bit too self-referential for my tastes, there are some truly inspired moments, most notably a shocking second-act send up of "The Small House of Uncle Thomas" scene from The King and I.
As overachiever Mormon Elder Price, Nic Rouleau beams with wholesomeness and misdirected drive to do good. And as outcast Mormon Elder Cunningham, the immensely likeable (and full-voiced) Ben Platt finds the endearing in the awkward. When the two are pared to serve their two-year mission in Uganda, they learn that creating Mormon converts in gritty, unruly East Africa requires more than a toothy smile and a pristinely pressed short sleeve button down.
So, does Mormon live up to the hype? Most assuredly, yes. It's fun, funny and smart. And more than a touch tasteless. Though, I hesitate to think it's the second coming.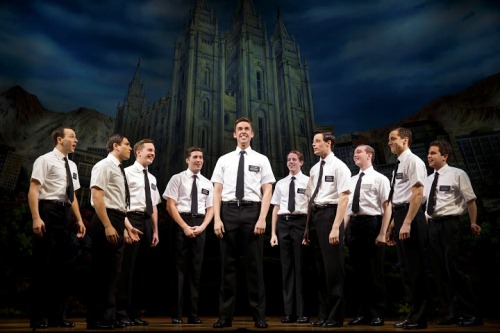 The Chicago cast of The Book of Mormon
"War Horse" plays through Jan. 5 at the Cadillac Palace Theatre. More info here.
"The Book of Mormon" is now playing at the Bank of America Theatre. More info here.
Related
Popular in the Community