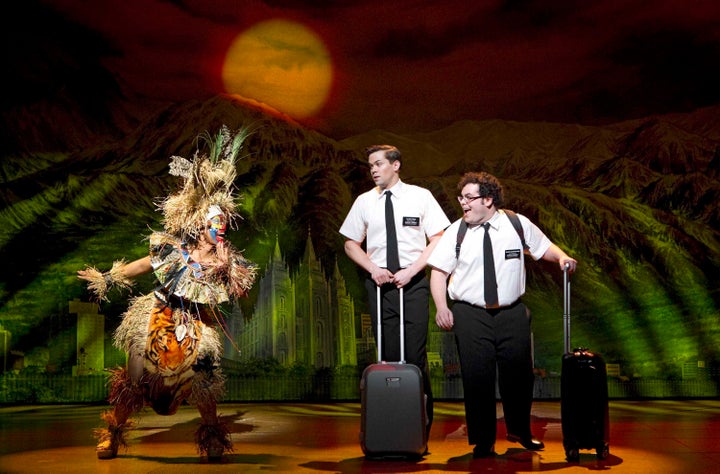 The Book of Mormon won nine Tony Awards earlier in the week including best musical, best director, and others.
The satiric musical was a Broadway debut for Trey Parker and Matt Stone, the famed creators of Comedy Central's South Park. Parker and Stone met at the University of Colorado at Boulder in the early 90's and have been wrecking hilarious havoc ever since.
UPDATE:
Trey Parker and Matt Stone appeared on The Daily Show with Jon Stewart Thursday night to discuss their winnings at the Tony Awards, and some of the attendees.
"Why are Bono and The Edge here? They don't have a show! We're the snooty Broadway people now. What are those rapscallions doing here? Aren't they rockers?" Parker said.
"For the South Park movie, I lost out to Phil Collins. (I remember thinking), 'If I lose this to Bono, I'd be so bummed right now," laughed Parker.
Other plays that were up for a Tony included a first World War story of British puppetry called War Horse, and the early story of AIDS in New York, The Normal Heart.
At the top of the heap was "Mormon," which has taken Broadway by storm this season. It captured nine awards, including best musical, for its offensive yet good-natured look at two missionaries who arrive in Uganda and get way more than they bargained for, including gun-toting warlords, whole villages infected with HIV and a running gag about maggots in a man's scrotum.
About two Mormon missionaries who find more than they bargain for in Uganda, the musical was written by Parker, Stone, and Robert Lopez, co-creator of the equally irreverent Tony Award-winning musical "Avenue Q."
Collecting the best musical prize, Parker said he'd be remiss if he didn't thank his late book co-writer - Joseph Smith, the founder of the Mormon church.
"You did it, Joseph! You got the Tony!" Parker said, looking skyward.
It beat out "Catch Me If You Can," "The Scottsboro Boys" and "Sister Act."

Related
Popular in the Community