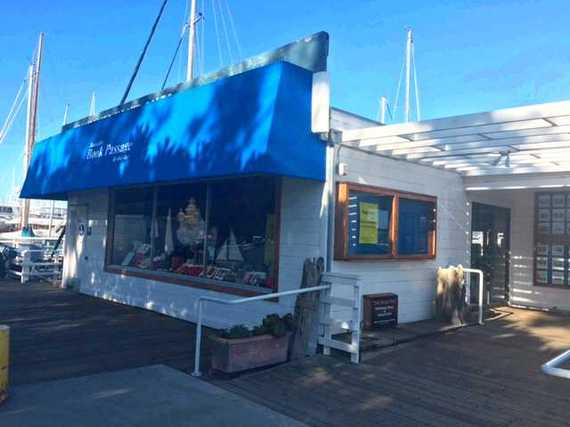 In these strange and often scary (but rebellious!) times, I'm sure I'm not the only one finding hopeful signs in whatever I can: a new baby, a sunny day, the fact that books by Rep. John Lewis, George Orwell, Sinclair Lewis, and, most recently, the long-departed Frederick Douglass are flying off the shelves (a small upside to having the country's least-literate president in office). And speaking of books, the literary website Lithub.com (highly recommended!), taking note of "the growing number of regularly scheduled book events across the U.S.," just introduced a bimonthly column about community-based reading series. "Pages may be written in solitude, but the mingling and exchange of ideas at literary gatherings can be revitalizing for writers and lit enthusiasts, especially for those living in isolated areas outside cultural hubs."
Here in the Bay Area, of course, we are far from isolated, part of a vast cultural hub. A major hub within that hub is my local bookstore, Book Passage, which for decades has been offering readings, classes, book groups, weekend conferences for mystery, travel, children's picture book and YA authors, and other literary gatherings. The main store, in Corte Madera (Marin County), has barely enough space for all these activities, which, on top of everything else, include a Path to Publishing program for new or would-be authors. I should note that I am a part of that program, have taught classes in the store, and lead a long-running monthly book group there called Meet the Author.
One student, explaining that she would be a bit late each time because she'd be coming straight from another class, told me, "This store is my social life." Book Passage is where people instinctively gather after local or national traumas, from 9/11 to political events last November. We all know the store's owners, Elaine and Bill Petrocelli, because we see them in the store all the time. Sometimes they introduce and even interview the authors who flock here for readings almost every night of the week, on many afternoons and most weekends. (Elaine will interview Min Jin Lee, author of the well-received novel Pachinko, in Corte Madera on February 16.) Thirteen years ago, they opened a second, much smaller Book Passage in San Francisco's Ferry Building.
And now--here comes the hopeful and joyous part--the Petrocellis have just opened a third store, in Sausalito, not far from the Sausalito ferry and the tourist haunts on Bridgeway. It's another cozy book nook, whose windows offer wonderful views of the harbor. The grand opening party was last week, on a rainy Saturday afternoon, and you could barely get into the store. The place was crammed with both friends of Book Passage and denizens of Sausalito, who seemed utterly delighted--after cutting the official ribbon, Sausalito Mayor Ray Withy even said something like "You're not a real community if you don't have a bookstore."
Book Passage by the Bay, 100 Bay St., Sausalito, 415.339.1300, bookpassage.com.
Photograph courtesy of oursausalito.com.
Popular in the Community