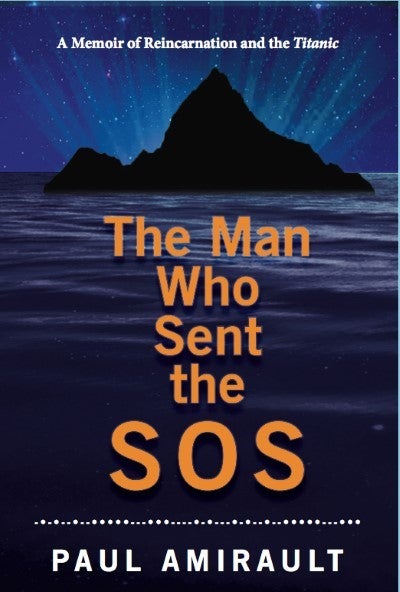 An Ingenious Book Promotion Model
Book promotion brilliance is my phrase for great marketing ideas that I sometimes come across. Often, my encounter with these unexpectedly fresh, new ideas hits me suddenly and powerfully. I stumbled across one such brilliant book publicity example this morning thanks to a new indie author and self-publisher.
Well, I say that I stumbled across a brilliant book promotion example. Actually, I was handed a great example of book publicity by a forever (and ever and ever) friend, Paul Amirault. I'll tell you more about the forever and ever and ever part later.
Paul Amirault's Memoir of Reincarnation and the Titanic
Paul Amirault is a first-time author and self-publisher and an independent TV producer who, after 12 years, wrote -- and is most of the way through the process of self-publishing -- his first book. It's a memoir of reincarnation, past-life regression, and the Titanic that is called The Man Who Sent the SOS. Paul decided to use the POD method of book publishing, for practical reasons, and he's quickly become an expert on the art and science of working with CreateSpace and IngramSpark.
Paul Amirault was born to learn. He is a professional. He is creative and intuitive, and he is very good at book promotion already.
Book Marketing for an Indie Author and Self Publisher
He quickly understood that book marketing was a key component of an indie author and self-publisher's business, and he now knows as much about book promotion as many of those who have worked in the book publishing community for a decade. Besides that, Paul has great book marketing ideas of his own, and this morning, he shared with me one of the coolest book promotion ideas I've come across in a long, long time.
CreateSpace alerted him that it had sent his proof copies of The Man Who Sent the SOS. Paul knew the book samples would arrive on Tuesday, or Wednesday, at the latest.
A Book Promotion Opportunity When the Advance Reader Copies Arrive
He also knew that a man can only lose his indie publishing virginity once. That is, he'd only get one shot at opening up the package that contained the advance reader copies of the first book he'd ever self published. As an author and publisher, he saw this as a book promotion opportunity. And, as a TV producer, he was ready to capture the euphoria of the experience on a video.
I'm just tickled by Paul's book promotion idea and the way he executed it. So, to paraphrase the narrator of that classic courtroom reality television show, "The People's Court": What you're about to see is real. The participant is not an actor. He is the actual author who has written, and nearly -- nearly, because he hasn't hit that "accept" button just yet! -- published his first book.
Book Promotion Via The Great Unboxing Video
In the Great Unboxing Video, you'll see a first-time author's excitement as he opens the CreateSpace package and pulls out the two proofs of his book. In real time, we watch Paul Amirault's reaction to seeing, for the first time, the results of his labor of love: the first two, hot-of-the-press copies of The Man Who Sent the SOS.
Like any proud parent who has just created a miracle, Paul looks carefully at all of the book's parts. He first sees the back cover, which is perfect. He then slowly, hopefully, and anxiously turns it over to gaze at the front cover (which he conceptualized before he turned it over to his book cover designer -- Shealyn Thomson -- who, as you'll see, rendered it beautifully). Finally, he tenderly turns the pages, letting the truth sink into every cell of his body and every morsel of his being: his first book has become a tangible thing of beauty. It is physically perfect.
Paul Amirault's first book is a reality. The indie author's dream has manifested itself.
Gratifying Book Promotion Results Within Hours
The moment when Paul Amirault holds The Man Who Sent the SOS in his hands for the first time is an interlude that he shares via this video. And now Paul is sharing the video across his social network platforms. So far, the results have been gratifying to watch.
Within 7 hours of sharing his The Great Unboxing Video, Paul's book promotion video had received 586 views, and 2 shares, via Facebook. As of this writing, Paul Amirault has just completed a blog on his web site that includes a link to YouTube where he has uploaded his book promotion video for The Man Who Sent the SOS.
I'm so pleased, and I feel incredibly honored, to be the book publicist who has the privilege to watch Paul Amirault use his book marketing instincts to let people know about his self-published memoir — the memoir recounts Paul's journey as he uses past-life regressions to explore a past life that ends with a voyage aboard the Titanic.
This is an important project because of the messages of hope and soul survival it shares, and I know how fortunate I am to be a part of it.
Reincarnation. Past lives. Titanic. This is heady stuff, and it's been exhilarating to watch The Man Who Sent the SOS evolve from an idea Paul Amirault conceived to a set of proofs he unboxed, in front of the world, on video.
I know, on the basis of having read an advanced copy of the book, that Paul Amirault's soul has incarnated before. That leads me to believe that, potentially, mine has, too.
In this lifetime, I have the privilege of accompanying Paul on a book marketing adventure as we explore additional book promotion opportunities together. And — not to go all New Age on you, but — I sense that Paul and I may have shared journeys together in other lifetimes, too. Our friendship is just too poignant to have begun only when we met each other during our college years. Paul Amirault and I must have shared experiences that involved learning, creating, helping, and growing -- many times, in many places, and during many lifetimes.
Calling all HuffPost superfans!
Sign up for membership to become a founding member and help shape HuffPost's next chapter
This post was published on the now-closed HuffPost Contributor platform. Contributors control their own work and posted freely to our site. If you need to flag this entry as abusive,
send us an email
.