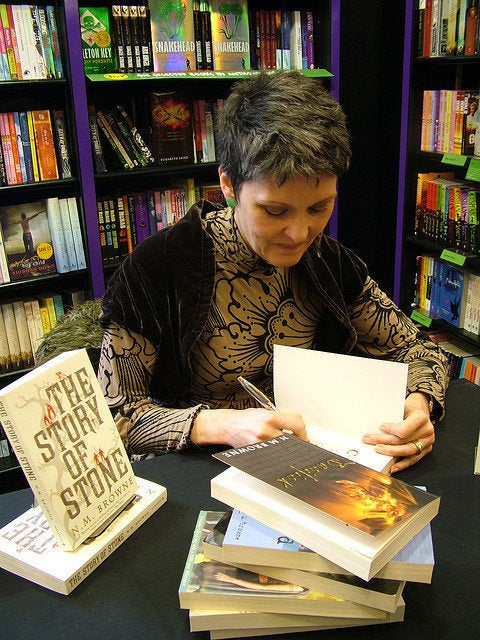 I just saw a documentary, To Write and Keep Kind, a PBS documentary on the life and writing of Raymond Carver. It's part of the two-disc Criterion Collection version of Robert Altman's movie Short CutsF, based on Raymond Carver's short stories. I couldn't help but think at the end of the documentary, If Carver had to start out today, would he be tweeting and blogging and posting on Goodreads?
Thinking that made me realize today's writer needs to wear two hats: those of the artist and of the marketer -- Carver and K-tel.
Carver broke new ground in that he wasn't part of the East Coast writing and publishing establishment. His stories of the Pacific Northwest found many fans for their honest portrayal of working -- and drinking -- men and women eking through a hardscrabble life. His short stories "Cathedral" and "A Small Good Thing," are two of my favorites.
What Carver did was extraordinary -- no writer then or now has had an easy path -- but the rules were clearer when Carver was writing and publishing in the sixties through the eighties. He published short stories and poetry in small journals and moved up to magazines such as Esquire and the New Yorker. His first collection of short fiction, Will You Please Be Quiet, Please?, came out in 1977. He never wrote a novel. These days, with the publishing industry in turmoil and essentially looking only to publish big hits by writers with "platforms," writers have more on their shoulders.
One truth hasn't changed. Writing well takes a lot of work, often years to hone. It's the first hat you wear. It also means finding books and stories you love and learning from them. For some people, it also means going to school and studying the subject. For me, it's also meant being brave -- of being honest enough to tell the truths of my life, small moments that speak volumes. These include doubts, desires, dire realizations as well as the hopes, humor, and the absurdity I see around me.
I happen to love Carver's work and not just because reviewers tend to compare my short fiction to his. I don't emulate his unique short stories, but I do believe in seeing the truth in the lives of ordinary people.
Another writer, Tim O'Brien, hammered home the power of fiction in his collection The Things They Carried, where he also writes that "Stories can save us." The book reveals what he felt as a soldier witnessing death in Vietnam as well as a young boy learning that a classmate of his, Linda, had died. "They're all dead. But in a story, which is a kind of dreaming, the dead sometimes smile and sit up and return to the world."
Writing is also a way of seeing, of putting things together and making sense of the chaos, contradictions, and irony around you. As O'Brien says, "Story-truth is truer sometimes than happening-truth." One of the things I'm trying to make sense of is the publishing industry.
As I started writing this piece this morning, a friend sent me a link out of the blue as if I had asked him or the universe for it. It's called "The Ten Awful Truths of Book Publishing" by Steven Piersanti, president of Berrett-Koehler Publishers. As I read his list, I could only nod.
One of the things Mr. Piersanti says is, "It is getting harder and harder every year to sell books." According to a Bowker report, more than a million books were published in 2009, more than three times the number of four years earlier. According to PC World and Google, nearly 130 million books are now published, a number that'll surely change in the next twenty minutes.
I feel it. I can tell because the things that helped bring attention to my books even two years ago do little now. My first collection The Middle-Aged Man and the Sea was mentioned in Entertainment Weekly and reviewed in the Los Angeles Times. Now the Times Sunday Book Review section has been replaced by a page in the Calendar section. The Times reviews very little now.
Reviews even among literary websites are harder to get because the sites are swamped with submissions. Today's writers find social media is a must: Facebook, Twitter, Goodreads, and whatever else you can fit in. This was underscored by John Locke in his book, How I Sold 1 Million eBooks in 5 Months. However, I wonder about what this all brings other than frustration. Twitter, Locke's favorite, is electronic messaging on steroids. Tweets rush by in a Twitter sneeze, hundreds per hour or minutes, depending on how many people you are following.
Whenever I read tweets, my screen soon tells me of the tens or hundreds that have been added in the last several minutes. I asked a friend how he keeps up with the stream. "I don't read them," he says. "I glance at a few and just tweet."
The same type of behavior seems to be happening with publishing. Everyone is writing. Fewer people are reading. As Mr. Piersanti notes, "Book industry sales are declining, despite the explosion of books published." Print sales have been declining since 2007, and eBooks are changing the medium of reading but not taking overall sales upward.
So why do I write and remain hopeful? For me, one glimmer this year was a tender and small book about an old woman on her death bed looking back at her abusive marriage, The Mill River Recluse by Darcie Chan. Only available as an eBook, it was the fourth bestselling book this year according to the Atlantic in the article, "Self-Published Titles Among Year's Top Sellers."
One of the things Mr. Piersanti says is, "Most book marketing today is done by authors, not by publishers." So yes, Mr. Carver, if he started his career today, would be active on the Internet. Darcie Chan is. Two chapeaus, anyone?

Related
Popular in the Community