At the start of the last Great Depression, Logan Pearsall Smith seems to have had the best answer for exhortations that money can't buy happiness, observing,
"There are few sorrows, however poignant, in which a good income is of no avail".
Prone to flights of fancy, even as a kid such notions first occurred to me growing up middle class in Akron, Ohio. I loved watching an uproariously funny TV series then, The Pruitts of Southampton. View image To prevent nationwide panic, the IRS has bailed out a bankrupt American dynasty whose very name is synonymous with fabulous inherited wealth.
Once imagined to possess 'everything', unexpectedly challenged by reduced circumstances, the Pruitts were superb role models exhibiting, under pressure, unlimited humor and poise.
This can't be said of others among the over-privileged, certainly not of whining CEO's, smarting from missing bonuses and suspended dividends. Merely losing at bridge, they might instead have the weight of the world on their shoulders.
Miss-placed self-pity is nothing new, though. In 1906, a Times' Magazine reporter complained,
"It's just as difficult a problem for some people to live on half a million per-annum, or even more, as it is for others to make both ends meet on $1,200..."
A few weeks ago, a Style section headline yet again invoked the hard luck of the woefully, somewhat-less, wealthy. Audaciously they dared,
"You Try to Live on 500K in This Town"
Broke but proud Phyllis Diller as the Pruitt heiress, exercised greater pluck. She camped it up about her "marvy-poo" beads and dress, and I sat transfixed, destined to join legions who enjoy following the foibles of the well-to-do. We relish this guilty pleasure much as others are titillated by Push and other portrayals of the grim misery of the poor.
Extraordinary books, novels by John Marquand, James T. Maher's The Twilight of Splendor ,


or Steven Gaines' Philistines at the Hedgerow,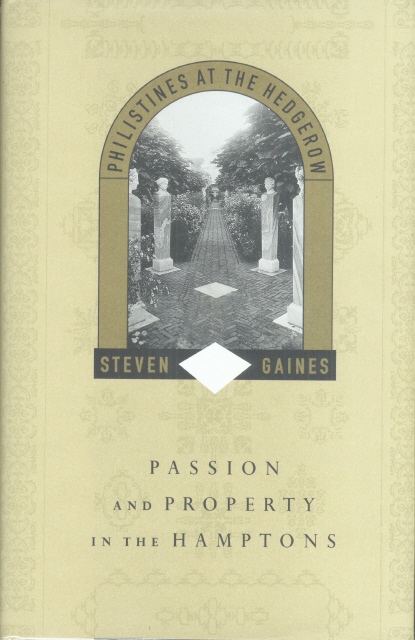 have best helped me to sort out the vagaries of the mighty in their attractive but alien realm. Inspecting their houses is instructive as well. A growing number of lavish new publications make this insightful gambit as easy as it is fun.
At a tiny fraction of the discounted price of ocean-front property on Further Lane or Bellevue Avenue, giving someone special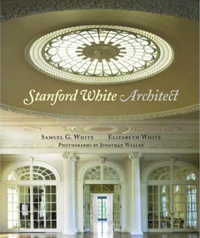 Stanford White, Architect, from Rizzoli, can say a great deal. Co-written by Samuel and Elizabeth White, the designer's architect great-grandson and his editor wife, this 353-page book is handsomely illuminated with evocative color photographs by Jonathan Wallen.
White's largely lost or diminished interiors were models of controlled sumptuousness. Be it dramatic tapestries, old tiles, ormolu mounted mirrored doors and rooms, Grecian marbles, antique textiles, standard bay trees, Solomonic columns, vibrant flowers or a gilded Belter sofa, he was enamored of all that was exquisite. One wishes that White, the younger, better appreciated the more-is-more impulse that drove his forebear's taste, but so much loveliness to enjoy, makes this observation a minor quibble.
Two similar offering of opulence, scaled down for these difficult days, come from Norton: Newport Villas: The Revival Styles, 1885-1935 and Long Island Landscapes and the Women Who Designed Them.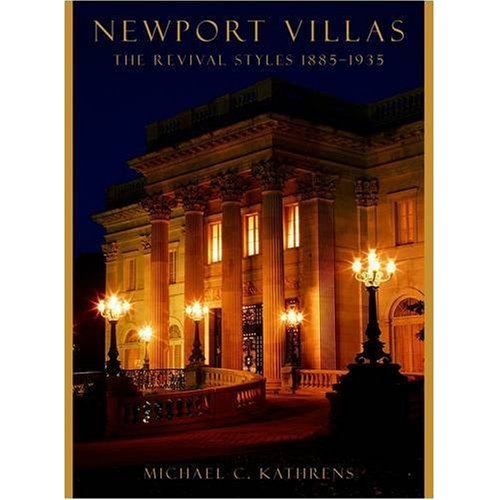 The first is by Michael C. Kathrens. It comprehensively covers every important Newport "cottage" from the resort's social zenith. This was the epoch of our nation's industrial ascendancy, when Newport was as fashionable as the Hamptons is today. The Hamptons 100 years ago, on the other hand, might as well have been the New Jersey coast.

"I have seen in Newport...such an outpouring of riches!", enthused HRH Grand Duke Boris of Russia, in 1902. "It is like walking on gold..."
The latter work from Norton presents innovative research by Harvard historian, Cynthia Zaitzevsky. The Stanford White monograph calls attention to one man's genius, while Kathrens' undertaking on Newport celebrates a lost time. Ms. Zaitzevsky's scholarship serves a quite different purpose.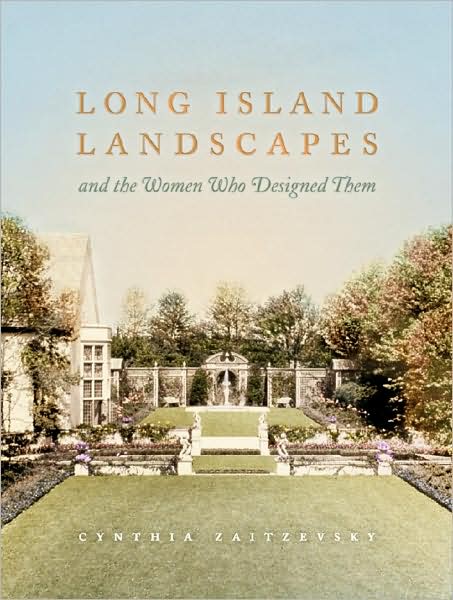 Long Island Landscapes goes a long way toward restoring the reputations of pioneering women. Ellen Biddle Shipman, Annette Hoyt Flanders and Edith Wharton's niece, Beatrix Jones Farrand, among the most accomplished landscape architects of their day, were able stylists, adept at fashioning living pictures of delight.
All three books are a testament to the ability of material beauty, sometimes, to endure, from age to age. Still, if Newport houses and Long Island gardens demonstrate something of their designers' talent, they reveal much more about their builder's aspirations. Showing the extent to which our sensibilities have shifted, each also offers proof of an unaltered reality. The lengths to which some are willing to go, in order to seem to possess an enviable existence, still know no bounds.
Despite frantic efforts by her son, prominent Newporter Mrs. Emile Brugiere was lost at sea. A pile of debts amassed by trying to out-spend and out-do elegant 'friends', meant Louis Brugiere never inherited imposing Castlewood. But his legacy still imparts a powerful lesson. Whether we believe it or not, there are more meaningful things to hope for than either boxwood bordered marble pools, or a seaside summer house.
This needn't deter passion for beauty. Nor ought oppression, manifest in costly environs, to diminish our ability to dream. For invitingly depicted many of the most exceptional houses and gardens ever realized, are made affordable: available in these remarkable books. Even now, thanks to the public library, we all can enjoy their enchantment for free. But if you're at all like me, momentarily unable to live on a great estate, you'll insist on at least having these invaluable records of a more glittering past on a shelf of your own, at home.

Related
Popular in the Community