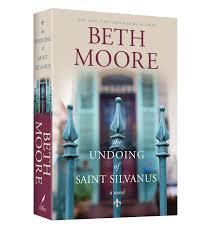 Moore, Beth. The Undoing of Saint Silvanus. Carol Stream, IL: Tyndale House Publishers, 2016. ISBN: 9781496416476.
I did not realize that Beth Moore had written a fiction book until I was standing in line at Moore's book signing in Metairie, Louisiana, on Friday evening, September 23rd.
Only hours earlier, as I was driving home from my teaching day, I heard a news bit about Moore's speaking earlier that day in Baton Rouge, which is an hour's drive for me. Even as I was thinking it would have been nice to have met her, the announcer continued with news about her being in Metairie– 40 minutes from my home– that very evening.
I had to think about whether or not to let the opportunity go. I just finished a teaching week, and I was ready to wind down following my regularly scheduled foray to the gym. But when would I have such an opportunity again?
I did not even know Moore had another book out. I had read a couple of her books– nonfiction, always nonfiction. I decided that it was worth it to purchase another if it meant an opportunity to meet Beth Moore in person.
But this was not another nonfiction book. It was Moore's first attempt at fiction.
And the story was set in New Orleans.
I was intrigued all the more.
I am a native of Chalmette, Louisiana, which happens to be approximately 7 miles from downtown New Orleans and is the site of the Battle of New Orleans. New Orleans is a popular setting for fiction, and, frankly, I wanted to see if Moore– Arkansas raised and Texas residing– could accurately capture the cultural gumbo of the City That Care Forgot.
I was also curious if she could pull off writing a novel.
As I finished The Undoing of Saint Silvanus only days ago, I realized, indeed she can. And her capture of the New Orleans cultural gumbo rates pretty high, as well.
The Undoing of St. Silvanus centers on the birth and rebirth of a building. The reader is left to discover exactly what this means as Moore smoothly weaves the stories of two time periods together throughout her work.
The more dominant of the two stories begins with the death of an individual whom society in general would be likely to discount. However, by the first line of the second chapter, the reader is confronted with the reality that the end of a seemingly "wasted" life cannot erase complexity, or connection, or jagged history in the lives of those who remain– even if they want it to.
By the first line of that second chapter, I was hooked.
The Chapter 2 opener was masterpiece. I'll leave it at that.
The entire work continued with the skillful construction of multifaceted, enticing characters who we all know in real life if we take just a moment to think about it.
A moment might even be more time than is needed.
Moore's novel involves so much in relationships among and within her characters– so much that is distressing and appealing– often both at once. Through the rich interactions of characters, including twenty-something Jillian, her stiff paternal grandmother, Olivia, and earthy, interfering-yet-softhearted Adella, Moore carries readers towards a hard-fought, page-turning apex and eases them into a satisfying, final draught as they reach the story's end.
There is also the amazing wordsmithing.
The word-weaving skill of The Undoing of Saint Silvanus is classically Moore. I know as much from having heard her speak on television, and from reading her nonfiction. I believe Moore's ability on this front is part inborn talent and part perseverance through past wretched reckonings with herself.
Throughout her work, she hits the sensitive, often humorous, nerve of humanity– a talent that breathes life into her characters and effectively advances both story plot and reader interest.
Below is only a sampling of some of my favorite lines from the 468-page work, admittedly selected to entice prospective readers without unduly disclosing too much story. I invite readers to savor the textured imagery in each before sampling the next:
Now that he was dead, Jillian felt strangely compelled to face the fact that he'd been, all that time, alive.
The guy was way out of her league. … He'd chosen her, and she needed him to keep choosing her.
Adella never had more trouble buttoning her lip than when she got a verifiable invitation to bear some indignation.
In Adella's book, it went without saying that good hair improved mental health….
But maybe the anvil of waiting had crushed open Olivia's heart….
The whole last month had been like that, the newness wearing off to a dull nub.
Allie's final words in the wet sand of anger hardened into concrete in Jillian's head.
Long-waisted, her stomach was as flat as a kitchen counter, so what she ate slid right over it and landed where she sat.
Something about a slightly older woman who was a planet out of their reach could make a pair of boys act like the biggest fools. From the smell of things, Adella could have sworn one had even shaved, and not the one that needed to, either.
Nobody else's mom would let them party like that. Jillian never had the guts to tell her but she wished the surcharge wasn't her partying with them.
Blood was thicker than water, but not always thick enough to blanket every issue. … [Jillian's mother] Jade had no idea who she was apart from a man. But Jillian figured no woman did.
She wished she hadn't seen the woman's hand touching the homeless man before she shook it.
Stella looked the part of this gritty rectangle called Jackson Square.
I could easily continue noting such interest-provoking lines, and I could well allow myself to divulge the heart of the story and the intimate heartbeats of the central characters. However, I surely do not wish to ruin the first taste of this fine fiction for those already tucking the proverbial dinner napkin beneath their chins in anticipation.
I will only add that Moore's skill as a researcher emerges in her ability to lace her work with intricacies about life in New Orleans familiar to locals, such as timing of the traffic on the 610, the sideways rain that defies umbrellas, and the fact that we do indeed readily assume familiarity with those we have just met, including freely sharing our opinions and kissing on the cheek.
I now leave you to read for yourselves The Undoing of Saint Silvanus, Beth Moore's stellar fiction debut.
______________________________________________________________________________
Mercedes K. Schneider, Ph.D., is a classroom teacher, author, and researcher. She holds degrees in secondary education (English and German), guidance and counseling, and research and applied statistics. However, as one woman from New Orleans' upscale Garden District once told Schneider, because of Schneider's definitive Chalmette, Louisiana, accent, she doesn't sound "that educated." Even so, and despite her unmistakable brogue, Schneider has managed to publish three books in three years, all nonfiction, and all concerning contemporary issues in American public education: A Chronicle of Echoes: Who's Who in the Implosion of American Public Education (Information Age: 2014), Common Core Dilemma: Who Owns Our Schools? (TC Press: 2015), and School Choice: The End of Public Education? (TC Press: 2016). Her second book, Common Core Dilemma, has been nominated for the 2017 Grawemeyer Award in Education.
Schneider has over two decades of full time teaching experience and has been teaching high school English since her post-Katrina return to southern Louisiana in 2007.