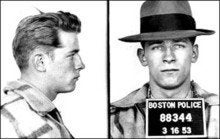 There's an old adage that the book is better than the movie and that certainly holds true for Betrayal, a compelling first-person story of an FBI agent's battle against organized crime as well as the corruption in his own (Boston) office.
Betrayal was first released as The Departed, a highly fictionalized film by Martin Scorsese. While extremely well made and very entertaining, The Departed does not come close to explaining the true story of James "Whitey" Bulger, the former boss of Winter Hill Gang in South Boston and Robert Fitzpatrick, the FBI agent who tried relentlessly to bring him to justice.
Bulger, a career criminal who served nine years in various penitentiaries -- including Alcatraz and Leavenworth -- recently received worldwide notoriety when he was arrested on June 22, 2011 after 16 years as a wanted fugitive, including 12 years on the FBI's most wanted list. Bulger was anything but a criminal mastermind; he was able to run his Boston syndicate because of his affiliation with corrupt FBI agents who literally let him get away with murder.
Former FBI agent Robert Fitzpatrick grew up in a church-run orphanage on Staten Island. After a stint in the military, he received a college degree from St. Peter's College, and joined the FBI in 1965. Fitzpatrick served with distinction at bureau and was rewarded with a promotion to the Boston office.
What followed was a tale of murder and corruption that ended up putting not only FBI agents in jail but ultimately Whitey Bulger as well. Fitzpatrick's story, written with author Jon Land, is a page-turner that reads like a novel that's nearly impossible to put down.
Furthermore, if you're an aficionado of police procedurals, there is an extensive appendix filled with FBI memos, documents and memorandums along with a detailed index that give the reader an inside view to a world otherwise shrouded in secrecy.
REAL LIFE. REAL NEWS. REAL VOICES.
Help us tell more of the stories that matter from voices that too often remain unheard.