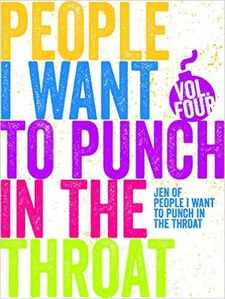 New York Times best selling author, Jen Mann has come out with a fourth volume of essays titled, Just A FEW People I Want to Punch in the Throat (Volume #4). Mann gives her loyal readers three brand new hilarious essays that cannot be found anywhere else.
Fans will enjoy this slim edition that can be read in under an hour. Mann delivers some of her best punch lines as she describes a hilarious dinner gone awry during a tornado warning in Kansas, how she won over her husband during an argument for why they should buy a house in a HOA neighborhood, and that time her kid went to camp leaving Mann experiencing an existential crisis that will leave readers snorting and chuckling in solidarity.
Jen Mann's popularity as a humorist is in part due to her incredible ability to churn out fresh and innovative material on a regular basis. Readers' insatiable appetite for her brand of sharp wit, biting sarcasm, and relatable stories is in a constant state of almost satisfied as Mann has a brilliant talent for giving her readers exactly what they want while leaving them craving for the next installment of funny essays.
Fans of Jen Mann can rejoice because her next book, Spending the Holidays with People I Want to Punch in the Throat will be available October 13, 2015 everywhere books are sold. In the meantime you can check Mann out at People I Want to Punch in the Throat.
Calling all HuffPost superfans!
Sign up for membership to become a founding member and help shape HuffPost's next chapter