Kicking Through The Ashes: My Life as a Stand-up in the 1980's Comedy Boom
Ritch Shydner
It's been just about 50 years since the fuse on the last big comedy explosion was lit, touched off about the same time protests against the Viet Nam war, the Summer of Love and man first landed on the moon. George Carlin traded in his necktie for a jean jacket, Richard Pryor came roaring out of the urban counterculture, and Rodney Dangerfield discovered that getting no respect was his key to selling out rooms.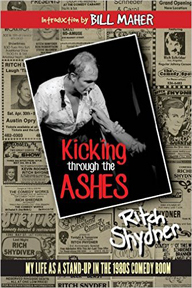 Between then and now, thousands upon thousands of stand-up comedians have thrown themselves on the grenade. A few of them, in one decade or another, have made their mark as true comedy stars be it on stage, television or in the movies. Hundreds more have become "household names" of one degree or another, as stars of comedy specials, sitcoms or -- in the past decade or so -- soundcasting.
And through documentaries, books, or soundcasts, a number of people have tried to capture the essence of the burgeoning comedy scene, the deflating comedy club landscape, or the ephemeral careers of those who have come and gone (and, in some cases, come back again.) A portion of that world has been ably captured by Ritch Shydner, a comedian and a name that should be familiar to anyone who was on the scene starting in the latter half of the 70's through, really, present day. And by "on the scene", I not only mean comedians, agents and club bookers but comedy fans in the clubs or sitting in front of their TVs.
For years a hard-working "road dog", Shydner had his fair share of TV shots (including a stint as a recurring regular in the early days of FOX's Married With Children,) as well as opening for big musical acts in theaters and arenas. Kicking Through The Ashes: My Life As A Stand-up in The 1980's Comedy Boom starts with an acknowledgement with a litany of names from the world of comedy that quickly establishes his place in the pantheon of comedy survivors, and is followed by a brief, heartfelt introduction by Bill Maher as could only be written by someone who'd been in the same foxholes in the comedy battleground as Shydner.
Shydner's memoir is a wild romp through the tumultuous comedy boom, as it's best known in the period of the 1980's through the early 90's. Making the story more wild is the fact it does not progress in an expected linear fashion. It's more like you've jumped aboard a comedy time machine that someone has snapped the controls off of, and now you're rocketing back and forth, from Shydner's earliest memories of trying to make patrons in the seedy bars of his upbringing laugh so they wouldn't hit him, to getting a phone call from Phyllis Diller after his third shot on The Tonight Show, then back to his first baby steps on a comedy club stage.
Each of the 82 chapters (some are only a page long) is titled after song lyrics, mostly from tunes about trying hard to make it in a world that usually doesn't seem to care very much. And each chapter usually starts in a very different time period within the comedy boom than the one we just left.
As he recounts his rampaging career, Shydner introduces us to the comedy world, both from a daunting place of "what I've I decided to get into?" to a more localized perspective. Peeling back the layers of the comedy clubs and one-nighters of America's various comedy regions (parts of Canada included), he also shares lists of comedians germane to where they blossomed.
So we get snapshots of not just the New York scene, where Shydner cut his comedy teeth, but Boston, Los Angeles, Chicago, San Francisco and more, including that no man's land of Comedy-On-The-Road, where some comics lived without ever seeming to call any place truly home.
As he shunts the reader backward and forward within the time span of his career, Shydner reveals not just the fears and hesitations along the track of his advancement through the comedy landscape -- realizing when it was time to change styles of writing and dressing and performing, not being sure if a gig was going to be too challenging, or confronting another comic about a joke that may or may not have been stolen -- but a long history of substance abuse is laid bare as well.
Alcohol, pot, and cocaine were often the most popular "tools" in Shydner's journey that would help him power through a blur of one-nighter gigs on the road, joke writing sessions or, just as often, the down time between sets and gigs. Used to excess, they often turned out to be the "universal translator", used to make friends with club owners and other performers, a currency accepted in most areas of the comedy world during those heady days of the boom, occasionally even used in place of cash to pay comedians for gigs.
Towards the end of the 1980's, Shydner starts to get clean - both on and off-stage -- and that's what helps to move him toward getting that valuable, well-paying TV time. He spends some time as his time machine lurches back and forth talking about working on the set of a TV show like Married With Children or a movie like Roxanne, where he had a few memorable moments on screen with Steve Martin.
His time spent in front of the camera never feels like the "home" that the comedy club environment was for so much of his performing life, and it's easy to see why when he stacks thousands of live club dates against the "about a dozen" appearances on The Tonight Show.
Shydner's ride through the space-time continuum of the comedy boom bumps to a stop with the growth of his career as a writer of comedy on television shows. As he settled in to get a steady paycheck and support his family, Shydner talks about the darkness of no longer being on stage, getting the laughs and being in the limelight. This stage of the performer's life ends on a somber note, of having to be medicated to deal with symptoms of depression, bi-polar disorder and more.
Kicking Through The Ashes is a fascinating chronicle of one performer's life and perspective during the 20th century's most intense and memorable period of stand-up comedy.
In addition to his weekly contributions to This Week In Comedy Podcasts for Splitsider.com, Marc Hershon is the host and executive producer of Succotash, The Comedy Soundcast Soundcast, featuring clips from comedy soundcasts (née podcasts) from across the Internet as well as interviews with podcasters, soundcasters, comedians, and assorted show biz folk.
Popular in the Community