I've been fortunate enough to have lived and worked in the arts for many years in both Los Angeles and New York City. I love both cities and know the advantages and disadvantages of each. I also know that New Yorkers tend to have a superiority complex about Los Angeles and its cultural life -- or lack of one as they see it.
Nothing could be further from the truth, but like everything else in Los Angeles, the cultural scene is spread out over a large geographical area and tends not to have a well-defined center. In her recently released L.A. Rising, SoCal Artists Before 1980, author Lyn Kienholz takes a big step forward in marking out a non-geographic center. L.A. Rising is an encyclopedia of 500 Southern California artists living and working in L.A. before 1980. Each artist is given a page with reproductions of their work from that era and information and reviews about their work excerpted from publications of the same period.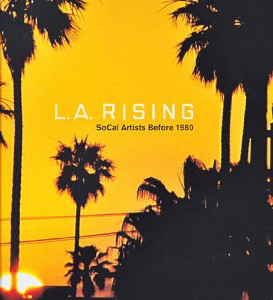 Author Kienholz, who was married for a time to artist Edward Kienholz and worked the front desk at the legendary Ferus Gallery, has made it her mission to spread the word about art in Los Angeles. In 1980, she founded the California/International Arts Foundation to increase the visibility of LA art and artists worldwide. The Foundation has organized exhibitions in 56 museums and 23 countries, including the 2006 exhibition Los Angeles: 1955-1985 at the Centre Pompidou in Paris.
Besides finding L.A. Rising an invaluable reference tool that every visual arts professional should have, it is also a lush and highly entertaining stroll down memory lane for anyone who has watched the L.A. art scene. There are the big names that you would expect: David Hockney, John Baldessari, and Judy Chicago. There are artists you've never heard of, but would like to know more about. There are artists you've forgotten and are happy to rediscover. There are friends, teachers, colleagues and more -- some living, some sadly departed. Most of all, there is the richness of the art, which includes every medium from ceramics to performance, printmaking to installation, photography to sculpture.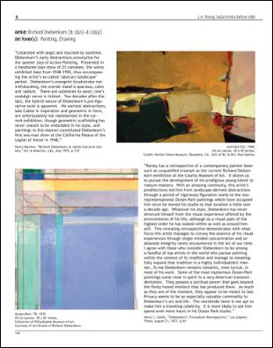 The one thing I found missing from L.A. Rising is biographical information about the artists. The text, which is culled from newspaper and magazine articles referencing each artist, while interesting, doesn't go far enough. I realize what a tall order that is, and hope that in some future edition it will be rectified.
Meanwhile, thank you Lyn Kienholz for this beautiful, informative, must-have art book.
Related
Popular in the Community