There's something very special about VIZ Media, and the people who work for them. Not only have they catered to my addiction to all things Sailor Moon, but they've also helped me expand my appreciation for the world of manga and anime as a whole. They've introduced me to more Shōnen titles like "Blood Lad" and "Death Note". They're also single handedly responsible for starting my fascination with art books and introducing me to other fandoms outside anime, like Magic: The Gathering®.
I remember when "Magic: The Gathering" was at the height of its popularity. I was in elementary school and when I heard about it, I knew it would be something I would probably get into. I loved magic, I loved trading cards, and I loved pretending. It seemed like a perfect fit. Then I realized that it wasn't.
As strange as it sounds, whenever I played pretend, I hated to involve other people (with the only exception being my best friend, Echo). To be honest my imagination works best when I'm alone. I love getting lost in my daydreams. It's always been one of my favorite pastimes. So for me, MTG was a quick flash in the pan interest that faded quickly and became something I'd all but forgotten about.
Then, because they know my growing appreciation of art books, VIZ Media sent me THE ART OF MAGIC: THE GATHERING - INNISTRAD a 240 page coffee table book filled with some of the most beautiful art I've ever seen. The cover image alone (painted by Adam Paquette - one of the books main artists) was enough to garner my attention. It's a beautiful piece, involving a gothic-like cathedral church and a broken down graveyard. So, when I was finally able to set aside enough time to sit down and enjoy it, I started looking through the rest of the book. The entire book is incredible and awe-inspiring journey into another world.
It's fantastic.
Other artist who contributed to the book include Aleksi Bricolt, Kieran Yanner, Wesley Burt, and several others - each of them bringing something unique and (for lack of a better word) magical to the book, which was written by James Wyatt, a senior Game Designer on Magic: The Gathering's creative team. One of my most favorite pieces is "Angel of Flight Alabaster" by Howard Lyon. There's something captivating about the tragic beauty of the piece. Coincidently, "Flight of Angels" is also my most favorite sections of the book.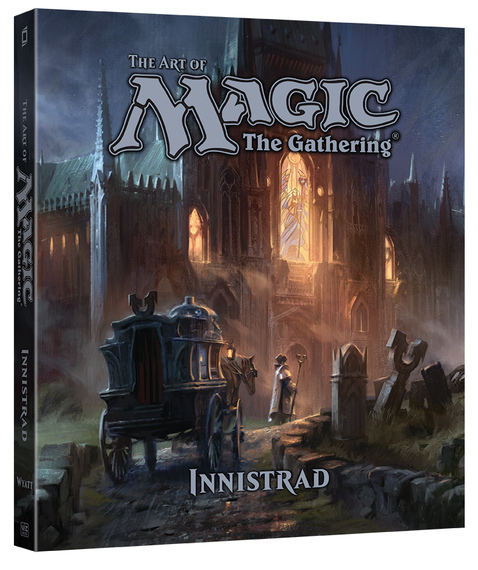 To be honest, I hadn't realized how vast the world of MTG really was until I started reading Wyatt's descriptions. The story is really quite immersive and interesting - and beautifully told. It blends fantasy, horror, and even a bit of religious mythology into something truly entertaining and well worth the MSRP of $39.99. The book can be purchased through online retailers like Amazon and also through VIZ Media directly. As one in an ever-growing series, I highly recommend it. I promise, you won't be disappointed.

* Magic: The Gathering, Wizards of the Coast, and their respective logos are trademarks of Wizards of the Coast LLC in the USA and other countries. ©2016 Wizards.
Popular in the Community