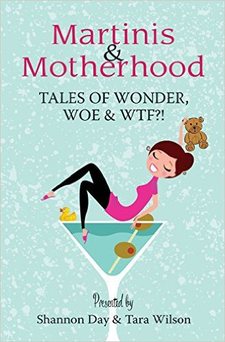 Martinis & Motherhood Tales of Wonder, Woe & WTF?! published by Tipsy Squirrel Press and edited by Shannon Day and Tara Wilson is the newest addition to the world of parenting anthologies. This book is filled with 37 stories that are heartwarming and heartbreaking, humorous and jaw dropping, and encourages the reader to lift up a drink in a toast to the solidarity of motherhood. At the end of each story is a delicious martini recipe complete with a moving or funny toast inspired by the author's tale.
The book is divided into three clever sections. Tales of Wonder includes a dozen stories that explore the parts of motherhood that are filled with awe and wonderment. The moms in this section write poignantly about pregnancy, the ephemeral state of childhood, uprooting a family to move and so much more.
Tales of Woe explores the disappointments and failures that come with motherhood. With masterful humor, 13 writers dive into their relatable tales of ruined plans and parenting mistakes to reveal how resilient mothers and children are.
Tales of WTF?! includes a dozen of the funniest stories from the trenches that will leave your sides hurting from laughter. Every mother knows that at some point something big and awful will happen and the silver lining, we learn in Tales of WTF?!, is that these trying times will make for future hilarious stories.
If you love humor then you will be delightfully surprised to find this anthology filled to the brim with both veteran humorists and new and emerging voices in the parenting blog world. Editors Shannon Day and Tara Wilson expertly crafted a beautiful and funny book that will leave readers feeling full with heartwarming stories, laughter, and perhaps even a little buzzed after trying tasty martinis with catchy names like The Shit-Storm, The Verklempt, and my personal favorite The Aftermath.