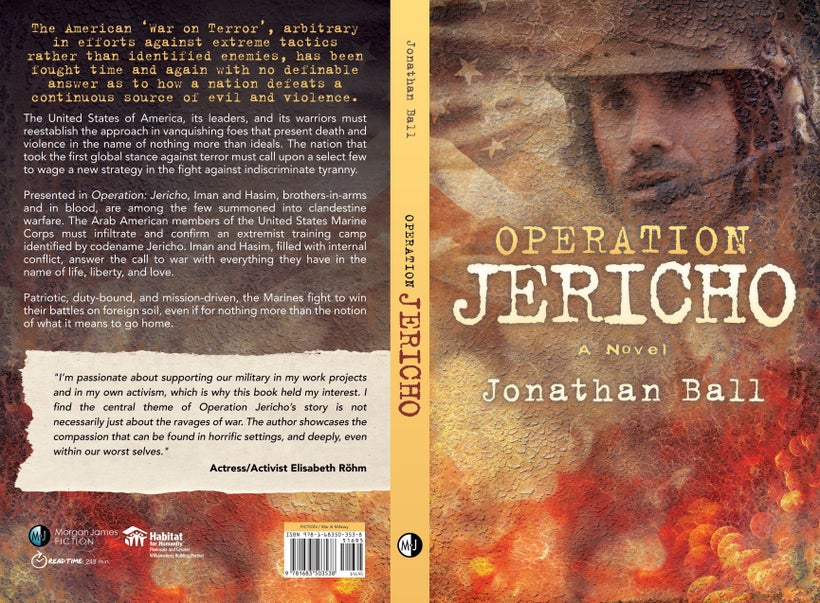 Jonathan Ball, ex-marine and screenwriter has been busy and not just in the theater of war where he toured throughout the middle east for four years, but more recently in the theaters of Hollywood as well. Trained to kill at 17 and leaving his small town to join the Marines, he joined the corps. so young he needed his mother's permission and signature on his recruitment form. "I was a smart ass," he says. "So I had to learn some of the same lessons a few times during my training." Charming and polite, Jonathan is still fit and sits ramrod straight as he talks excitedly about his projects. "Writing became a very cathartic thing for me to do. It really got my demons out," he says in his southern drawl.
The Marines made him fighting fit and soon he was a Sergeant with grunts of his own. Ball found himself more than once 'staring death in the face', traveling in convoys through the desert off route in unmapped mine fields or being shot at by snipers in some of the worst places in the world. But after returning to the states he found a new life as a story teller for the big screen.
Troubled, like many of our soldiers by the extreme stress of the battle field after his service, Post Traumatic Stress Disorder became an uninvited guest that hung over this veteran like a dark cloud.
He remembers waking up back home to find himself standing in his bedroom in the middle of the night screaming 'where is my rifle?' and staring at his confused and frightened wife shocked awake from her sleep. He realized he needed a way to channel some of the experiences that were haunting him from the battle field.
Of a Grateful Nation is a short film adapted from Ball's first screenplay of the same name. It is the story of a broken spirit – once a blue eyed hero - spiraling out of control. Self-medicating with prescription pills and alcohol and feeling abandoned and alone unable to cope with a time of peace. The short is a collaboration of a fraternity of military veterans in front and behind the camera who wanted to bring the reality of veteran suicides, and the throes of PTSD, to the public eye and into the American mind. Director Adam Reeb, a veteran, connected with Ball, loved his script and they decided a short was the best way forward. It's currently doing well on the festival circuit.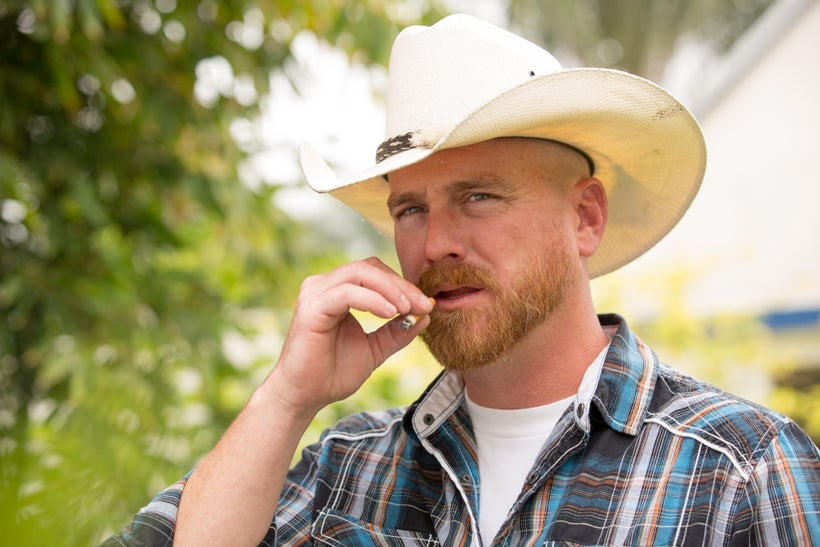 "I remember watching a documentary in grade school on the armed forces soldiers who had fought, and something about the way the Marines spoke, everyone else in that documentary looked tired, but the Marines looked excited. I wanted to be part of that."
Growing up in a very small town about an hour north of Dallas he was the first in his family to enlist, but he knew it was the right thing for him to do. His mother, unsure, tried to talk him out of it, but was swayed by Jonathan's passion and counter argument that he accepted his mother's refusal but wanted to fight for her right to that opinion. That swayed her.
Johnathan's latest book, Operation Jericho, is being released August 15th by Morgan James Publishing. It's a gritty war procedural that drops you behind enemy lines with a blunt honesty about the traps for both sides in the war on terror. First person details of the brutal fighting, mind numbing training, top secret military conduct, red tape, and a surprise under cover romance, is the grey zone in which all combat soldiers live. It brings a suspenseful reality to his work.
"I grew up in a small southern town that was pretty much all white and Baptist. And when I got into the Marines my first two friends were black and Latino. It was my first experience of the different colors we have in America, black, brown, Muslim, Asian, and everyone here to fight for the country that they loved. They became my drinking buddies and I would fight and die for them. So the military was a great education for me. And I passed that on when I became a Sergeant; I taught that skin color and religion are no one else's business but their own. You're either a good Marine or a bad Marine. And if you're a bad Marine then that's everyone's business. So when I wrote this book, I thought of the blue eyed movie stars I've seen in war films, and I wanted to honor what I really saw in my squads. So my heroes are two Muslim American Marines, who are picked to go under cover in the middle east because of their look and background. I trained with guys like this and wanted them to have a voice."
When his heroes have to befriend the locals to stay alive, the stakes are high as the slightest mis-step can result in a back alley throat cutting, head shot or even beheading. The unexpected challenges of them having to fake their way through middle eastern neighborhoods and tribal territories as locals, flips into the challenge of them being accepted and having to betray the trust of their new friends
PTSD can be baffling to normal Americans. It results from soldiers training to be professional killers, a skill set our soldiers need to stay alive and to keep our country's interests safe, then deposited back into normal civilian life even though moment to moment they have spent several years where at any second their life may have come to an end. Our veterans return back home with the same hair trigger training that kept them alive in a world where life is fragile and they were targets. Suburban peace and quiet may not really exist for them without awareness, therapy and tools to return stateside.
"I was trained to fight, I was a hot head and trained for Battalion forward. With my first book, and the short film I want to show how bad it can be for our service men and women who don't get help. And with my new book I want to show what life is like on the front line, or even behind it. And show how important what we do really is, and the real people involved who risk their lives every day for us."
Operation: Jericho comes out August 15th released by Morgan James Publishing. More information on it here.
REAL LIFE. REAL NEWS. REAL VOICES.
Help us tell more of the stories that matter from voices that too often remain unheard.
This post was published on the now-closed HuffPost Contributor platform. Contributors control their own work and posted freely to our site. If you need to flag this entry as abusive,
send us an email
.