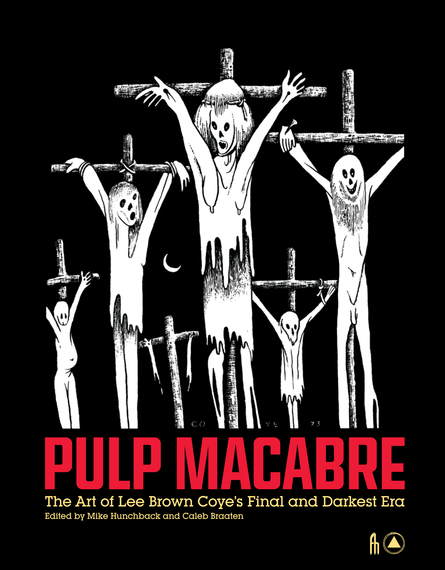 At first glance the drawings of Lee Brown Coye have an almost simplistic, naive quality. Once you spend some time with the drawings in Pulp Macabre, the intricacies and subtleties reveal themselves starkly in black and white.
According to Mr. Coye's son Robert Coye Sr., "[Coye] had a fascination for the ghoulish, ghosts, the macabre, mortality, death and the after life. These I believe he tried to express in his art."
Lee Brown Coye was a prolific artist and Pulp Macabre: The Art of Lee Brown Coye's Final and Darkest Era is an examination of his unrestrained late period. To understand why his work is so unique, one has to look at the context in which the drawings in Pulp Macabre came about.
Coye was a key figure in the "weird fiction" genre. This was a generation of writers and illustrators working in the specific world of horror, sci-fi and bizarre pulp books and magazines. We look at them now as masters of a disappearing craft, but in their time they were hardly appreciated like many innovators are at first.
After several decades as an illustrator in various mediums, Coye hit a career shift when he started illustrating August Derleth's horror anthologies, which led to Lee Brown Coye to be sought out as an uncompromising illustrator of the macabre. Most of the drawings in this volume contain his work from the mid 1970s, including Manly Wade Wellman's Worse Things Waiting, Les Daniel's Dying of Fright, Hugh B. Cave's Murgunstrumm and Others, as well as Death Stalks The Night (also by Cave) which he began right after a crippling stroke and saw a posthumous release after nearly twenty years.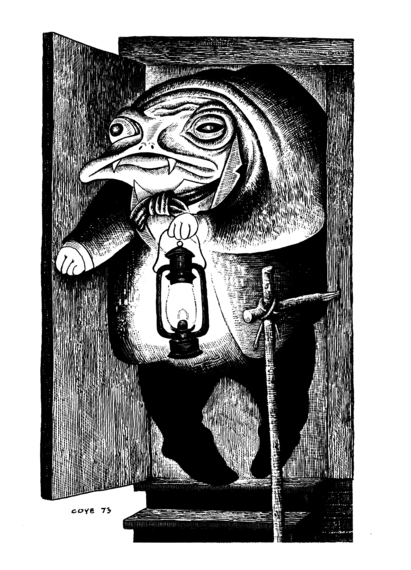 Coye's use of negative space reminds me of Aubrey Beardsley, with the playful creepiness of Edward Gorey. All the drawings in Pulp Macabre are in black and white. Elongated limbs, tortured branches, splintered planks, fat monster faces, decapitated heads, wood crosses and stone-like wildflowers are some of the things that populate Coye's lovingly detailed drawings.
Every line and shape comes to life in white against black negative space Coye scratches into. His technique was to crosshatch away into dark backgrounds in a reductive process like etching. Each drawing appears to be laid out and then meticulously rendered. This removal technique gives the drawings a sculptural feeling.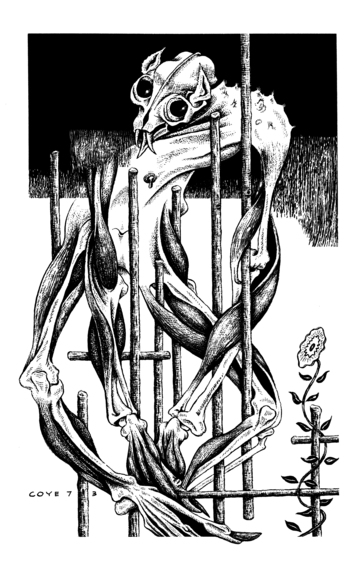 I asked co-author and Sacred Bones Records founder, Caleb Braaten, how the project came about, he said: "The project started close to eight years ago when Mike (co-author Mike Hunchback) introduced me to LBC's work. He suggested I check out his work after a discussion of our mutual love of outsider illustrators like Nick Blinko and Unica Zurn. Since that time, we've been planning and gather information as well as art for this book. It's been amazing to see it all come together."
Pulp Macabre is beautiful volume. It is a joint release by Feral House and Sacred Bones Records. Feral House is a longtime favorite publisher of mine as many of you know. Sacred Bones is a more recent discovery for me through releasing excellent records by Cult of Youth, Moon Duo, The Hunt and many others.
I leave you with this quote from page 172, which sums Pulp Macabre quite well. "He had a distinct and genuine fascination with horror; while there is an element of playfulness and humor to his art, the quality of unbridled gloom that Coye conveys is ever present, and his capacity for the macabre is still unmatched today."
Support HuffPost
The Stakes Have Never Been Higher
Related
Popular in the Community