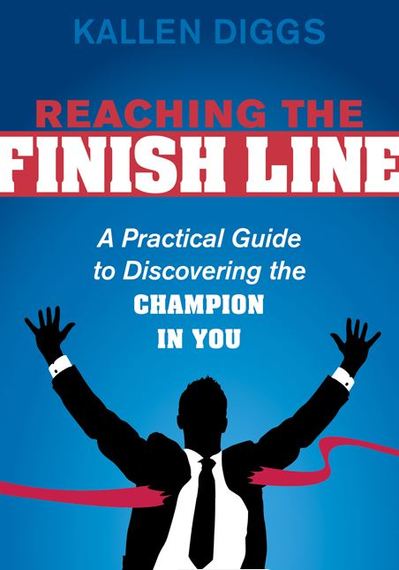 If you are ready to discover the champion in you, then you need to take the first step. And this is exactly what "Reaching the Finish Line" will help you do.
So, are you ready for the race of your life?
If your answer is yes, then you need two things: motive and motivation. Motive is your specific reason for running this race and motivation is that feeling (emotions) that keeps you going in the race. These two can't be separated.
To run the race of your life successfully, you must be able to identify your motive and motivation as these are your roadmap or GPS. Don't be too stubborn to follow a practical guide that will help you attain success. Always remember that where there is a will, there is a way.
The essential tools you need to run this race are discipline, patience, happiness, attitude, determination, and commitment. With these tools, you are sure to reach the finish line. However, as with any other race, you need to take the first step.
Procrastination is dangerous.
You can deal with procrastination by using the psychological principle to getting work done "...anyone can do any amount of work provided it isn't the work he is supposed to be doing at the moment". This is referred to as productive procrastination.
In taking the first step in your race, you need to break your goals into 3 levels (minimum, target and outrageous). Your minimum goal is the very least you can achieve based on your past performance.
Your target level is that stretch beyond your minimum and your outrageous goal is that unbelievable level that you don't believe you can achieve.
Overall, your approach to setting realistic goals and taking the first step will determine your success in reaching the finish line.
What Kallen did with his book "Reaching the Finish Line", is what the school system should have done at the beginning of the 21st century. You can be successful no matter your level of schooling.
Schooling doesn't equal to education and education doesn't equal to schooling. This is the truth that will give you all the freedom to be all you want to be.
Knowledge is power and with Reaching the Finish Line, you will discover that you are powerful beyond measure if you are yet to know so.
What Other Reviewers Think

"This fantastic book by Kallen Diggs shows that no matter your age, you have not missed out on any career or university options. Kallen talks us through several chapters including:
Landing a career without a high school or college diploma, going to college for free, make a full time income, working part time hours etc. These chapters are all wonderfully insightful and packed full of information.
Since reading this book, I have started a Bachelor's degree from a free college and can honestly say this book has changed my life. Highly recommended!" Nicole W.
Informative and inspiring!
"I have decided to continue my education that I gave up on 20 years ago. This book has gave me insight into solutions I did not know exist regarding financing...which I am having trouble with at this time.
Implementing the instruction that Kallen has provided will allow me to complete my degree successfully this time around. I'm so excited and happy that I can see the light now!" Yumm
"Kallen Diggs walks you through the process of successfully finishing. Which is the most important element in success.
After all, you simply cannot reach great heights or achieve great things on hopes and dreams alone. Projects need to get completed and this book will allow you to do just that." Brian G. Johnson
Kallen is educating over two million people worldwide through his "Reaching the Finish Line" properties. He runs an internationally syndicated radio show, Reaching the Finish Line (AM/FM & Satellite Radio).
Kallen is also an editor for the award-winning magazine, Good Men Project and has been featured in Fox News, Fast Company and Inc. Magazine.
This book is meant for you only if you are ready to run the race of your life. In Kallen's words "if you were ever a high school student, then this book is definitely for you".
Calling all HuffPost superfans!
Sign up for membership to become a founding member and help shape HuffPost's next chapter