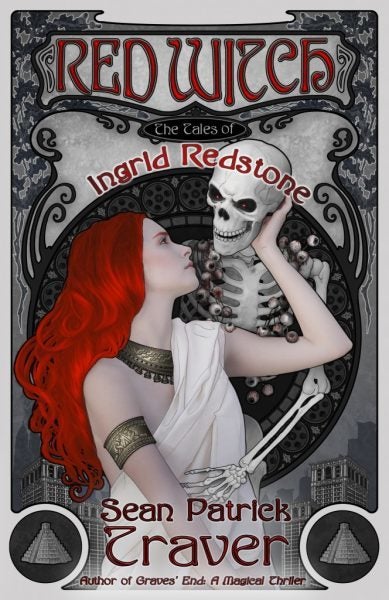 The Red Witch, The Tales of Ingrid Redstone, the eponymous mystical adventure of Sean Patrick Traver's new fiction masterpiece, is, of course, a time of love -- in 1910 in West Los Angeles, to be exact as a silent-film star begins an affair with the Aztec god of the dead.
It is a fun and engaging story combining many genres such as romance, fantasy, a twist of history and packed with tons of adventure that will keep you on the edge of the seat as you eagerly are finishing one page and anxiously yearning for the next.
The Red Witch is a one-of-its-kind. His latest book, The Red Witch, The Tales of Ingrid Redstone (Rocket Surgery Books, paper & Kindle, $14.99), readers are thoroughly invested in the fate-defying epic fantasy of actress, occultist, and bohemian adventurer Ingrid Redstone who travels to a city she is unfamiliar with, which is the city of Los Angeles in search of a legendary Hole in the Sky, located right below a tree, said to be a portal to the Aztec afterlife.
On the far side of it, Ingrid meets a fascinating man named Mictlantecuhtli, who is an ancient, self-centered, cutthroat god who soon becomes gravely mesmerized with the first living woman he's ever met. Ingrid who is also head over heels by 'Mickey' and spellbound by his kingdom in the underworld, where the past is entirely theirs to explore.
Her wanderings in the underworld bring her into contact with a cast of notables from the city's past, including Dorothy Parker, Alfred Hitchcock, and Califia, the pre-Columbian Queen of California.
But their precarious, death-defying relationship may have surprising consequences for the two of them, both in this world and the next when Ingrid is faced with the choice of becoming a queen of the dead who is honored by everyone around her, the only drawback is that she is defenseless, completely powerless. Ingrid has to decide to accept the opportunity of becoming queen of the dead or does she attempt to obstruct her supernatural lover's unnatural dreams and aspirations.
Convoluted yet intriguing, Traver's engaging story grabs readers right from the beginning… a complex, edge-of-your-seat story with plenty of intense, dark fantasy, and nostalgic love.
This story ranks among the most creative, original examples of dark fantasy in my book. As you start at the beginning as Ingrid magically meets Mictlantecuhtli, you begin to fly off your seats with the characters into the world unknown to man. Brace yourself for a wild ride.
Extremely well-written, imaginative, emotionally gripping, and featuring a compelling ending, Traver once again delivers a suspenseful, imaginative and well-told fantasy adventure that makes you feel like you are a part of the story as you can clearly image every scene. Thumbs Up! An Excellent book to add to your summer's read list. Highly recommended.
Popular in the Community