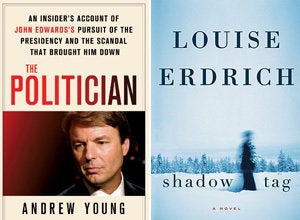 In case you missed any of the weekend's book reviews, here's your weekly book review roundup:
Although the basics of the Edwards meltdown are summarized in the current best seller "Game Change" (a book that got its reporting right, if Mr. Young is to be believed), the devil is in the details. And those details reflect an astonishing degree of either cynicism or delusional thinking on Mr. Edwards's part. Having worked as an assistant to Mr. Edwards for 10 years, Mr. Young thought he knew a lot about how this politician's mind worked. Still, Mr. Edwards could surprise him in chillingly Hitchcockian ways.
In "The Lost Books of the Odyssey" Mr. Mason ... has written a series of jazzy, post-modernist variations on "The Odyssey," and in doing so he's created an ingeniously Borgesian novel that's witty, playful, moving and tirelessly inventive.
This is not the kind of novel I expected from Louise Erdrich. Gone are the multi-generational saga, the tense relationships between whites and native Americans, the lush language, the glowing scenes of magical realism.

She has put herself on a literary diet.
"Little Boy Blues," Malcolm Jones' quiet memoir of growing up in North Carolina in the 1950s and 1960s with his beloved, controlling mother, reinvigorates the form and helps us to remember why we bother to read other people's faulty memories in the first place.
Wherever she goes - to her forlorn childhood home in San Diego; to Sicily, where she's plagued by digestive woes; to Santa Fe, on a sweetly conciliatory road trip with her mother - Castle is at once penetratingly keen and unfailingly good company.
English journalist Henry Porter's "The Bell Ringers" ... is one of many novels that have attempted to update "Nineteen Eighty-Four" -- and one of the more impressive. But while Orwell offered a worst-case scenario of what could happen 35 years in the future, Porter is writing about what, as he sees it, is already starting to happen.
Jefferson's new British friend [Gen. William Phillips] "would command an invasion that targeted Virginia and Jefferson himself," Michael Kranish notes in "Flight From Monticello," his superb narrative of the high-minded Virginian's turbulent wartime years.
Calleo's book is yet another effort to extrapolate the dangers emanating from an American foreign policy premised on the perpetual pursuit of hegemonic power.
"Living Dolls: The Return of Sexism," Natasha Walter
The Guardian
[I]t's hard to disagree with anything Walter writes. It's what she doesn't say that stops "Living Dolls" being truly convincing. The book's set-up and subtitle promise something that isn't delivered: the full story.
Calling all HuffPost superfans!
Sign up for membership to become a founding member and help shape HuffPost's next chapter