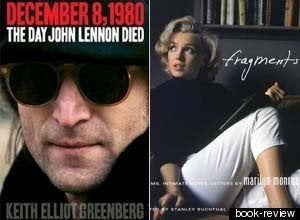 Unless, of course, that author happens to have been famous and somewhat mysterious, which is the case with Marilyn Monroe. Her "Fragments: Poems, Intimate Notes, Letters," which appears in a slender, handsomely illustrated volume edited by Stanley Buchthal and Bernard Comment, has a curiously enlightening effect on the reader.
'Still On The Road: The Songs of Bob Dylan, 1974 - 2006' by Clinton Heylin
Seattle Pi
For some, Dylan is -- and has been -- an enigma. For some, he's been a mentor/role model. For others, he's anathema (due to his protest songs no doubt). For Clinton Heylin, he's been the subject of several books. Still On The Road: The Songs of Bob Dylan, 1974 - 2006 is the second of Heylin's works that deal specifically with the Dylan canon and the fifth of his more than 20 books dealing with Dylan in some shape or form.
'December 8, 1980: The Day John Lennon Died' by Keith Elliot Greenberg
Seattle Pi
The strongest elements of the book spotlight the Lennons' neighbors in the Dakota; they reminisce about how son Sean was a happy presence in the building, and that every year Yoko would organize a Japanese feast for all the residents. Greenberg discusses the couple's philanthropy, listing the numerous charities they supported. Although Lennon had a rebellious reputation, he and Ono donated regularly to the NYPD, purchasing bulletproof vests for officers. Although many authors have described Lennon's "househusband" years, Greenberg paints a particularly charming picture of Lennon walking Sean to the doctor's office, then sitting patiently in the waiting room with other parents while the doctor examined Sean. Clearly Lennon enjoyed being a father, husband, and devoted New Yorker.
Fiction is "the last frontier," Thomas McGuane writes in a poetic disclaimer to this powerful novel about Berl Pickett, a small town doctor faced with public condemnation, lest there be any doubt that his characters (or their dogs) bear any resemblance to people he has known, living in Montana these last 40 years. This is a tipoff for the reader that McGuane plans to have fun with "Driving on the Rim," to give himself some loose rein, to play out some thorny moral dilemmas within the confines of a simple character, a regular guy. Don't worry, he explains, "Ranchers and farmers are rarely this gloomy, Christians this delusional, or socialites this far from home."
The story of Frank Sinatra's rise and self-invention and the story of his fall and remarkable comeback had the lineaments of the most essential American myths, and their telling, Pete Hamill once argued, required a novelist, "some combination of Balzac and Raymond Chandler," who might "come closer to the elusive truth than an autobiographer as courtly as Sinatra will ever allow himself to do."

Now, with "Frank: The Voice," Sinatra has that chronicler in James Kaplan, a writer of fiction and nonfiction who has produced a book that has all the emotional detail and narrative momentum of a novel.
'Cheap: The High Cost of Discount Culture' by Ellen Ruppel Shell
Miami Herald
Some readers may get bogged down in the initial, highly detailed chapters that provide a brief history of the retail industry and illuminate how the discounting game got its start. But these chapters provide the groundwork for what becomes an utterly engrossing, entertaining and at times horrifying look into the mirror at our own habits and how we perpetuate a cycle of damage to laborers, communities, customer service, craftsmanship and the environment.
If you haven't read Mr. de Botton's work, "A Week in the Airport" is a good place to start. It's a slim book, as intense as a volume of poems, and among the best things he's done. The accompanying photographs, by Richard Baker, are haunting in their suggestiveness. This pair is a James Agee and Walker Evans for the Radiohead era.
Related
Popular in the Community