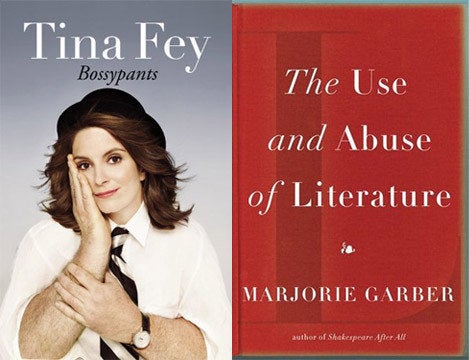 "Bossy Pants" by Tina Fey
If nothing else, "Bossypants" should make any profile of Fey unnecessary, since it provides, in abundance, everything readers want from a story about a performer and none of the "clever" observations about food intake/absence of makeup/appearance of child art upon which celebrity profiles are so dependent.
"Bismarck: A Life" by Jonathan Steinberg
Nevertheless, "Bismarck: A Life" is the best study of its subject in the English language.
"Say Her Name" by Francisco Goldman
Goldman, whose scintillating first novel "The Long Night of White Chickens" appeared in 1992, has long proved his ability to bring fictional worlds to life with voluptuous precision. Here, he applies those skills to describing love and grief from every angle, in a voice that is alternately lush and naked, lyrical and sardonic, philosophical and wry.
"Beneath Blossom Rain: Discovering Bhutan on the Toughest Trek in the World" by Kevin Grange
For the armchair traveler, Grange does a fine job of showing readers the nature, history, and landscape of Bhutan, as well as taking us to remote villages and monasteries (including an encounter with a "shit-faced" shaman who is plainly intoxicated when he comes to bless the group in a remote village). He is equally open about what is essentially a personal search for meaning.
"The Use and Abuse of Literature" by Marjorie Garber
"The Use and Abuse of Literature" purports to be a rallying cry for serious reading by a decorated and prolific Harvard professor, but once you pick your way through its heap of critical detritus--its mildewed commonplaces and shot-springed arguments, its half-chewed digressions and butt ends of academic cliché--you uncover underneath it all a single dubious and self-serving claim: that the central actor in the literary process is, what do you know, the English professor.
"You Think That's Bad" by Jim Shepard
Still, the rarefied material in this book results in remarkably few misfires. When he states his belief that writers "tend to forget just how many of fiction's pleasures . . . have nonfiction components," Shepard is not only defending his method; he's expressing a respect for life itself. His fine contrivances of cerebration and feeling can remind one of Richard Powers at his best. And his preference for historical quests, for real people's big gestures, may help keep American short fiction from falling asleep in the snug little precincts of its usual subject matter.