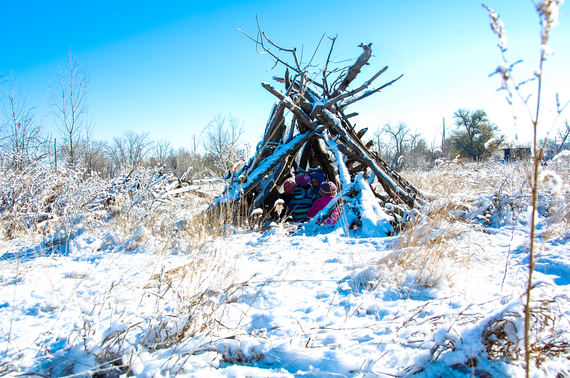 PHOTO: Jason Sperling; Members of the Running Wild Family Nature Club construct a shelter during one of their "unstructured" nature play meet-ups.
The concept is so simple: take your kids outside and let them rage in nature with no plan other than unstructured play--outside, rain or shine, with a small group of like-minded parents. When Jason Sperling, a fellow father at kindergarten, told me he was organizing a group to put events on a calendar and get our kids outside, I cheered him on and try to participate as much as I can.
The children in the Running Wild Family Nature Club are mostly ages 3 to 7 and we set them loose in the abundant selection of open space parks in Boulder County, and sometimes beyond. Our kids chop ice, splash in creeks, crawl through the mud, and make fairy houses among the trees. The adults stand back and try not to intrude, but provide safety nets and guidance when needed. Sometimes, we gather on a trail, then go "unhiking," and just let them wander through the area, with no linear goal in mind. Then we all go home, fresh air coursing through us.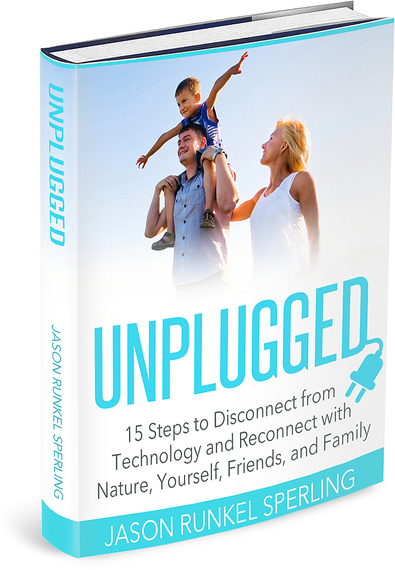 In Unplugged, Sperling makes a case for non-digital, outdoor play for raising children, then lays out the steps to build a successful family nature club. He discusses the challenges involved, suggests solutions to common problems, and gives helpful tips for forming your family nature club. Also, even though Unplugged is a book about disconnecting from technology, Sperling is no disorganized technophobe. His book is laid out in a precise, logical manner, each chapter addressing one aspect of creating a family nature club, woven with helpful, descriptive personal anecdotes. There is even a chapter on using technology to better develop your club--a club that is ultimately aimed at disconnecting from technology!
This ability to throw out the bathwater without losing the baby, so to speak, is indicative of a logical, forward-thinking 21st-century parent in search of relevant, healthy lessons that can be learned mainly in nature. Unplugged is a powerful tool that you can immediately use to expose your family to something even more powerful--the outdoors.