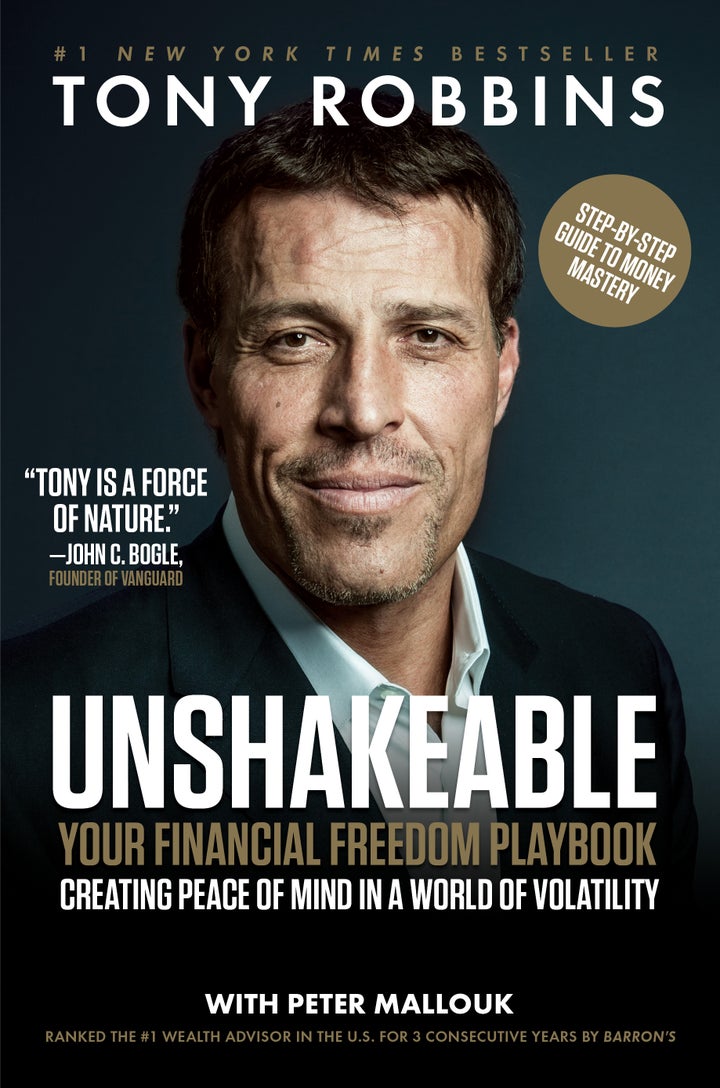 When Tony Robbins was 11 years old his family was so poor he often went to bed hungry. He supported himself as a janitor, working in the middle of the night and then going to school after only a few hours sleep. Robbins has gone on to achieve enormous wealth and fame yet he continues to work tirelessly as a coach, businessman, philanthropist and author.
"My life's obsession is to help people create the life of their dreams. My greatest pleasure is to show them how to rise from pain to power. I can't bear to see others suffer, because I know how it feels."
For his book Unshakeable, Robbins has interviewed more than 50 of the world's most successful investors and distilled their ideas and methods into a meticulously organized "financial freedom playbook" for the average person rather than the rare billionaire. Robbins wrote Unshakeable with the help of Peter Mallouk, whose firm, Creative Planning, manages $22 billion in assets. Mallouk took the concept of a "family office" -- usually exclusive to the ultra-rich -- and made it available to people with assets of $500,000 or more. Robbins then convinced Mallouk to go a step further, and offered the program to clients with a minimum of $100,000 dollars.
I am not a numbers person, and I would rather watch paint dry than look at a financial chart, and thankfully Robbins avoids that pitfall by quoting investors like Paul Tudor Jones with comparison/contrast examples that even I can grasp. Also, there's never even a hint of a magic formula in the book. Robbins is always straightforward and honest in his approach.
"Everyone's situation is unique, so I recommend you sitting down with a financial advisor to discuss your specific goals and how to reach them."
What follows the above advice in Unshakeable is a wide range of important questions you need to ask when interviewing a financial advisor. There's no minimum required for anyone who wants to read Unshakeable. Robbins cogently explains how fees are charged by funds and how to avoid them and uses what he's gleaned from Warren Buffett to explain the importance of compound interest in a simple anecdotal manner. (Below is what follows the anecdote.)
"That's the awesome power of compounding. Over time this force can turn a modest sum of money into a massive fortune."
Prior to reading his book I knew very little about Tony Robbins. I had seen him on television many times and knew he had an enormous following, but I hadn't read anything he'd written. I expected Unshakeable to be a motivational "you can do it" type of book and was pleasantly surprised that it was the exact opposite. Unshakeable is remarkably informative and written in a conversational style that's not only very easy to read but contains plenty of advice that you'll actually be able to remember and put to good use.
I've opened many investment books over the years and have never been able to get past the first chapter. With Unshakeable, Robbins' goal was to reach as many people as possible, so he wrote "a short book that you can read in a couple of evenings or a weekend," and he accomplished that mission, as I made it through the entire book in an afternoon.
All profits from Unshakeable will be donated to the charity, Feeding America.
(Tony will be on my radio program, Stribling's New York AM970 "The Answer" Sunday March 12th at 3pm est)
For more information or to purchase Unshakeable, click here.
Related
Popular in the Community