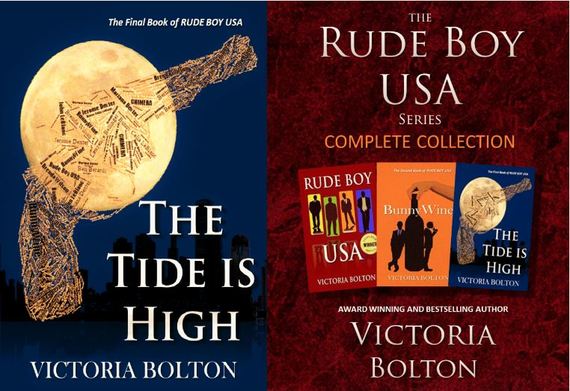 If you read one gripping book this fall, it should be the story of the Chimera Group, a multi-cultural group of mobsters running a shell investment firm in the 1960s.
A time when civil rights and anti-war were the chants of the protesters in the streets, they were known as the Rude Boys and were making waves in the ultra-exclusive culture of New York City Cosa Nostra.
Their story is told in Victoria Bolton's Rude Boy USA Trilogy. The series consist of three books: Rude Boy USA, BunnyWine, and The Tide Is High.
Mob boss Bernie Banks and his associates--John, Ben, and Jerome--differ from your ordinary Sicilian and Irish mob families. Two white, two black, they style themselves after the Rude Boy culture made famous in Jamaica.
Operating as an investment shell company supported by illegal activities, the Chimera Group hopes to become as powerful as other crime families and gain respect from the Cosa Nostra. Bernie, a war veteran of Jewish and Greek descent, begins his business in his apartment and grows it into a multimillion-dollar empire.

He and his crew resemble a more sophisticated subculture of urban street gangsters with their Ray-Ban sunglasses, loafers, and debonair style. But they want fear and admiration.
John LeBlanc, Chimera's number two man is the underboss and decision maker when Bernie is not available. He and his associate who is also his best friend, Jerome Dexter keep the company profitable and stable while Bernie makes deals with other groups in Atlantic City.
John runs the rest of the team with high precision, so well that he is set to inherit the business once an unexpected turn hits Bernie Banks. In Banks absence, John runs into trouble, brought on by internal strife between him, his wife Edina and one of his associates Ben Berardi who has a problem with John being the face of Chimera due to John being black and Ben being Italian.
Their efforts draw the attention of the rival Ambrosino family, who does not want to see a group making waves in the Cosa Nostra who are not native Italians. They also face civil conflict when Jerome Dexter brings in his cousin who is a former Playboy Club waitress, Celia Jones into the company.

Celia had dated John before she found out that he was married. During her time in the company, she ends up dating another associate.
None of the women are in the kitchen in this trilogy. They are likely trailblazers in a time when women were in the beginning stages of making decisions for themselves outside of societies expectations.

The feminist revolution of the period is featured in the story with the ladies being in charge of their decisions regarding sexual relationships, desires and how much power they truly possess.
Bolton's unapologetically blunt language brings the fictional story to life with a style that many native New Yorkers are familiar. She writes scrupulously and valiantly about the realities of mob life, all of it not glamorous as portrayed in some of the popular movies that many of us call classics.

It flips the notion of the mob being a monolithic culture on its back and sheds light on other crime groups from the past that had not been talked about in as much detail or in a celebratory manner.
The characters will make you angry or want to cheer for them despite their weaknesses. By the end of the trilogy, you will know them as if they were real people.
Bolton writes about life in New York City in the early 1970s in so much detail that you feel as if you were there with the characters.
She introduces us to another facet of life in the mafia as a minority without making their existence in the culture seem tragic. Each chapter is tense with sudden twists and turns, but the story never falls flat or repetitive; it stays fascinating with new surprises throughout.
What Other Reviewers Think
"Bolton writes with unwavering confidence and grace, unveiling a plot that is laced with unusual turns and sudden surprises, a pace that quickens with the reader's heartbeat." Reader's Favorite
"Bolton aptly captures the tempestuous spirit of the time-a volatile brew of political radicalism, crime, racial tension, and sexual libertinism-and her painstaking historical research is evident on virtually every page." Kirkus
Victoria Bolton is an Award-winning author. Her book trilogy Rude Boy USA, a historical crime fiction book is the winner of the Pacific Book Award.
Anyone interested in classic historical crime fiction, stories about New York mobsters, or stories set in cities.
"In the middle of a block in busy Midtown Manhattan full of shops and stores stood a silver building just twelve feet wide. Distinctive architecture decked in superior aesthetic treatments surrounded this place. Professional pedestrians, as well as regular shoppers, walked up and down the block every day. The noise of cars, police sirens, fire trucks, ambulances, and human voices filled the street twenty-four hours a day. There was no other place like Nineteen West Forty-Sixth Street."

"I thought by joining the service to fight in Vietnam; I was doing something honorable. I would have run to Canada with the rest of them if I really knew what I was getting myself into. It changed me forever."

Related
Popular in the Community