Four Funerals and a Wedding by Jill Smolowe
She Writes Press, 2014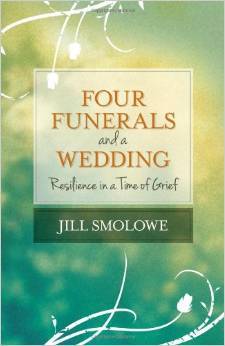 Towards the end of this heart breaking and heartening book the author, Jill Smolowe, writes that one of her friends says she has "a Ph.D. in death and dying." While Smolowe demurs, I agree with her friend. Just because you may figuratively have a doctorate does not mean you know everything, which is what the author carefully points out, because death and dying, really what happens to the dying and the surviving, is so incredibly diverse, individualized, nuanced and hides in the depths of what we try to comprehend about the human condition.
The author, an accomplished writer who has worked for Time, Newsweek and People and has many other credits to admire, at the age of 51 and as a mother of a teenage girl, lost her husband of 24 years to cancer after a 30-month battle. In the surrounding 17 months she lost her mother-in-law, her only sister and her mother. Talk about rough going, and it was, as we accompany Smolowe on her grief streaked journey of resilience. The wedding in the title is for you to discover. A close relative of mine seeing me reading the book asked who would read it, and I thought there are so many who would benefit from Smolowe's emotional intelligence, warmth and wisdom.
For those whose life horizons are drawing near, the book teaches about how to let go, not just of life but of the people who will survive you. It speaks to finding your voice to be able to live as you need to, not how others may need you to be. It speaks to how to say goodbye in ways that give needed closure to a life, for all involved.
For those who live with the prospect of grief or have it hit like a ton of bricks, as it did again and again for this author, we see how the unimaginable becomes imaginable, endurable, and in the end life goes on. We see how from the darkness emerge gratitude, solace and generosity. We appreciate that grief is different from depression, though each has its great agonies. We recognize, reading about her life and struggles, that retaining normalcy in relationships, work and community during the road to loss and in its aftermath are the best medicine that exists for recovery.
For those who encounter others facing and enduring loss (in time, who of us will not?) there are so many keen and clear reflections about what to say and how to help the survivor -- when running into someone in the supermarket, visiting, in the office, in the immediate aftermath of a death, and in the years that follow the loss. Not that these are bits of information we necessarily seek; but they will come in handy, inescapably, some day. But mostly, for we who are (or are not yet) in the grip of grave disease or death we see how we fragile human beings are also capable of grace and able to rebuild and find the light of life once again. That is what leavens the heartache this book portrays, and what gives us hope.
None of the remarkable lessons delivered in Four Funerals and a Wedding, I assure you, are pedantic or rely on any psychological jargon. Smolowe is a fine writer: she shows, she does not tell. Her story, and that of her family and friends, is what we read. When we do our heads and hearts are opened to the wonder that surrounds us.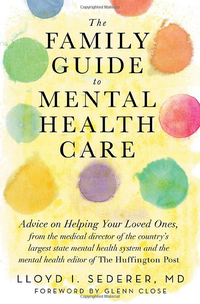 Dr. Sederer's new book for families who have a member with a mental illness is The Family Guide to Mental Health Care (Foreword by Glenn Close).
Dr. Sederer is a psychiatrist and public health physician. The views expressed here are entirely his own. He takes no support from any pharmaceutical or device company.