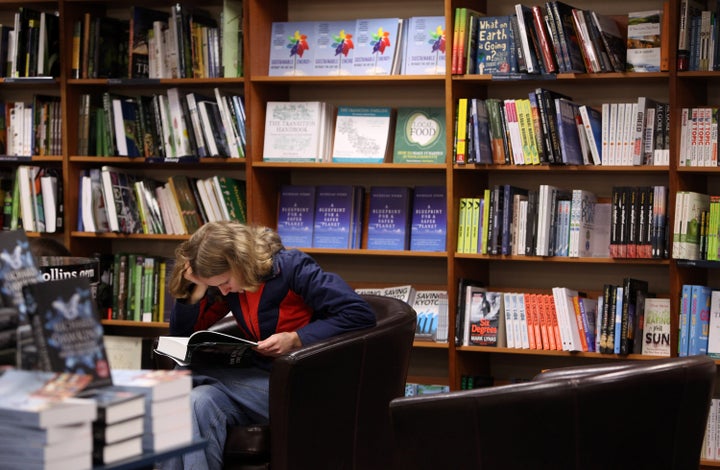 What does the new publishing model look like? Who sells what, and to whom? And if Borders is gone, is Barnes & Noble the biggest player? Or is Amazon? Will there be another big chain in the future, and will that chain's numbers be built upon the sales of its touch-screen readers, its magazines, or its mall-like foodcourt?
These past five years, I've felt like an old lion with a zoo being built around me. And I'm only 35 years old.
And what role will independent bookstores play in all of this? Will indies disappear like 8-tracks and cassette tapes, nostalgic vestiges of the past, or will they stay small and viable like vinyl? What will happen as books are self-published and marketed through social media and micro-blogging, as a Facebook "like" takes precedent over all else?
But we still know one thing. As readers continue to read, they will find authors and titles they love. And when they love something, they'll put that something into the hands of a friend or family member. They'll say, "Ooh, this is SO good. You have to read it."
As long as bookstores exist, people will keep buying books because the person next to them puts it in their hands. Literally. As Sherman Alexie writes in "Superman and Me": "Books," I tell them. "Books."
Jamie Passaro, of the Pacific Northwest Booksellers Association, told me that she spent all of last summer hand-selling Lidia Yuknavitch's The Chronology of Water. Passaro had nothing to gain by selling that title. She didn't work for Hawthorne, the book's publisher, and PNBA got nothing out of the deal. But Passaro loved the work, put it directly in the hands of buyers over and over, and The Chronology of Water ended up winning the Readers Choice Award at the Oregon Book Awards.
Hand-selling may not lead to national bestseller status, and it may not even lead to an award, but as Ben LeRoy, the publisher of Tyrus Books says, when looking at Bookscan numbers, "It's all about keeping the book alive."
Most books die (stop selling) within six months of publication. Hand-selling even ten copies a month keeps the book out there, keeps people reading, keeps people talking.
So if I'm going to hand-sell a book, where do I start. Do I start with my favorite novels or short-story collections? Do I sell something well-known like Hemingway's collected Nick Adams stories? Or do I consider what might be the hardest type of book to sell to the general public? Something obscure and extremely literary.
I'll tell you what I hand-sold this last year, to many different types of people: Dismantling the Hills, by Michael McGriff.
A lot of readers will say, "Huh?" Michael who? But that just means they haven't read him yet. McGriff is by no means unknown. He won a Michener Fellowship. A Stegner Fellowship. A Ruth Lilly. His first book won the Agnes Lynch Starrett Poetry Prize, and his recent release, Home Burial, was reviewed in the New York Times.
In his NYT review, Jeff Gordinier writes about McGriff's characters: "In the hands of a less capable poet, their fates would feel almost too grim to bear, but McGriff chronicles their dissolution -- and the dissolution of the landscape they come from -- with language that manages to be simultaneously spare, cinematic and tactile."
Spare, cinematic and tactile. That's sounds good, right? I want to read those poems, want to hear those stories.
I would add that McGriff is imagistically brutal while maintaining a rare love for all things.
His "Brief Elegy on the Tip of a Match" and then the longer "The Last Temptation of Christ" are brilliant, forcing the reader to consider new possibilities, a shifting of perspective. One of my favorite poems, "Iron," has the specific:
where we held our little breaths and each other,
passing the spell of invisibility between us.
Five years later, you brought your father's
hunting knife to school and stabbed Danielle Carson
in the hip and I never saw you again
And the allusive in the same poem:
of a woman who asked for nothing. Tomorrow night
she'll lead armies, in a few more she'll burn at the stake
and silver birds will rise from her mouth. This is the book
of the universe, where iron is the last element
of a star's collapse and the moon retreats each moment
into oblivion. My blood fills with so much iron I'm pulled
This narrative, two pages long, opens the book, and when I put it in the hands of the person next to me, it sells. I say, "Read the first two pages, and see what you think."