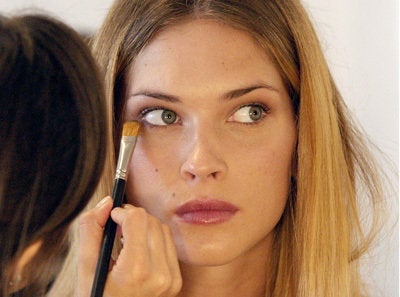 I don't know how many times it took dinner with Shawn to light a fire under my ass--maybe three? Maybe four? I don't even remember the restaurant, but it had to be nice because Shawn only treats me to the fine gastronomies in life. No, no, I vaguely remember it--the dim candlelight, the smooth wood beneath our bread basket, the deafening buzz from the other late-night NYC nibblers. The way our small table was shouldered in between two other tables makes me think it was some anonymous Italian stalwart-of-a-restaurant (you know the kind that needs no name to be discovered), hidden in the alcoves of some Soho or Chelsea street, heavily decorated with Zagat ratings, Gourmet magazine rants, and NY Times newspaper clippings. You know the scene. After a while, it all looks the same--littered with glowing heads on the inside and a outdoor queue of bundled-up couples blowing smoke or breathless vapor into the cold night air.
God, listen to me; I sound like a New Yorker.
Anyway, that's where it all started...Sometime in the fall or winter of 2006. In between daubing my rosemary focaccia in cold-pressed extra virgin olive oil I managed to mutter out a few phrases, "I've been thinking of writing a book," I had said. "I don't even know how to begin."
I can picture Shawn raising his eyebrows from his plate of bruschetta, his shadowed visage bestowing a half glance in the muted yellow light. The statement doesn't illicit a full salutation, because it sure as hell wasn't the first time I uttered those words. Finally he just squared his jaw and told me, "You keep on talking about this book, so why don't you just write a little every day and before you know it, you'll have a finished manuscript."
Good advice is great advice if it's actually taken, so I decided to make good on Shawn's suggestion. I started writing notes whenever a thought stuck me--on the subway, before bed, in the middle of the night. I must have stacks and stacks of envelope backs, old receipts, and chewed-up, ink-blotted printer paper with scrawled-out fits of 2AM ruminations.
Writing a little every day is a tremendous way to get a book done because even though it may not end up looking like the book you finish up with, it at least gets your cogs turning in a forward direction. That's what actually happened to me. I was writing thoughts and facts and figures that I never really ended up using, but it was a necessary evolution of the writing process. Research I guess they call it...you know...whoever they are. And as with all cycles in life, my ideas would ebb and flow, but pretty soon I found myself devoting two, three, and four, or sometimes a full day's work to the task. What's funny about this whole thing--(well funny now, not funny then)--was the fact that I have written two books in the course of a year and a half. One will be published, one was sent to the shredder.
I finished the bulk of my first book (i.e. the shredded one) in about three months. Three months! Can you believe it? That's what happens when you write a little every day. Anyway, I got an agent (Robert) via friend/manager/mentor/business partner/confidante Alex. It was a brief conversation and pretty soon we were making our rounds to a few publishers in New York City.
Publishers, I've determined, may very well come from a different planet--if not a separate galaxy altogether. Just as a modeling agent will tell whoever is in their line of sight to "Lose 10 pounds," book publishers will tell aspiring authors, "This book is already or is going to be coming out," -even if it really isn't so. Don't worry. If this happens to you, don't push the subject. Save yourself time and frustration: The publisher is not the right one for you.
Anyway, no matter how I tried, publishers kept telling me that all the "green" books have already come out--or were slated to launch in a few months. What pissed me off about this (and mind you I had only met with two publishers thus far)--was not the fact that they weren't signing my book but the fact that they were registering "green" as this trend of sorts--here today, gone six months from now. I mean, I should be use to it by now. The bulk of the fashion industry still registers it as such, but I still think anyone remotely connected to reality would see that this is not an issue going away...it will just continue to morph and evolve and grow and permeate every industry under the sun.
Now, if I can just go on a slight tangent for a moment...
Let me just say that I consider my book a style book, not necessarily a "green" book in the first place. It can sit comfortably between The Lucky Style Guide and The Devil Wears Prada. Of course it can share shelf space with the smattering of green books out there too, but it'll only stand out that much more because it doesn't look or feel at all "green." In fact, the 350 pages of hundreds of brilliantly-colored photos (vegetable-dyes on recycled paper, of course) would belie its greenness if you knew nothing about it's author--who may I say is a fairly militant freak-of-nature-freak-for nature type...Believe me. I know her intimately and personally and somehow manage to hang out with her 24 hours, 7 days a week.
And even though this book of sorts can comfortably snuggle up to both the stiletto bibles and FSC-certified solar-powered paper proselytizers of the world, I'd rather it sit with the former, however, because style, naturally: the savvy shopping guide to sustainable fashion and beauty (Note: I did not venture to use the words "eco" or "green" in the title), is written for women who love style, but may have never attempted to use the word "green" in their lexicon. That doesn't mean, however, that it's soft on environmental stuff, though. I engendered to give it a delicate, stimulating balance between the two worlds--often combining the worlds of great style, great story-telling, and great--if not aspirational--practicality and sensibility.
Anyway, in all fairness, my first book (i.e. the shredded one) was not "style, naturally." It was some other book that was, in my opinion, different...dare I say, inferior, to what is currently sitting in line at the printers. That being said, I signed with a publisher in early 2007. The goal was to get the book out by September 2007. For the sake of anonymity, I'll call them Publisher N - lovingly named for "Never gonna do that again!"
When we pitched the book, Publisher N was gaga on the idea, and wanted to get on board right away. There was just one catch: They didn't focus on graphics or design and this was a graphically intense book. No worries though because in May 2007, I met a graphic designer who was the art director for my Levis Campaign. I asked him if he would design my book and he agreed enthusiastically. (Niko, you are the bomb!) We pitched it to Publisher N and they hopped on board. They said, "Recycled paper, vegetable-based inks...the works!" The design process ensued.
The first week or so was great, but for some reason after the first week, the road started to get pitted and mired; I couldn't quite make sense of it at the time. I made all my deadlines, but pretty soon when number crunching time came--(i.e. how many books can we print, can it be done on recycled paper, is there a way to print the book in color)--shit started hitting the fan. I got a call from the publisher--a month before the book was due--saying that they couldn't do recycled paper. "It's a book about environmentally-conscious design...there is no can't when it comes to recycled paper," I said. They said they'd work on it. Then they came back and said they could do recycled paper, but couldn't print the book in color. "What do you mean? The book is designed for color. We just spent the last couple months designing it in color" I said. "Let's figure it out."
Four days before the book was actually due in June 2007, the publisher pulled out. They couldn't print the book on recycled paper or color.
Don't worry though, that's not the end of the story.
In the interim, my agent was getting a hip replacement, so the book was put on hold for the time being. It took about three months for us to get back in the game and in September 2007--my agent, my manager, and I were back out there pitching a book--one that was 100% complete--or nearly so.
The first publisher we went to--Chronicle Books--just totally, wholeheartedly got the book. They saw the niche that was being filled, the category that it was creating. I didn't even have to suggest doing it on recycled paper and vegetable-based inks--they were already suggesting it before I even had a chance to. What a relief! The only catch (oh there is always a catch in the game of publishing) is the fact that they wanted to double the size of the book, change up the design, and have me write it in a slightly different tone--first draft would need to be complete by the end January 2009.
Don't get me wrong. I like to move, I like to move really fast, and can move really fast when I put my nose to the grindstone. The challenge for me wasn't will; it was time. I had already committed my months of October and November. The first half of October was an expedition to Great Bear National Rainforest on a donor-funder trip. I'd live on a boat for a short period of time and learn the history of the ecosystems-based management plan that was being put forth by an amalgamation of stakeholders--Canadian and U.S. foundations, First Nations, the Canadian and B.C. government. The second half of October was a series of West Coast events--Seattle Green Fashion Week, school talks, Race Against Global Warming. I wouldn't make my way back out to New York to the writer's haven that I call my home because I wanted to cluster my trips on the Pacific coast to save on fuel miles.
East Coast wouldn't come until the first week of November, but I wouldn't be in New York. I'd be preparing for Powershift in D.C., the first climate change lobby day and conference headed up by my peeps over at Energy Action. A few days later, I'd be off to Africa for an entire month--the first half with TOMS Shoes in South Africa, the latter half to neighboring Mozambique to work with Allan Schwarz on the sustainable forestry-design programs. All of this was rushing through my head as I was mentally calculating the feasibility of writing a quasi-new book in the course of two month's time. "I don't know how it'll get done, but it'll get done," I said. "I won't be able to work on it during my trips, but I sure as hell will work through the holidays. Whatever the case, it'll get done." And I meant it too.
I can't tell you enough how awesome Chronicle is and has been. It's quite different when you actually have a publisher working with you and saying what they "can" do as opposed to what they "can't" do. The process has been...well...quite a process, but a fun one. (Except for those really late nights in December when I was writing 20 hours straight and my right eyelid was closing against my will. I bet you didn't know the many uses of double-stick tape!...And sure, I don't have 20-20 vision any longer...I can't see far, my eyes probably growing so accustomed in those couple months to staring at the eerie glow of my computer screen into the wee hours of the morning, but hey! I don't drive, so vision that goes the distance is like a vestigial structure for me anyway)...But I digress...
The "Thank you" list in the back of my book has seemed to spiral out of control, adding more and more people as the months went by. I'm certain I'm still leaving people out. So may I just say to everyone who has helped me along the way in some way, shape or form--"Thank you!"
I'm just beyond-thrilled to actually see the final steps - compiling the index and completing the book jacket design--come together. I have a few outstanding checks to send off to photographers to pay for their artwork (I went over my allotted art budget), but all-in-all I can breathe deeply and actually say I have a finished product that I am truly proud of and that is fit to print. My editors are psyched, my graphic designer is psyched, my agent & manager are psyched, and I'm sure Shawn--when he finds out I made good on his suggestion--will be floored when I hand him over a signed copy saying, "Thank you for that night in the Italian restaurant."
I'd like to describe it as a book for the Every Woman, designed to fit in every woman's life and lifestyle in a way that is meaningful to her. The information and ideas, stories and suggestions are not thrust upon her like an annoying sales person pushing last season's shoes for half price, but instead, are presented in a way where, she, the reader, is encouraged--if not empowered--to form her own opinions, thought processes, and decisions. The reader of style, naturally is smart, sophisticated, has her own sensibility--and probably has a sensitivity to the issues happening in the world around her, but may not necessarily "put it to practice" the way that she aspires to.
I want any woman who loves style to pass by this book, pick it up, and learn so much more than she ever thought she would from a "style" guide. It's written in an accessible, witty tone. It doesn't takes itself too seriously, it's not too salesy, and surely not highfalutin. I just said what I wanted to say to the readers. Just be real with all of you out there, you know? You won't find me saying that these stilettos will save the world. Piff! If anything, it's the anti-fashion fashion book. It's the one that is style because it just is. It's the one that makes you think and written in a style that you can make all your own. That's it. That's style, naturally.