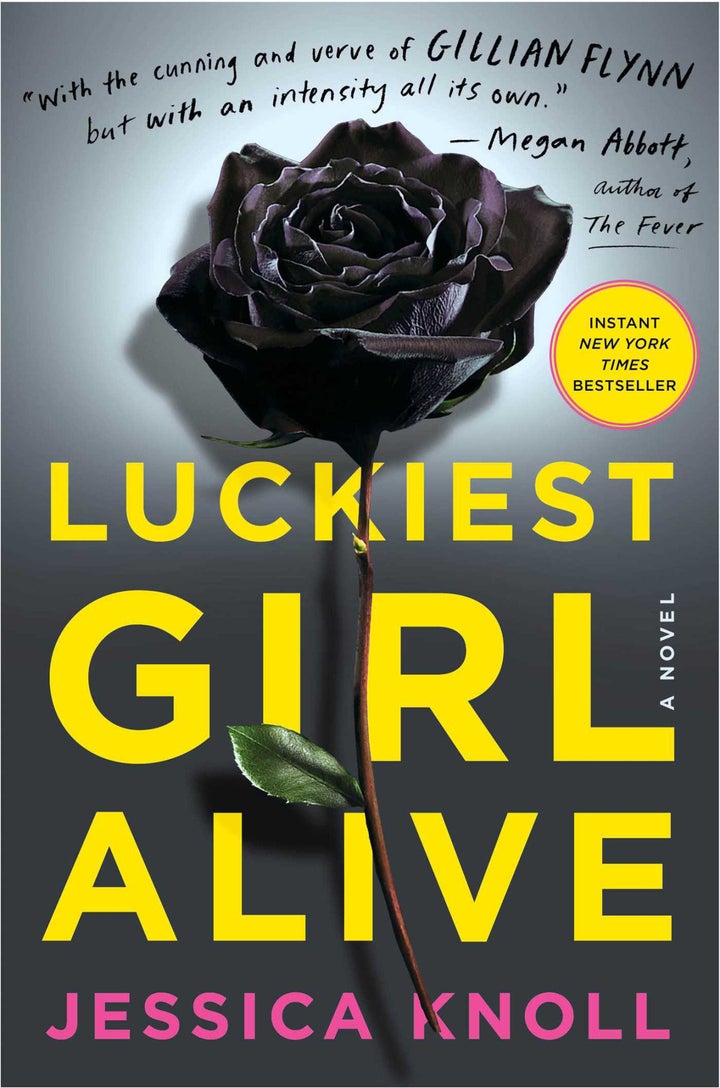 "The first person to tell me I was gang-raped was a therapist, seven years after the fact," novelist Jessica Knoll wrote in an essay for Lena Dunham and Jenni Konner's newsletter, Lenny Letter.
It's a heartrending statement, one that makes our culture's tendency to ignore or undermine rape victims clear. As a consequence, repressed emotions, shame and denial are common responses to the crime. Understanding what happened to oneself as rape can be harrowing or impossible when similar acts aren't publicly discussed as such; it's no wonder Knoll was unsure. But, the recent groundswell of women publicly announcing that they were sexually assaulted gave her confidence. What happened to her was rape, even if her peers at the time refused to label it as such.
Knoll's essay detailing her rape and her attempts to process it is especially powerful in light of her debut novel, Luckiest Girl Alive, which deals with similar themes. The book's protagonist, Ani, is gang-raped and publicly humiliated at a young, impressionable age. She seeks an indirect sort of revenge by living an outwardly impressive life, but learns that glamour can't stand in for intrinsic peace. In the book's dedication, Knoll wrote, "To all the TifAni FaNellis of the world, I know," prompting fans to ask whether the author had endured the same hardships as her heroine. Until recently, she claimed she hadn't, or was evasive.
"I've been running and I've been ducking and I've been dodging because I'm scared," Knoll wrote on Lenny Letter. "I'm scared people won't call what happened to me rape because for a long time, no one did."
In the essay, she rehashes her attempt to confront one of the boys who raped her. The next day, "trash slut" was scrawled across her locker. Terrified, she apologized to him, and never referred to the crime as rape again, until writing the piece for Lenny. Instead, she created a character who had endured similar traumas. Perhaps because she felt unsafe or unsure discussing her own rape, Knoll -- like many other authors who have been victims -- turned to fiction first.
Recounting one's rape through the perspective of a fictional character is an understandable first step toward coming forward. As with other traumatic events, rape can lead to disassociation as a coping mechanism. Processing hardships as though they're happening to someone else can be a way of tapping into your own stored-away emotions. As with teens exploring alternatives to heterosexuality through fan fiction, writers who explore the emotions they harbor about being raped can similarly do so safely in their imaginary, constructed worlds. But, psychologists maintain this isn't a permanent solution; coming to grips with your own association to an imagined counterpart is an important part of healing.
Another author known for penning a novel about rape, Laurie Halse Anderson, has said the experience described was taken from her own life. In Speak, a young victim stops talking altogether. It's arguably a metaphor for Anderson's hardships. In an interview with Hello Giggles, the author said, "I didn't tell anybody, I didn't speak up for almost 25 years, when I wrote the book."
After Speak's publication, Anderson began touring the country, talking with young people about her book and its connection with her own life. She recalls a girl she met telling her, "I didn't know it was possible to be OK after that." She's now able to speak bluntly about rape, but fiction was the first avenue into plain-spoken discussion. Once compelled to be silent, she now has the confidence to be heard.
The theme of silence resonates throughout Knoll's essay, too. "I was 15 years old and aching for guidance and protection, for someone to release the mute button on my voice," she wrote. "What was the point in raising my voice when all it got me was my own lonely echo?"
Who, or what, are these women afraid of? The men who assaulted them, certainly, but also public scrutiny or disbelief. Unfortunately, their fears of the latter are founded. When Lena Dunham wrote about being raped in an essay in her book, Not That Kind of Girl, backlash ensued. Much of the negative response arose from her use of a pseudonym and character description that closely matched an actual man named Barry, who, like her alleged rapist, went to Oberlin College and was an active Republican on campus. He felt his reputation was tarnished, and threatened to sue.
Instead of calling into question the effective or appropriate avenues for discussing rape, the incident caused a rush of readers to protest Dunham herself as an exhibitionist. She was labeled a "proven liar" and "rape-hoaxer" by Breitbart, demonstrating that writing about rape in a nonfiction context means running the risk of a hearty public shaming.
Roxane Gay, a novelist and essayist who has written about rape in both mediums, has discussed the rough waters of nonfiction-writing backlash. In an essay titled "The Danger of Disclosure," she wrote about her readers' response to a piece on language and sexual violence. "The main question people asked -- via email, at readings, and even at a writing conference, in a bar -- was, 'Were you raped?' I hated the curiosity about the details of my past, the deeply private details that are mine and no one else's," Gay wrote. "At the same time, certain kinds of nonfiction invite such questions."
So, speaking out straightforwardly can lead to prodding questions, disbelief, accusations, and further harassment. Meanwhile, the world of fiction allows a rape survivor to address her pain broadly, impersonally, sometimes even artfully. In these stories, there's reflection and resolve. Rape is a thing that can be solved; it becomes a manageable, tangible thing. It may not be an antidote, but it's a start.
Calling all HuffPost superfans!
Sign up for membership to become a founding member and help shape HuffPost's next chapter
BEFORE YOU GO
PHOTO GALLERY
Banned Books