Baseball books tend to come out in March or April, along with returning Eastern meadowlarks, daffodils, and the sweet smell of spring training. Quite often, though, I don't get a chance to read new ones until late summer or early autumn -- when the specter of four baseball-deprived months appears on the chilly horizon.
This year, three published works on the Grande Olde Game cooperated by releasing themselves on the later side, and all three are worth exploring.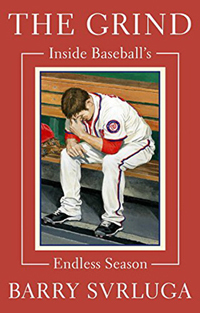 The Grind, by Washington Post baseball writer Barry Svrluga, is a little treasure, a heartfelt, beautifully rendered dissection of a 162-game season, in this case the 2014 Nationals'. The book is only 175 pages and can probably be read on one lazy Sunday afternoon, or while waiting in line to board an island ferry, but it's a rich, revealing study of how the tough yearly major league schedule affects eight different people associated with the Nats -- from Ian Desmond's wife balancing daycare and insane travel schedules, all the way down to the team's clubhouse and equipment manager.
What emerges is a portrait of everyday hard work that we fans barely have an inkling of while reading the daily box scores and standings. We live on the road through numerous small towns with Kris Kline, ache for making the Show with minor league prospect Tyler Moore, go through a rigorous daily physical routine with third baseman Ryan Zimmerman, and never stop working every day of the year with GM Mike Rizzo.
The same way major leaguers make playing the game look easy at times (although it isn't at all; just ask Michael Jordan), the members of the Nationals family Svrluga spends time with do their jobs so exhaustingly well that they also go unnoticed. Being in the big leagues may mean more money, prestige, fame or what have you, but it isn't even close to being a walk in the park, and The Grind is a memorable haiku to that.
From a small, fairly new publisher in New Jersey called Summer Game Books comes Baseball's Untold History: The People, by founder of the excellent seamheads.com site Michael Lynch. Though it doesn't say "volume one" anywhere on its cover, this is the first of what will be a four-part series by Lynch that will also include The Postseason, The Numbers, and The Wild Side, and are basically a collection of mostly fascinating baseball anecdotes you're probably not aware of.
Kicking off with "The Mysterious and Tragic Death of Don Wilson", Lynch documents the sad fate of Astros hurler Wilson in the 1970s, who after compiling a reasonably good career, was found dead of carbon monoxide poisoning in his garage. Austin McHenry, a slugging Cards outfielder in the 1920s who died at 27 after developing a brain tumor from being hit by a pitch in 1916, receives a similar tribute.
Lynch then "improves" the mood with a section called "Cups of Coffee", about five players who barely played in the bigs. Harry Lunte, for instance, Cleveland's infield prospect who was caught in the transition from beaning victim Ray Chapman to fill-in and World Series hero Joe Sewell, was basically shoved aside and out of the game by 1926.
In "Problem Children," there are three featured players, and each one's story would make for a fascinating movie. There's Art Shires, a talented hitter in the 1930s who couldn't stop fighting and drinking and was later accused of murder in Texas in 1948. Chris Brown, who grew up in the same troubled L.A. neighborhood as Daryl Strawberry, was a Giants and Padres outfielder in the 1980s and drove himself out of the game by expressing non-stop indifference, at one point got work driving a truck in Iraq for Halliburton, and died in a strange house fire in 2006. "Shufflin'" Phil Douglas, a worthy pitcher in the 1920s, also suffered from alcoholism, simple-mindedness, and not getting along with John McGraw or Commissioner Landis, and had a miserable end to his career and life.
Lynch admits in his intro how he relishes in the stories of the downtrodden, but there are also uplifting profiles, such as one about Cy Seymour, the slugger who dominated home run marks in the early part of the 1900s before Babe Ruth demolished them. The late Gary Carter is given a lengthy chapter, and "The Battle for George Sisler's Soul" is damn interesting.
My only qualm with The People is that it seems to be in dire need of an editor, not a copy editing one, but one to shape the material here into a dynamic structure. Most of Lynch's handpicked stories are interesting on their own, but there's a randomness to the way they're arranged in the book. "The Explosive Bill Dahlen", for example, is in the section called "Among the Stars" but could easily have been included in "Problem Children". The Gary Carter segment, while well-researched, doesn't reveal anything most of us don't already know about him, doesn't seem connected to the theme of the book, yet is the volume's longest chapter. Some of the shorter sidebar stories, like the one for mildly interesting pitcher Iron Davis, appear in chapters with entirely different subject matters.
Still, Lynch does provide plenty of fun facts and tales to wallow in, and I'm eager to see how the three remaining volumes in his series improve on their presentation.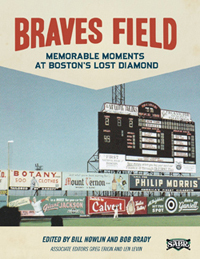 Lynch has also written a chapter on Tom Hughes' 1916 no-hitter in a marvelous collection of stories called Braves Field: Memorable Moments at Boston's Lost Diamond. A SABR e-book compiled by Bill Nowlin and Bob Brady, it spotlights a long-lost ballpark that has never been given a worthy literary treatment -- until now.
Braves Field consists of 80 chapters, written by 43 SABR members, and they cover everything that ever happened on the park on the shores of the River Charles, from its origin in 1915 to its Braves' abandonment for Milwaukee in 1952. In between, we learn of "Hank Gowdy Day" in 1919, the first radio broadcast from Braves Field in 1925, a monster day for Wally Berger in 1930, Babe Ruth returning as a Brave in his final year of 1935, the 1948 National League pennant, African-American Sam Jethroe's first Braves Field game in 1950, the 1951 "Greatest Rhubarb" in the history of the park, and many other moments.
I have a small personal attachment to Braves Field because my dad was a Boston Braves fan and attended a few games there in the late 40s, and you can still visit the park's original ticket office (now a Boston University police station) and see the old "Jury Box" section of the right field bleachers, now one of the sideline sections for BU's football games. But a thoroughly researched gem like Braves Field is just a fantastic gift for baseball fans everywhere, especially those with an affinity for old ballparks. In my wacky time-travel fantasies about the game, I'm always wishing I could beam myself back to the cool shade of some cigar-scented grandstand in the 1930s. This book is the next best thing.
Jeff Polman writes for various Web sites and has published three "historical baseball replay novels". His latest, Mystery Ball '58, is now available on Amazon. He'll be reading from it on September 23rd at Lefty O'Doul's Restaurant in San Francisco, and on September 24th in the Sausalito City Hall Council Chambers, as part of the Sausalito Public Library Speaker Series.
Calling all HuffPost superfans!
Sign up for membership to become a founding member and help shape HuffPost's next chapter