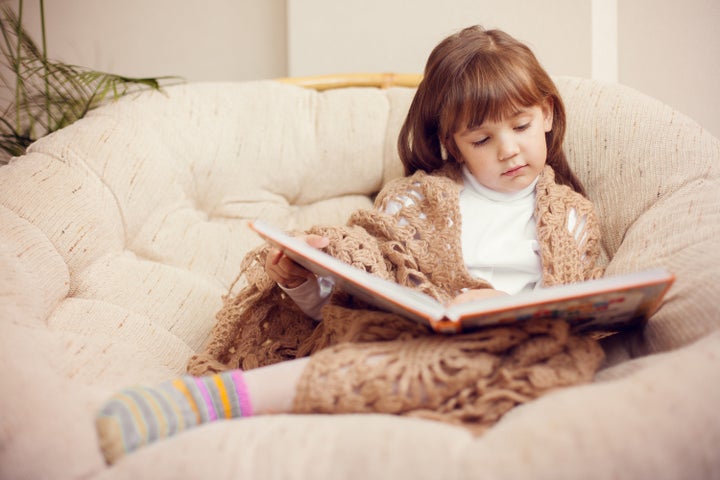 2013 marks the 50th anniversary of some truly fantastic children's books. The first entry in two beloved children's series, Amelia Bedelia and Encyclopedia Brown, Boy Detective were published in 1963, as was Where the Wild Things Are, Dr. Seuss's Hop on Pop and the lesser-known but brilliant, dreamy Swimmy.
For several generations now, these beloved classics have awakened children's curiosity and shaped their imaginations for a lifetime to come. If I were to say, "Let the wild rumpus start," I bet that more than one of you would instantly think of Max in his white pajamas and crown.
"Books that we read to children become part of them emotionally. They offer them scripts for how to handle things later in life, and just -- beauty! Joy!" says Wendy Lukehart, Youth Collections Coordinator at the Martin Luther King Jr. Library in Washington, D.C. I couldn't agree more.
With the children I've looked after, I've always made sure that reading together is a daily activity as integrated into the routine as breakfast or bathtime. There is an art to reading children's books, and the secret is simple: You must be willing to be silly! Show excitement about the book, give the characters voices and engage children by asking what's happening or what will happen next.
It's hard to tell which recently published books will stand the test of time, but there have been some truly brilliant ones published in the last year or two. In my decades of experience as a nanny, I've learned what to look for: Books that are designed to be read with children, rather than to them.
What follows is a list of the best books for children ages 1-6 published since 2010. It includes my personal favorites along with wonderful recommendations from librarians, veteran booksellers, and researchers. This is a post overflowing with the best new books, hand-picked by people who love reading with children.
Baby and Toddler:
Diane Garrett of Diane's Books in Greenwich, CT recommends Tuck Me In by Dean Hacohen and Sherry Scharschmidt (Candlewick, 2010). Toddlers can participate by helping lift flaps to "tuck in" a sleepy baby animal on each page. With few words, bold print and its repetitive refrain, it's a great bedtime book for the younger set.
Elizabeth Bennhoff, Early Childhood Librarian Fellow at the University of Denver, likes Backseat A-B-See by Maria van Lieshout (Chronicle, 2012). A is for Airport, B is for Bike Route: "It's a fun book about all the different things you can see on a road trip." After you've read it together a few times, this is a great book to tuck into the car seat.
"My all-time favorite for board books is Boynton -- I just love her humor!" says Wendy Lukehart. Sandra Boynton's fun, rhyme-filled books (the latest is 2011's Happy Hippo, Angry Duck: A Book of Moods), are not your typical animal books; they're "funny for the adults and surprising for the children, too... because the characters do unexpected things." Boynton is both author and illustrator, and her cartoon artwork adds to the zany fun.
Preschool & Kindergarten:
No-Bot, the Robot with No Bottom, by Sue Hendra (Simon and Schuster, 2013). One of my absolute favorites, No-Bot tells the story of a robot who loses his bottom while playing on the swing and recruits his animal friends to help him find it again. I read this book in the UK and loved it so much I bought it for the children I nanny in the States. It's fantastic fun on either side of the Atlantic!
Elizabeth Bennhoff recommends the latest by Eric Litwin and James Dean: "Pete the Cat and His Four Groovy Buttons is so cool!" (HarperCollins, 2012). All the books in the series, says Bennhoff, "do an excellent job of incorporating pre-reading skills in fun ways. They have a predictive pattern that allows kids to predict what's going to happen next, which helps their language and narrative skills. The illustrations are great and they make reading fun." Each book also has a YouTube video with fun songs and extra animation.
Lizzie Preston, a bookseller at Hatchards, London's oldest bookshop, recommends the lively illustrations and fun rhymes of books by Axel Scheffler and Julia Donaldson, the team behind the immensely popular 1999 book The Gruffalo. Their most recent collaboration, Superworm (Alison Green Books, 2012), "is a really big favourite at Hatchards and is one of our bestsellers at the moment."
Ronna Mandel, the mastermind behind the terrific site Good Reads with Ronna, raves about 2013 Caldecott Medal winner This is Not My Hat by author/illustrator Jon Klassen (Candlewick, 2012). "Prepare to be lured into the brilliance of a book that marries subtle yet sophisticated artwork with short, simple sentences that say so very much," says Ronna. "Readers old and young will love finding out the fate of one small, overly confident crook of a fish who thinks he can outsmart a bigger fish whose hat he has just stolen." Ronna, who is also the book reviewer for L.A. Parent, says the book is ideal for children 4-7.
Wendy Lukehart loves 2013 Caldecott Honor Book Green by Laura Vaccaro Seeger (Roaring Brook Press, 2012). How many kinds of green are there? Forest green, sea green, lime green, pea green... Because "it deals subtly with the multiple meanings of green," including a gentle message about caring for the environment, "it rewards repeated readings ... and works with a lot of different ages." Cutouts on each page transform into something new on the next, and even grown-ups will enjoy Seeger's intricate, textured die cut illustrations.
Sleep Like a Tiger, by Mary Logue and Pamela Zagarenski (Houghton Mifflin, 2012), is another of Wendy's favorites, and rightly so. "It's a bedtime story, but it goes so far beyond the typical story, and offers a script to parents" for how to calmly put to bed a child who declares she's not sleepy. In the book, the parents encourage a low-pressure bedtime routine, and patiently list the routines of various animals until she drifts off. Wendy "can't say enough good things about the art," which is original and fresh, but dreamy enough for bedtime.
Last, one of my favorite new discoveries: Twigtale, a brilliant new website that personalizes books with customized stories and your child's name and photo. These books are fantastic -- they're unique and high-quality, and with titles like Crib to Bed, Soon-to-Be New Sibling and Starting School, they really help prepare children for transitions by walking them through what to expect, step by step.
Donating Outgrown Books:
As caretakers, part of our job is to cultivate gratitude and compassion in children. Donating outgrown books is a great way to teach your children about giving back, and to see your family's books make a difference in other children's lives.
Contact your local library, Goodwill, children's hospital or women's shelter to see if they need books. Larger regional charities like Books for America, which helps underfunded DC schools and shelters provide books and reading programs for children; Bookends in LA, which sends kids' books to youth centers, shelters, literacy programs, and underfunded schools; and ROAR ("Reach Out and Read"), a student-run organization at USC's Keck School of Medicine that reads to children at pediatric clinics while they wait to be seen by physicians, are all looking for gently used children's books.
Many thanks for great suggestions to Diane, Elizabeth, Wendy, Lizzie and Ronna, and I look forward to seeing readers' suggestions for great books in the comments!