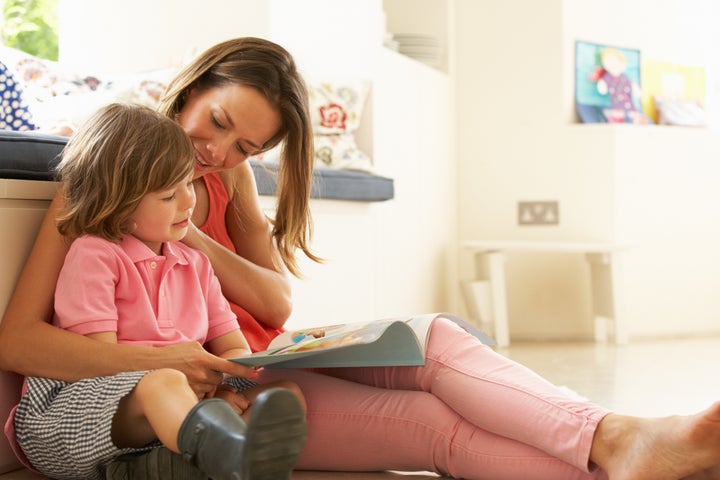 There's something magical about going into a bookshop or library with a child who's just learning to read by herself. The sense of wonder is infectious, and you can almost see new ideas popping up as children excitedly survey the shelves and reach out to the books that call to them.
Children this age have moved on from books on colors and numbers and are ready for books that tackle more abstract topics like friendship, loss and inner strength. When I buy or borrow a book for children this age, I look for work that properly examines or explains mature concepts in age-appropriate language. No one likes to be preached at, including children, and the best books include positive or thought-provoking messages that grow organically with the story, not ones that feel squished in.
That being said, I also look for books that are just plain fun. The enduring power of books by authors like E. Nesbit, Edward Eager and Roald Dahl are proof that sophisticated topics can happily coexist alongside fantasy and pure silliness.
The last post, on books for children ages 1-6, focused solely on new books. This time, I've added two older books that are popular in the UK, but aren't household names in the U.S.. Some of the best children's books are by British authors, and these really ought to have a place on American shelves, too.
Ages 6-8
Mr. Putter and Tabby Pour the Tea (Sandpiper, 1994) by Cynthia Rylant and Arthur Howard. In the warm, well-paced first book of this wonderful series, the elderly Mr. Putter finds a companion in Tabby, a cat at the animal shelter. The carefully chosen, simple language is easy for children to understand, but the story is rich and full, and complemented perfectly by Howard's delightful illustrations. I recommend the entire series to early readers.
Each Kindness, by Jacqueline Woodson (Nancy Paulson, 2012). With its detailed watercolors and message of inclusion, Each Kindness reminds me of the 1944 classic The Hundred Dresses. Wendy Lukehart, Youth Collections Coordinator for the DC Public Library, admires Woodson's deft handling of the subtle bullying and exclusion all too common in elementary school. When Maya, a gregarious new girl with "old and ragged" clothes comes to school, Chloe and her friends all ignore her. After the new girl drops out and their teacher gives a hands-on lesson about the ripple effect of kindness, Chloe regrets missing an opportunity to befriend Maya.
Wendy also recommends Sarah Stewart and David Small's The Quiet Place (Farrar, Straus and Giroux, 2012). Set in the 1950s, the book stars Isabel, a Mexican girl whose family moves to the Midwestern U.S.. Isabel practices her English by writing letters to her Aunt Lupita, and readers see her grow more comfortable in her new life. Her father and brother help her make and decorate a "quiet place" made from cardboard boxes, which gets less quiet -- in the best possible ways -- when she invites new friends inside. Wendy especially likes the way the book explores "the role that creativity and a supportive family play in helping" Isabel feel at home.
Sally Young, staff manager of Gallery Bookshop in Mendocino, CA, likes Rabbityness (Child's Play, 2012). "It's a beautiful book -- the illustrations are stunning," says Sally, and the visual style is "really different" than other books on the shelf. Rabbityness tells the story of a colorful, creative rabbit who suddenly disappears, leaving the woods sad and grey. But when Rabbit's friends discover the paints and instruments he left behind, they celebrate Rabbit by using his gifts to make their own joyful art. The book celebrates creativity and approaches loss with sensitivity and grace.
Ballet Shoes (Yearling, 1993) by Noel Streatfeild. The first in the classic Shoes series, the story of adopted sisters Pauline, Petrova and Posy Fossil has been an inspiration to generations of aspiring dancers and actors (and for Petrova fans, engineers) since it was first published in 1937. It's more popular in the UK than it is in the U.S., and it's high time American readers rediscovered it.
Elizabeth Bennhoff, Early Childhood Librarian Fellow at the University of Denver, recommends John Grisham's series for middle grade readers. In the latest,Theodore Boone: The Accused (Penguin, 2012), the precocious protagonist (and justice-minded child of two lawyer parents), has to defend himself after being framed for robbery. In a preteen market saturated by supernatural romance for girls and gross-out humor for boys, Elizabeth likes that the series "features a boy with some ambition and in a real-world setting. Theodore Boone isn't slaying dragons or making fart jokes -- he wants to be a trial lawyer."
Diane Garrett of Diane's Books in Greenwich, CT, recommends Forget-Me-Nots: Poems to Learn by Heart, by Children's Poet Laureate emerita Mary Ann Hoberman, illustrated by Michael Emberley (Little, Brown, 2012). Hoberman carefully selected over 100 poems that are both "easy to remember" and "worth remembering." At the end, she includes tips for learning poetry gathered over a lifetime as a poet for children. The book is a wonderful way to introduce children to the fading practice of poetry memorization, for as UK Education Secretary Michael Gove put it, "to know a poem by heart is to own a great work of art forever."
Lauren from The Reading Bug bookstore in San Carlos, CA, says: "One of the most important books written this year for ages 8-12 is Wonder by RJ Pallacio. There is an entire campaign surrounding this book called 'choose kind' that I hope will circulate through schools to teach our children to be kind to one another no matter what we look like." Lauren is not alone --Wonder (Knopf, 2012) was a #1 New York Times bestseller last year.
Gallery Bookshop's Sally Young also likes Newberry Award-winning author Rebecca Stead's Liar & Spy. "This book is just different. It's almost like a puzzle -- and you would not guess what the ending is!" After his father loses his job, funny, self-aware 11-year-old Georges moves into a new apartment building and joins a new neighbor boy's top-secret spy club. Together, they investigate the mysterious Mr. X upstairs, and like Georges' namesake, impressionist Georges Seurat, the boys discover unexpected relationships between the dots they observe and the whole, complete picture of Mr. X. "It's very mysterious," says Sally, "and you get hooked!"
Donating Books:
In my post on books for younger children, I included links to a few charities that are looking for children's books to continue with the great work they do. All those U.S.-based organizations still need books, but I'd also like to suggest giving to three international charities:
Darien BookAid sends books to Peace Corps volunteer teachers, and KKOOM, a charity founded by a Fulbright fellow and Korean adoptee, sends English and Korean picture books to volunteers in orphanages across South Korea. The International Book Project, founded by Nobel Peace Prize nominee Harriet Van Meter, stocks the shelves of village libraries and classrooms in developing nations in developing nations as well as underfunded schools in the U.S.. Donations to all three are tax-deductible for Americans.
Thank Yous:
My thanks to all the passionate and fantastically knowledgeable children's librarians and independent bookstore staff who contributed suggestions. Buying books is especially lovely with help from enthusiastic experts, and talking with these people was a delight. Thanks again to Lauren from The Reading Bug, Diane of Diane's Books, Lizzie Preston of Hatchards, Ronna of Good Reads with Ronna, Elizabeth Bennhoff of the University of Denver, Wendy Lukehart of the DC Public Library, and Sally Young of Gallery Bookshop.