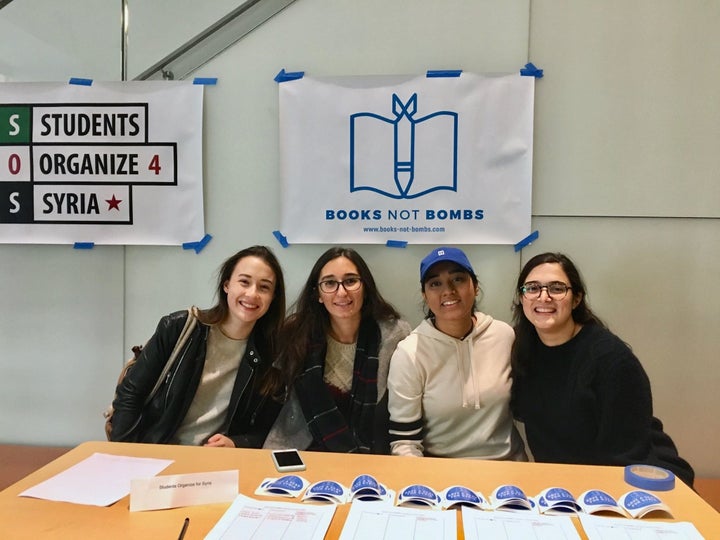 Years of war have left a generation of Syrian youth with limited access to education. Their schools have been bombed and many of them have been displaced by an ongoing civil war that shows no signs of letting up soon. An estimated 200,000 or more Syrians who were in college before and during the conflict are now in "an educational limbo," according to Teach For America.
A group of young American activists is working to make a dent in that figure. Over the last year, their "Books Not Bombs" initiative has inspired U.S. students to petition their university administrations to establish scholarships for Syrian students impacted by the war. Thanks to their efforts, student chapters of the organization have formed at nearly 200 schools, and a handful of universities have set up funds to help Syrian scholars continue their studies.
But the project hit a potential roadblock in recent months, when President Donald Trump issued two attempts at an executive order to ban visas issued to individuals from several Muslim-majority countries, including Syria. Both orders have been challenged in court, and on March 15, a federal judge in Hawaii placed a nationwide hold on key aspects of Trump's second shot at a travel ban.
The orders had already unleashed chaos and confusion, though, for refugees and travelers from the affected countries. But Shiyam Galyon, campaign coordinator for Books Not Bombs, is optimistic about the organization's potential to make an impact.
"Regardless of what happens with the visa issue ― which students have been struggling with even before the travel ban ― there are already an estimated 2,500 resettled Syrian students who are already here in the U.S.," Galyon told The Huffington Post, referencing a number provided by the Institute of International Education. The funds set up through Books Not Bombs can help these scholars too, she said.
Books Not Bombs is an initiative of Students Organize for Syria, a human rights organization with chapters at dozens of campuses around the country. The group aims to inspire student activists to fight for education for displaced Syrians. These young activists are passing campus-wide resolutions and calling on their universities to either set up scholarships or offer tuition fee waivers for Syrian scholars.
One of the group's main aims is to encourage more and more universities to join IIE's Syria Consortium, which provides a database for Syrian scholars to easily find and apply for scholarships. As members of the consortium, universities publicize that they have opportunities for Syrian students, either through specific initiatives or by advertising their already-existing international student scholarships.
The University of Southern California joined the consortium last year and established scholarships for up to five Syrian graduate students and one undergraduate student. This year, Books Not Bombs activists at USC also worked in conjunction with the Graduate Student Government to set up an emergency fund to help undocumented and immigrant students. The fund, announced in early March, allocates $20,000 in emergency aid for students affected by Trump's policies to apply for and renew their visas.
Chris Lo-Records, a USC graduate student who also serves as campus coordinator for Books Not Bombs, said the group doesn't have a political agenda apart from fighting for "universal access to education."
"Our universities are international places where people from all walks of life and religious backgrounds and national origins come together and make contributions that are incredibly vital to the country and to the world," he told HuffPost.
The United States has a long history of offering sanctuary to refugee students. In the 1930s and '40s, an influx of scholars fleeing to the U.S. from Nazi persecution were able to continue their studies and make major contributions to the fields of science, engineering and art.
The struggle for education is one many young Americans likely never encounter, Galyon said. "I think a lot of Americans in their 20s might agree that education was something we took for granted. I know I did," she said. "I never had to struggle for education, and as a result I don't think I ever really understood why education was such a lifeline."
But Galyon, who is Syrian American, has family members who have been displaced due to the conflict. She has cousins who may never be able to seek out educational opportunities in the U.S. under Trump, she said.
Galyon argued the crisis in Syria has served to awaken young Americans to the human rights violations taking place around the globe. It and other major conflicts have galvanized young activists, many of whom are Muslim women. Of Books Not Bombs' 25 active student leaders, a majority of them are Muslim women, Galyon said.
"They're all brilliant young women growing up in a time where their own human rights are under attack," she told HuffPost.
Galyon noted that there's nothing particularly new about Muslim women engaging in activism and social justice, but their voices are becoming more prominent largely thanks to social media and greater news coverage. "People shouldn't be surprised to see that a campaign like this is being led by Muslim women," Galyon said. "And they should expect a lot more of it."
Related
Before You Go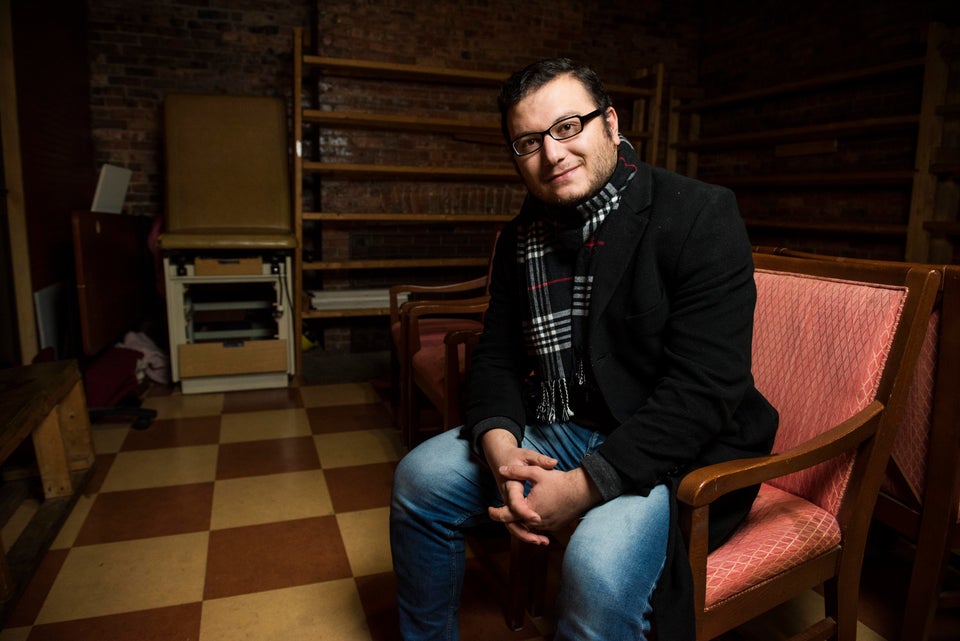 Portraits of Syrian Refugee Men Resettled In The U.S.