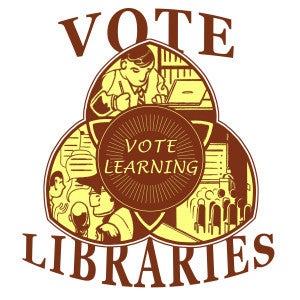 It's National Library Week this week. Typically this seven days would be a mix of nostalgia and gentle prodding to get you to come take a look at your local library. We'd earnestly show you how libraries are more relevant than ever (Current Trends in public libraries include the Library of Things, Veterans Services, and Library as Safe Space). We'd waive your fines to get you back in the door and have some fun activities for the whole family. In a typical year, in a typical America, it's a fun celebration of public education and culture. We usually see an uptick in use after some friendly press and it is always great for staff morale.
This is not a typical year, this is not typical America. The Trump administration's budget has eliminated all federal funding for libraries in America. It closes the Institute of Museum and Library Services thereby eliminating the agency that serves libraries entirely. The total budget for IMLS is $230 million which is is an infinitesimal fraction of the budget with as you might imagine at less than 0.5%. From that money 94% of the funds go directly to communities across America. They may not pay for your local library but your library benefits from these funds nonetheless. IMLS funds support libraries across the country with key infrastructure and is the single largest source of research funding in the field.
The Pentagon isn't exactly known for its fiscal stewardship. Somehow there always seems to be plenty of money for new jet aircraft like the F-35 but never enough for VA services or all of our veterans who end up on the streets. Libraries on the other hand are notorious for making tax dollars stretch. There are tons of Return on Investment studies looking at the value that libraries return to their communities. Figures vary from but with an average of 4:1 it's good value no matter how you measure it. Some libraries even print out how much their users saved by borrowing items from the library rather than purchasing them and put it right on the receipt. My libertarian buddies love the library because they can see their hard won tax dollars right there on the shelf and they know nobody who works there is exactly getting rich off of it.
Ultimately though this goes much deeper than fiscal responsibility and the judicious use of tax dollars. This is about how we see ourselves as a nation, it's about what it means to be American in 2017. Do we offer a hand to our neighbor or do we shun and fear them? Do we want to see our tax dollars spent on education for local communities or do we want them tied up in missiles sitting in storage waiting to kill enemies a thousand miles away? Do we aspire or do we cower?
Any other year this would be hyperbole. This year is different though, it is a national advocacy issue that will impact libraries across the country. Will your downtown library have fewer books? Maybe. Will your state library take a huge hit and have to lay off staff and reduce hours? Absolutely. Will small, rural, and tribal libraries be forced to close? Definitely. Will local library services suffer? Yes, because they will have to pay out for core services like Interlibrary Loan and broadband which the feds have helped with in the past. Library research will suffer. Librarians share information and best practices constantly so programs and service models which have been developed and tested with IMLS money will not be available for your local librarians to use at your library for you and your neighbors to benefit from.