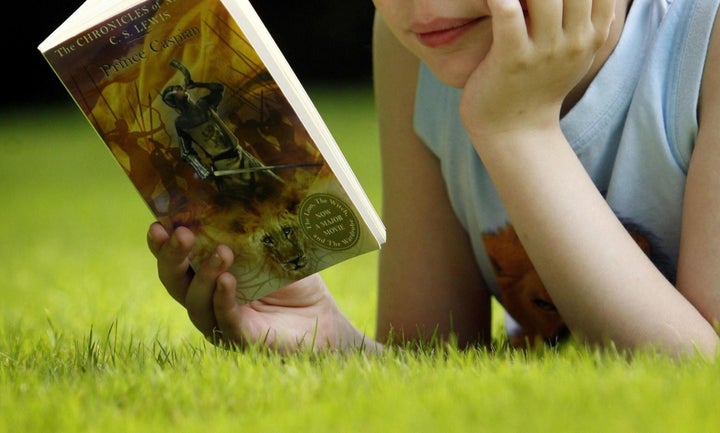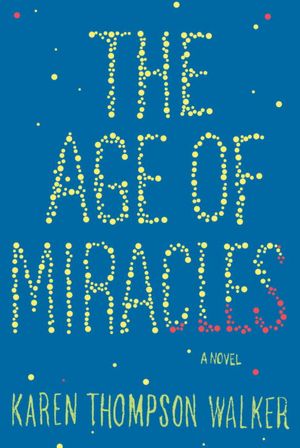 The arresting premise of this debut novel is that the rotation of the Earth mysteriously slows down, a seemingly innocuous occurrence that sends society into a tailspin. But that's not the phenomenon the title of Karen Thompson Walker's book is talking about. She's referring to the far more dangerous event of adolescence.
This was middle school, the age of miracles, the time when kids shot up three inches over the summer, when breasts bloomed from nothing, when voices dipped and dove. Our first flaws were emerging, but they were being corrected. Blurry vision could be fixed invisibly with the magic of the contact lens. Crooked teeth were pulled straight with braces. Spotty skin could be chemically cleared. Some girls were turning beautiful. A few boys were growing tall. I knew I still looked like a child.
That's the voice of our narrator, 11 year old Julia, who has been cursed with living in interesting times. The "slowing," the word everyone soon uses to describe the event powering the action, may be science fiction. But The Age Of Miracles is literary fiction geared towards a mainstream audience. And, ultimately, the backdrop is merely that, a way of highlighting and attempting to make fresh the familiar story of a girl on the cusp of becoming a woman while falling in love for the first time. Such an event can become more poignant if you imagine it might be the last time this ever happens because the world as you know it is over. Fans of the young adult genre will spot this as a spin on A Bridge To Terabithia and other tales of bittersweet childhood -- instead of escaping to a fantasy world, our heroine and her doomed first love are trapped in an end of the world scenario.
What does it mean when the rotation of the earth slows down? Walker spells it out rather convincingly, if in too blunt a manner. At first, people are startled but bemused when the days grow longer. TV stations display a running ticker showing how many seconds or minutes have been added to a solar day. Cults, of course, declare the end of the world. And then the days get longer and longer. Extra minutes turn into extra hours and the problems multiply: people begin hoarding, crops wither under too much sunlight, food production becomes an entirely indoor process and families are encouraged to build their own greenhouses a la Victory gardens during World War II. People split into two camps: those who stick with the 24-hour-day no matter how out of whack that makes them with the physical world ("noon" could occur in the middle of the night) and those who stick with "real" time. When a day lasts 20 hours and night lasts 20 hours they spend the night sleeping and hibernating. Most of society sticks to a 24-hour-day and the real timers become pariahs who gather together in communes.
Astronauts are trapped in the space station, electricity becomes erratic and then disappears, society spirals downward and does any of this really matter when you're 11 years old and the skateboarding loner you're desperately enamored with finally starts talking to you? Sure, when he asks you to do something that turns out to be a trip to the beach to look at the beached whales that are dying by the thousands. But you take what you can get.
Julia is an appealing figure, trying to navigate the pitfalls of middle school like wanting a training bra when she doesn't need one or suspecting her great dad of cheating on her mom or not knowing how to talk to a boy whose mom is dying of cancer or dealing with her own mom's personal disintegration. But Walker's prose lets her down. First, she repeatedly evokes the doom of events in a heavy-handed manner, with lines like, "I gathered up my books and left the house, not knowing then that I would cross that threshold only a few more times in my life." A little portentousness goes a long way, but Walker does this again and again, crossing the line from capturing the mind of an adolescent into banality. "This was one of the last real afternoons" and "It was the last time I ever tasted a grape" and phrases like that occur repeatedly.
Other times, Walker bluntly tells us what is going on, rather than showing us, the cardinal sin of fiction and one that sci-fi -- with its elaborate premises and thought-out worlds -- is more prone to than most genres. Or she becomes so immersed in her ideas that she loses perspective. "Only later would we recognize what seems so obvious in retrospect: this was the first of the solar superstorms, triggered by the withering of the magnetic field." Why would that be obvious to anyone other than scientists in that field or an author researching a book like this?
The Age Of Miracles is one of the most hotly touted novels of the summer, but I can't join in the praise, though I look forward to seeing growth in her next effort. Walker developed an interesting idea and created an arresting heroine. Next time, hopefully, she'll rein in the desire to spell out what should be implied and let the vivid voice of her characters ring out unmuffled.
BOOKS I'VE READ SO FAR IN 2012
1. The Underneath by Kathi Appelt ***
2. Jack Holmes and His Friend by Edmund White ***
3. The Last Unicorn by Peter S. Beagle **
4. Fun Home by Alison Bechdel ***
5. Death Walks In Eastrepp by Francis Beeding ***
6. Lumious Airplanes by Paul La Farge ***/
7. The Professionals by Owen Laukkanen ** 1/2
8. Unterzakhn by Leela Corman **
9. The Child Who by Simon Lelic ***
10. Hinterland by Caroline Brothers ***
11. The Yard by Alex Grecian *** 1/2
12. The Alienist by Caleb Carr ***
13. On The Wings Of Heroes by Richard Peck *** 1/2
14. A Princess Of Mars by Edgar Rice Burroughs *
15. The Gods Of Mars by Edgar Rice Burroughs **
16. The Warlord Of Mars by Edgar Rice Burroughs ** 1/2
17. Undefeated: America's Heroic Fight For Bataan and Corregidor by Bill Sloan ** 1/2
18. Stoner by John Williams ****
19. The Sisters Brothers by Patrick DeWitt *** 1/2
20. The 500 by Matthew Quirk **
21. The Age Of Innocence by Edith Wharton ****
22. The Alienist by Caleb Carr ***\
23. Crispin: The Cross of Lead by Avi **
24. Rogue Male by Geoffrey Household ***
25. The Perks Of Being A Wallflower by Stephen Chbosky **
26. Traitor's Gate by Avi ** 1/2
27. Cogan's Trade by George V. Higgins ***
28. 2312 by Kim Stanley Robinson *** 1/2
29. The Twelve Rooms Of The Nile by Enid Shomer ** 1/2
30. Bring Up The Bodies by Hilary Mantel *** 1/2
31. In One Person by John Irving **
32. A Million Heavens by John Brandon ***
33. The Case Of The Deadly Butter Chicken by Tarquin Hall ***
34. Seward: Lincoln's Indispensable Man by Walter Stahr *** 1/2
35. The Kings of Cool by Don Winslow ***
36. The Case of The Missing Servant by Tarquin Hall ***
37. Savages by Don Winslow ***
38. The Case Of The Man Who Died Laughing by Tarquin Hall ***
39. The Trillion Dollar Meltdown by Charles R. Morris ***
40. Mrs. Robinson's Disgrace by Kate Summerscale **
41. The Age of Miracles by Karen Thompson Walker **
42. The Panic of 1907 by Robert F. Bruner and Sean Carr ***
43. The House That Ruth Built by Robert Weintraub *** 1/2
44. I Am Spartacus: Making A Film, Breaking The Blacklist by Kirk Douglas *** 1/2
45. Showdown At Shepherd's Bush by David Davis ***
46. Alif The Unseen by G. Willow Wilson ** 1/2
Thanks for reading. Michael Giltz is the cohost of Showbiz Sandbox, a weekly pop culture podcast that reveals the industry take on entertainment news of the day and features top journalists and opinion makers as guests. It's available for free on iTunes. Visit Michael Giltz at his website and his daily blog. Download his podcast of celebrity interviews and his radio show, also called Popsurfing and also available for free on iTunes. Link to him on Netflix and gain access to thousands of ratings and reviews.
Note: Michael Giltz is provided with free galleys and/or final copies of books to consider for review.
REAL LIFE. REAL NEWS. REAL VOICES.
Help us tell more of the stories that matter from voices that too often remain unheard.