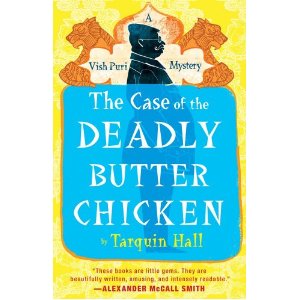 Some people read mysteries so they can match wits with the hero. They scribble down clues and characters and get very angry if the crime is solved without offering them the chance to solve it, too (say, a key detail is revealed at the last minute). I gave up on trying to out-Sherlock the detectives/private investigators/little old ladies that populate these tales a long time ago. I dive into mysteries that use the universal stories of revenge and justice to illuminate another culture or another time, whether it's the ancient Rome of Steven Saylor, the Laos-set mysteries of Colin Cotterill or the charting of America's racial history via the LA tales of Walter Mosley.
I've got a new series to add to that list and a new hero: Vish Puri, India's Most Private Investigator. Author Tarquin Hall is a British journalist who lives in Delhi and he has an outsider's ability to spot the incongruities and telling detail that a local might take for granted. I read his latest mystery, The Case of the Deadly Butter Chicken, and enjoyed it so much I immediately read the first two books of the series. That's how I usually tackle a series; unless the books are purposely designed to be stand-alone and not build on one another, I like to see the characters develop in chronological order. Since there are only three titles to date in this amusing series, I wasn't thrown off by jumping back and forth in time with Mr. Puri. but if you're like me, you'll want to start with The Case of the Missing Servant. Or you can just wait fot the movie -- surely it's only a matter of time before Hollywood turns this into a film or TV show.
Puri makes most of his money by investigating the backgrounds of people who are going to get married. Arranged marriages seem bizarre to most Westerners, but the books here offer insight into how tradition and the idea of marriage (a partnership perhaps as much as a romance) can color people's expectations until it doesn't seem so odd. Of course, then the young people involved decide it's not for them anyway, so we see modernity creeping in nonetheless.
The three books develop nicely with each central mystery a little more complicated and dangerous than the one before. The Case of the Missing Servant revolves around an arranged marriage and the disappearance of a servant no one seems terribly concerned about. The Case of the Man Who Died Laughing revolves around con artists who use religion to trick people into handing over buckets of money. And The Case of the Deadly Butter Chicken includes the poisoning of the father of a top cricketeer, organized crime and a journey into Pakistan where many of Puri's family were massacred during the partition of 1947.
But the driving force of all the stories are the charmingly believable characters. Puri has a fondness for eating his wife tries desperately to counteract. Time and again she attempts to impose a diet and time and again he takes a break from sleuthing to sneak a delicious snack here and there, always careful to avoid dripping any tell-tale stains on his clothing and meticulously wiping off his fingers. (The back of the book even includes some recipes, in this case even one for deadly butter chicken, sans poison.) His team of misfit assistants come into focus with each book, their varied backgrounds letting us see what life is like in India for people of various castes and economic backgrounds. And always nearby with unstoppable focus is Mummy-ji, a woman with as much smarts as her son and as much a desire to solve puzzles that come her way, though Puri will haplessly insist that investigating is not a suitable occupation for mummies.
Small details make the series comes alive, like Puri's battle in traffic. He has a driver who suffers over Puri's insistence on NOT sounding the horn at every possible moment and a bizarre insistence on obeying certain traffic laws that not a single other driver on the road would pay heed to. Various clubs and Puri's status in them are telling. With some officials he is curt, with others he adopts a faux obsequiousness and with still others a genuine obsequiousness that comes naturally to Puri with his respect for certain traditions.
Gently amusing and with a real feel for Delhi, this is a charming series. Each new novel has raised the stakes subtly and Hall has grown more confident with each outing. It's quite possible that what has begun as a fun series will become a genuinely great one.
BOOKS I'VE READ SO FAR IN 2012
1. The Underneath by Kathi Appelt ***
2. Jack Holmes and His Friend by Edmund White ***
3. The Last Unicorn by Peter S. Beagle **
4. Fun Home by Alison Bechdel ***
5. Death Walks In Eastrepp by Francis Beeding ***
6. Lumious Airplanes by Paul La Farge ***/
7. The Professionals by Owen Laukkanen ** 1/2
8. Unterzakhn by Leela Corman **
9. The Child Who by Simon Lelic ***
10. Hinterland by Caroline Brothers ***
11. The Yard by Alex Grecian *** 1/2
12. The Alienist by Caleb Carr ***
13. On The Wings Of Heroes by Richard Peck *** 1/2
14. A Princess Of Mars by Edgar Rice Burroughs *
15. The Gods Of Mars by Edgar Rice Burroughs **
16. The Warlord Of Mars by Edgar Rice Burroughs ** 1/2
17. Undefeated: America's Heroic Fight For Bataan and Corregidor by Bill Sloan ** 1/2
18. Stoner by John Williams ****
19. The Sisters Brothers by Patrick DeWitt *** 1/2
20. The 500 by Matthew Quirk **
21. The Age Of Innocence by Edith Wharton ****
22. The Alienist by Caleb Carr ***\
23. Crispin: The Cross of Lead by Avi **
24. Rogue Male by Geoffrey Household ***
25. The Perks Of Being A Wallflower by Stephen Chbosky **
26. Traitor's Gate by Avi ** 1/2
27. Cogan's Trade by George V. Higgins ***
28. 2312 by Kim Stanley Robinson *** 1/2
29. The Twelve Rooms Of The Nile by Enid Shomer ** 1/2
30. Bring Up The Bodies by Hilary Mantel *** 1/2
31. In One Person by John Irving **
32. A Million Heavens by John Brandon ***
33. The Case Of The Deadly Butter Chicken by Tarquin Hall ***
34. Seward: Lincoln's Indispensable Man by Walter Stahr *** 1/2
35. The Kings of Cool by Don Winslow ***
36. The Case of The Missing Servant by Tarquin Hall ***
37. Savages by Don Winslow ***
38. The Case Of The Man Who Died Laughing by Tarquin Hall ***
39. The Trillion Dollar Meltdown by Charles R. Morris ***
40. Mrs. Robinson's Disgrace by Kate Summerscale **
41. The Age of Miracles by Karen Thompson Walker **
42. The Panic of 1907 by Robert F. Bruner and Sean Carr ***
43. The House That Ruth Built by Robert Weintraub *** 1/2
44. I Am Spartacus: Making A Film, Breaking The Blacklist by Kirk Douglas *** 1/2
45. Showdown At Shepherd's Bush by David Davis ***
46. Alif The Unseen by G. Willow Wilson ** 1/2
Thanks for reading. Michael Giltz is the co-host of Showbiz Sandbox, a weekly pop culture podcast that reveals the industry take on entertainment news of the day and features top journalists and opinion makers as guests. It's available for free on iTunes. Visit Michael Giltz at his website and his daily blog. Download his podcast of celebrity interviews and his radio show, also called Popsurfing and also available for free on iTunes. Link to him on Netflix and gain access to thousands of ratings and reviews.
Note: Michael Giltz is provided with free galleys and/or final copies of books to consider for review.
Popular in the Community