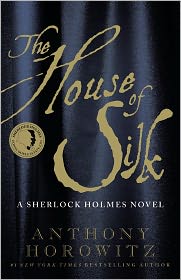 It may seem to you that Sherlock Holmes has never left us. Sir Arthur Conan Doyle's famed detective has inspired more fan fiction than almost any literary character in history, with acclaimed works ranging from The Seven Percent Solution by Nicholas Meyer to Pulitzer Prize winner Michael Chabon's The Final Solution and Laurie R. King's ongoing series of mysteries, all inspired by that master of deduction. On TV, we have a fun new reboot from the BBC that places Holmes (Benedict Cumberbatch) in the present day.
At the movies, we have Robert Downey Jr. and Jude Law in tales filled with action set pieces that make them almost entirely unrecognizable as Holmesian. (Though Downey and Law would be great with better scripts.)
But in fact Holmes has been officially quiet since Doyle laid down his pen. Now for the first time the estate of Doyle has authorized a new tale. The writer they selected was a good choice. Anthony Horowitz is the best-selling talent behind the Alex Rider novels (a teenage James Bond) and numerous other TV and book projects. Most notably, he created the marvelous mystery TV series Foyle's War. It was this intelligent, subtle show and its distinctive hero that surely won them over.
The book Horowitz has written is The House Of Silk: A Sherlock Holmes Novel ($27.99; Mulholland Books/Little, Brown). It is indeed fanboy fiction, a book firmly rooted in the style of Doyle, faithful to the character as created and with just enough wiggle room to allow the author to say all the things he's been longing to say about the world of 221B Baker Street. Who can blame him?
The House Of Silk is a novel, of course, making it a rarity among the official works. Doyle wrote four novels and 56 short stories and it was the short stories that turned Holmes into a superstar. Since he was delivering a novel, Horowitz was obliged to raise the stakes and make it a doozy, a case for the ages. If he had written say a dozen short stories, Horowitz perhaps might have felt freer to play with this world and create vivid sketches and scenes. With a novel, the weight of importance is heavy.
The House of Silk involves two strands, two mysteries that you will not be surprised to discover are linked. One involves the theft of paintings in America and an Irish gangster determined to avenge the death of his twin. The other strand involves corruption and evil at the highest levels of society and government, a conspiracy so cloaked in secrecy that not even Holmes has had an inkling of its existence till now.
As a fan, Horowitz delivers every set piece you would expect: the novel begins with Holmes greeting Watson with a flurry of observations that the spluttering fellow insists he explain, which of course Holmes does in his most elementary style. Horowitz moves on to depict Lestrade (not such a bad fellow, as Horowitz sees him), Mycroft Holmes, the Baker Street Irregulars, Professor Moriarty, fog, danger, disguises that we see through but Watson does not and even a nod to Mrs. Hudson (a wonderful woman and under-appreciated). If Horowitz missed a button to push, I've missed it too.
When the novel is not touring all the Holmes highlights like the docent of a museum, it is announcing its importance. Our narrator Dr. Watson repeatedly says things like "I will never forget the 50 minute vigil...." and just a few pages later, "I have never forgotten that night and its consequences."
The mystery itself is vile enough to support a novel and Holmes has some clever moments. If you're a fan, this is comfort food. It feeds your desire to see Holmes in a new tale but does not provide any insight or astonish you with its cleverness. Watson perhaps should not be quite so blind or naive at the end when wrapping up his tale, but the old fellow surely can't handle the monstrousness of what he's witnessed, so I'll let Horowitz off the hook by assuming that is what he meant rather than to show Watson as a little foolish.
If you're like me, you're helpless in the face of any decent Holmes adventure. If so, The House Of Silk will satisfy. If you prefer any new Holmes tale to leap ahead, to surprise and delight in unexpected ways, to offer new insight into the mind of this most vivid character, then you'd best stick with the canon.
NOTE: Michael Giltz is provided with free copies of books to consider for review, including digital and physical galleys as well as final review copies. He typically does not guarantee coverage and invariably receives far more books than he can cover.
Popular in the Community