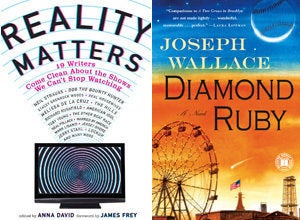 This is a new feature that I'm hoping to write once a month (more or less, depending on my caffeine intake). With something like four hundred and ninety billion books published every year, I'm hoping to shed some light on a few books that are intriguing due to the author, subject matter, publication details. They possess something a little different, interesting, out of the ordinary or off the beaten path. You're not going to find any instant blockbusters here--no James Patterson, Sarah Palin, Malcolm Gladwell or Tori Spelling books on baby botox. My hope for this column is to help these books gather a little momentum, whip up the word of mouth winds, and most importantly introduce some cool books to eager readers. In each case, the authors have graciously contributed original thoughts on how their books came to be. I guarantee that either you or someone you know will enjoy at least one of them. So go on, take a chance...
Reality Matters edited by Anna David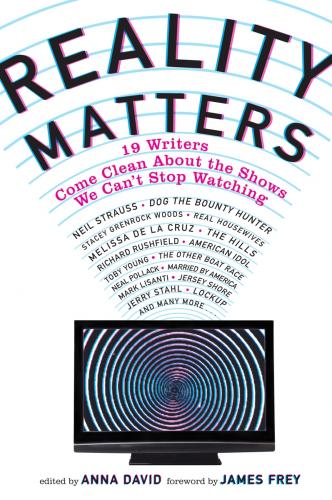 As an editor, there's nothing I enjoyed publishing more than books that mixed highbrow and lowbrow. Fun, quirky books with talented writers attached. So when I heard about Reality Matters, and then met Anna David at a taping of Fox News's "Red Eye" (one of my favorite shows, and perhaps the apex of highbrow/lowbrow entertainment) and heard about the list of contributors to her anthology, my curiosity was piqued. Confession: I have not watched a reality show since season 2 of "The Apprentice." But millions do, and the all-star hip writer roster includes The Game author Neil Strauss, Esquire's Stacey Grenrock Woods, Movieline's Mark Lisanti and Alternadad Neal Pollack. Oh yeah, not to mention a foreword by James Frey (yes, that James Frey). If the best stories are grounded in truth, the most entertaining pop culture books might be based on the 'truth' that is reality t.v.
Says David: "The main reason i wanted to do this book is that I was curious about what intelligent, thoughtful people had to say about so-called insipid entertainment. I believe that the fact that reality shows exist in the sheer numbers that they do is relevant and I was getting tired of everyone always deriding a genre of entertainment that so many people are watching--and yes, enjoying. I do sort of like trying to take the shame out of behavior that really doesn't need to be considered shameful. The most surprising result was, honestly, how good some of these essays are. I had my very specific ideas about who I wanted in the book and while those people all turned in great work, it was time and again the writers that I wasn't that familiar with but who came recommended by someone else who really blew me away."
Buy From
Amazon
Barnes & Noble
Indiebound
Young Junius by Seth Harwood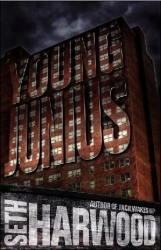 Seth Harwood came to my attention as he was making waves giving away free podcasts of his first novel, Jack Wakes Up. Harwood eventually sold print rights to Crown's Three Rivers Press, a division of Random House (disclosure: I both worked at Crown and blurbed Jack Wakes Up--though not at the same time). Harwood then decided to try something different: his second novel, Young Junius, will be published by Tyrus Books, a scrappy independent publisher known for their crime fiction whose roster includes noir poet laureate Reed Farrel Coleman. Harwood will be collecting no advance for Young Junius, splitting the profits with Tyrus 50/50 after recouping costs while releasing the hardcover and paperback simultaneously in October. Utilizing his social media knowhow to promote, Harwood has just released a special edition of Young Junius, the proceeds of which aim to cover the book's entire print run.
Says Harwood: "Independent presses...can try new strategies without clearing them through various levels of decision-making or locking in a permanent precedent. Because Tyrus is small, I'm right in with my editor and publisher directly. By podcasting my work for free and giving away content for close to four years, I've earned the trust of my audience--both in the quality of my work and in my continued presence online. Now I can collect 100% of the pre-sales (compared to 60%? if I did the same through Amazon) and channel this money directly into the printing costs of not only this special edition, but also the hardcover and trade paperback editions as well. This pre-order method combines the reduced risk of new, print-on-demand technology with the economies of scale and increased book quality of traditional publishing. My fans love this because I'm able to offer them a beautiful, high-end version of Young Junius that's personalized, signed, numbered and features unique dust jacket art and special features. They're getting something they can't buy anywhere else, and since the special edition features fan-created art, some of them are a literal part of the process. I get to be creative about book design and have direct input on publicity strategy and marketing, something that doesn't always happen with a bigger press. So far, we've raised approx 1/3 of the print run for the entire release: special edition, hard cover, trade paper all in the first week of preorder sales."
Buy From
SethHarwood.com (special edition)
Amazon
Barnes & Noble
Indiebound
Diamond Ruby by Joseph Wallace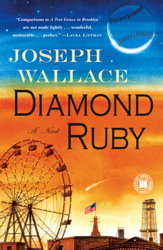 The Sultan of Swat is hot. In 2006, Leigh Montville wrote a wonderful bestselling biography on Babe Ruth, The Big Bam. In Dennis Lehane's The Given Day, Ruth himself was a character in the novel, first introduced to readers as he and his waylaid Red Sox teammates take part in an impromptu pick-up game with an African American team 30 years before Jackie Robinson broke the color barrier. And now, with Diamond Ruby, a May Indie Next selection, Joe Wallace has taken the true story of the woman who struck out both Ruth and fellow Bronx Bomber legend Lou Gehrig and woven it into a gripping historical novel.
Says Wallace: "I was researching a baseball book at the Hall of Fame when I came upon a photo that caught my eye. It showed a teenage girl in a baseball uniform shaking hands with Babe Ruth as a smiling Lou Gehrig looked on. I did a little research and found out that the girl was Jackie Mitchell, such a phenom in the early 1930s that she was signed to a men's minor-league team in Tennessee. Such a phenom that the mighty Yankees stopped on their way home from spring training in 1931 just so the Babe and Gehrig could face her. In the game, Jackie struck out the two Bombers on a total of seven pitches. A few days later, she--and all women--were banned from any level of professional baseball by Judge Landis, the commissioner. Her career pretty much ended when it began. This story bugged me enough that I wrote Diamond Ruby, first as a story for Ellery Queen Mystery Magazine and then as a novel. I couldn't change real history, but I could invent a character who could fight back, who could try to outsmart the commissioner and keep pitching. That was the motivation--to make things happen as they should have happened."
Buy From
Amazon
Barnes & Noble
Indiebound
Gimme a Call by Sarah Mlynowski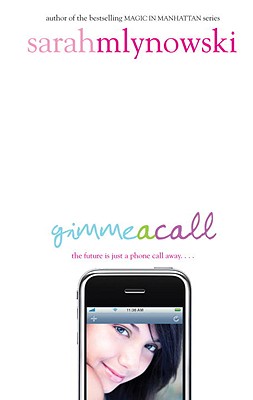 Mlynowski's new YA novel became something of a Twitter phenomenon, and I was more than happy to jump on the bandwagon. Many people were posting tweets containing the hashtag #gimmeacall, and upon following the discussion I discovered that each tag followed its poster offering advice to their (oft clueless) high school self. My own contribution? High school Jason needed a different haircut and to stop playing the trombone. The hashtag #gimmeacall sparked a Twitter frenzy, which Mlynowski wrote about in her own Huffington Post column. Needless to say, many of us wish we could go back in time and save our younger selves a little pain, heartbreak and anxiety. But since that isn't possible until Doc Brown finally brings the DeLorean to the market, Mlynowski's novel will have to suffice.
Says Mlynowski: "I was writing a new book. And when I say 'writing' I mean staring at my ceiling, desperately trying to figure out how to fix a scene that was not working. I wished Future Me would e-mail over the finished draft. The idea evolved from there. When I came up with the idea for the Twitter campaign, I collected fifteen quotes from various authors. I imagined I would post the quotes and I hoped they'd get retweeted. I only had the chance to post one quote (Once Was Lost author Sara Zarr's "You are NOT FAT. You will be, but you're not now, so enjoy it.") before #gimmeacall took off. I hadn't expected so many writers and non-writers to join in. I guess most people have moments in their past that they'd like to do over."
Buy From
Amazon
Barnes & Noble
Indiebound
A Curtain Falls by Stefanie Pintoff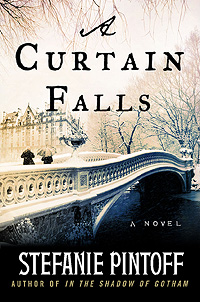 A year ago, I was sitting at a table at the Festival of Mystery in Pittsburgh next to an author whose debut novel, In the Shadow of Gotham, had just been published. We got to talking, she told me about her book, and I said something along the lines of, "That sounds cool, kind of like Caleb Carr's The Alienist." She told me she'd been hearing that a lot. The author's name was Stefanie Pintoff. Fast forward one year - In the Shadow of Gotham has just won the prestigious Edgar award for "Best First Novel," joining such illustrious company as Tana French, Joseph Kanon, Jonathan Kellerman, Michael Connelly and Patricia Cornwell. May 11th sees the publication of Pintoff's second novel, A Curtain Falls, set in 1906 and revolving around the Broadway murder of a young chorus girl. And with both Publishers Weekly and Library Journal calling A Curtain Falls a "worthy sequel" to In the Shadow of Gotham, mystery lovers might just have found the next Caleb Carr.
Says Pintoff: "The Broadway stage struck me as a phenomenal setting for Detective Simon Ziele's first case back in the city - one that hadn't been explored in quite this way, in this time period. It would draw both my killer - and his victims - together in a collision course of desire, ambition, and jealousy. In 1906 New York, the Great White Way was an insular, competitive environment dominated by Charles Frohman's empire. Frohman sincerely loved the theater and built a star system - in fact, an early prototype of the Hollywood system of the 1930s and 40s. He was a controversial figure, and his detractors believed that he created a monopoly (dubbed the "Syndicate") that ultimately harmed the theater. But undeniably, he had a gift for identifying and managing the top actors and actresses of the day. (Think John Drew, Maude Adams, and Ethel Barrymore). The larger-than-life Frohman plays a central role in my fictional story."
Buy From
Amazon
Barnes & Noble
Indiebound
Calling all HuffPost superfans!
Sign up for membership to become a founding member and help shape HuffPost's next chapter