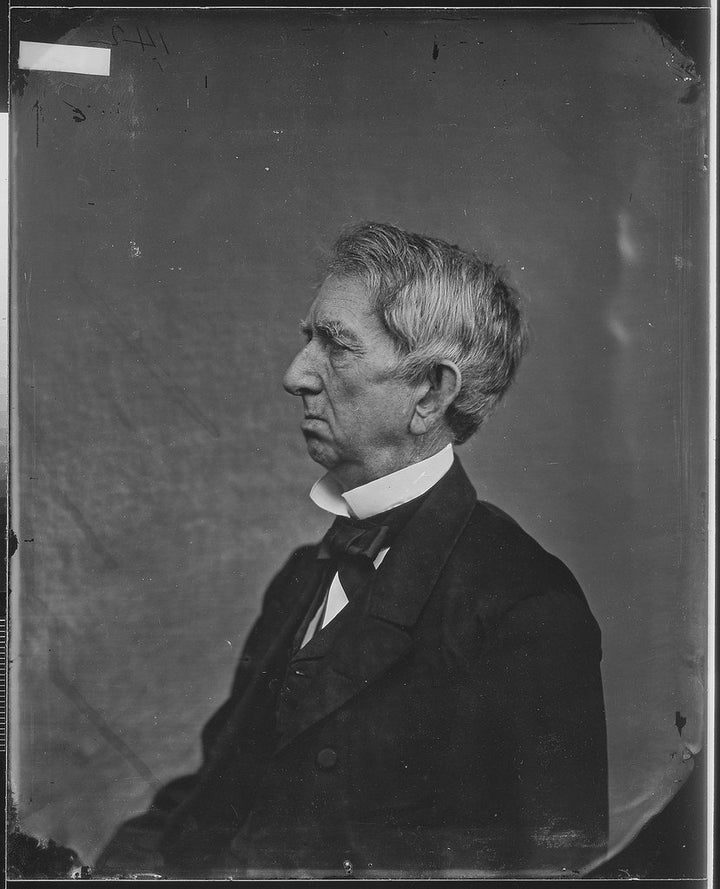 Anyone who savored author Doris Kearns Goodwin's best-selling book Team Of Rivals will surely be poised to learn more about William Henry Seward, perhaps the key member of Lincoln's cabinet. Writer Walter Stahr (John Jay: Founding Father) gives Seward his due in this intelligent and illuminating biography of one of the most important political figures of the 19th century and perhaps the only man of his era who could convincingly claim to be even more polarizing and hated than Abraham Lincoln.
All the rebels in the south who wanted to split the nation in two and destroy the United States forever certainly hated Lincoln. But they hated the (in)famous Seward just as much and for far longer. Their animosity was joined in heartily by a good chunk of Northerners as well, both the conservatives who thought he was too radical and the radicals who thought he was too appeasing. It's not surprising Seward lost the Republican nomination to Lincoln; it's only surprising how very close he came to winning.
The book begins with a flash forward to that terrible night when John Wilkes Booth came damnably close in his plan to assassinate both President Lincoln, Vice President Andrew Johnson and Secretary of State Seward.
Then we step back to his childhood and follow Seward chronologically throughout his life -- the son of a prominent but stern local man who went from a small town in upstate New York on to a career as a teacher and then lawyer and public servant.
Seward is a practical man and right on so many issues we take for granted today that it's easy to admire him. Many of his stances ultimately helped Seward politically at certain stages of his career as both governor of New York and Senator. But they were not originally popular and almost certainly laid the groundwork for blocking his most cherished goal of the presidency.
Seward spoke up for religious freedom, especially for Catholics back in an era when Catholics were despised and distrusted by many. Seward was an ardent defender of immigrants. Throughout our nation's history, each wave of immigrants has been demonized and feared (often loudest by the wave of immigrants that preceded it). But Seward consistently recognized immigrants as the lifeblood of the nation.
He was also smart on supporting both the Catholic school system (a key player in helping many immigrants and minorities get a leg up in this country), the need for a public school system for all and, in a reversal of himself, an ardent supporter of public works programs like the Erie Canal extension. On and on, with issue after issue, Seward proves prescient. But, of course, the issue above all in the 1800s was slavery and the plight of blacks.
As a lawyer, Seward famously played a key role in several trials, though doing so likely meant the end of his political ambitions. Perhaps the most controversial was his defense of William Freeman, a young black man who was released from prison and almost immediately entered a home and slaughtered a family including the husband, the pregnant wife, the wife's elderly mother and their two-year-old daughter. Newspaper accounts blamed the horrific crime in part on Seward's defense of another man named Henry Wyatt, a prisoner in that same prison who stabbed a fellow inmate but whom Seward painted as driven insane by his torture and treatment. Ultimately, Wyatt would be executed and Freeman convicted as well, but Seward would be both burdened and rewarded with a reputation as "a defender of the defenseless."
On slavery, Seward was seen as almost viciously anti-slavery. The truth was that he was a committed abolitionist, but not a radical one. His wife was far more unwavering and extremist though, to be clear, Seward even harbored runaway slaves at one point. (He especially despised the fugitive slave laws that forced northerners who objected morally to slavery to support it legally.) Seward saw slavery as doomed to fail and was willing to stop its spread and patiently wait out its dying, helped along perhaps with government aid to slave owners ready to be compensated for the loss of their "property."
Nonetheless, Seward was seen as the national figurehead for abolition and was despised by the South as a result. Indeed, despite coming tantalizingly close, he lost the nomination to Lincoln primarily because his (relatively more moderate) views were so well known while the less prominent Lincoln hadn't been forced to stake out opinions. If nothing else, reading this book will make a laughingstock of the foolish idea that the Civil War wasn't about slavery. Incident after incident tore the nation apart, from the forming of new territories to the slaughter of innocents in raids to the admission of states to fugitive slave laws to war with Mexico and on and on and on, all of them revolving perilously around the the issue of slavery. Entire political parties were formed on the basis of supporting and opposing it. Seward would prove a consistent and moderating influence on Lincoln throughout the war, an irony utterly lost on the South.
Seward's most important role took place after losing the nomination. He campaigned tirelessly for Lincoln and Stahr makes a convincing case that Seward's contributions were key to Lincoln winning the White House. Once ensconced as Secretary of State, Seward grew from initially thinking he could "guide" Lincoln (i.e. have all the power with Lincoln as a figurehead, a rather grandiose absurdity) to admiring Lincoln tremendously and aiding him immeasurably, down to careful parsing of major speeches. Seward's signal achievement was what didn't happen: through his diligent efforts during crisis after crisis, he soberly and smartly worked to keep foreign powers out of the war and to never officially recognize the Confederate States o America as a sovereign country. If that had happened -- if England or France in particular had sided with the South -- the United States likely would never have triumphed.
This perspective allows Stahr to train a fresh perspective on the Civil War. But Seward's work wasn't done. He endured the frustrating tenure of Johnson, who invariably and frustratingly ignored most of Seward's moderating suggestions. But Seward did manage to expand the nation, primarily through the purchase of Alaska, an act dubbed "Seward's folly" much later (at the time, it was lauded in the press) and ultimately seen as a smart buy.
Garrulous, charming, poorly dressed, prone to flattery, stooping to buy votes and political favor in the manner of the time but not notably corrupt in his dealings, Seward could be tiresomely pleased with himself. But as Stahr's biography so ably demonstrates, he had every reason to be. He wasn't just Lincoln's indispensable man; throughout his career Seward was an indispensable man to the nation, as well.
Here's the trailer to Steven Spielberg's upcoming film Lincoln. You can glimpse actor David Strathairn portraying Seward.
BOOKS I'VE READ SO FAR IN 2012
1. The Underneath by Kathi Appelt ***
2. Jack Holmes and His Friend by Edmund White ***
3. The Last Unicorn by Peter S. Beagle **
4. Fun Home by Alison Bechdel ***
5. Death Walks In Eastrepp by Francis Beeding ***
6. Lumious Airplanes by Paul La Farge ***/
7. The Professionals by Owen Laukkanen ** 1/2
8. Unterzakhn by Leela Corman **
9. The Child Who by Simon Lelic ***
10. Hinterland by Caroline Brothers ***
11. The Yard by Alex Grecian *** 1/2
12. The Alienist by Caleb Carr ***
13. On The Wings Of Heroes by Richard Peck *** 1/2
14. A Princess Of Mars by Edgar Rice Burroughs *
15. The Gods Of Mars by Edgar Rice Burroughs **
16. The Warlord Of Mars by Edgar Rice Burroughs ** 1/2
17. Undefeated: America's Heroic Fight For Bataan and Corregidor by Bill Sloan ** 1/2
18. Stoner by John Williams ****
19. The Sisters Brothers by Patrick DeWitt *** 1/2
20. The 500 by Matthew Quirk **
21. The Age Of Innocence by Edith Wharton ****
22. The Alienist by Caleb Carr ***\
23. Crispin: The Cross of Lead by Avi **
24. Rogue Male by Geoffrey Household ***
25. The Perks Of Being A Wallflower by Stephen Chbosky **
26. Traitor's Gate by Avi ** 1/2
27. Cogan's Trade by George V. Higgins ***
28. 2312 by Kim Stanley Robinson *** 1/2
29. The Twelve Rooms Of The Nile by Enid Shomer ***
30. Bring Up The Bodies by Hilary Mantel *** 1/2
31. In One Person by John Irving **
32. A Million Heavens by John Brandon ***
33. The Case Of The Deadly Butter Chicken by Tarquin Hall ***
34. Seward: Lincoln's Indispensable Man by Walter Stahr *** 1/2
35. The Kings of Cool by Don Winslow ***
36. The Case of The Missing Servant by Tarquin Hall ***
37. Savages by Don Winslow ***
38. The Case Of The Man Who Died Laughing by Tarquin Hall ***
39. The Trillion Dollar Meltdown by Charles R. Morris ***
40. Mrs. Robinson's Disgrace by Kate Summerscale **
41. The Age of Miracles by Karen Thompson Walker **
42. The Panic of 1907 by Robert F. Bruner and Sean Carr ***
43. The House That Ruth Built by Robert Weintraub *** 1/2
44. I Am Spartacus: Making A Film, Breaking The Blacklist by Kirk Douglas *** 1/2
45. Showdown At Shepherd's Bush by David Davis ***
46. Alif The Unseen by G. Willow Wilson ** 1/2
47. The Last Lion: Winston Churchill Alone -- 1932-1940 by William Manchester ****
48. City Of Women by David R. Gillham ** 1/2
49. The Great Unexpected by Sharon Creech ** 1/2
50. Bright Island by Mabel L. Robinson ***
51. Live By Night by Dennis Lehane ** 1/2 or ***
52. Big Sky Mountain by Linda Lael Miller **
53. Mr. Churchill's Secretary by Susan Ella MacNeal **
54. Princess Elizabeth's Spy by Susan Ella MacNeal **
55. Elsewhere: A Memoir by Richard Russo ** 1/2
56. The Malice Of Fortune by Michael Ennis **
57. Hallucinations by Oliver Sacks *** 1/2
58. Garment Of Shadows by Laurie R. King ** 1/2
59. Making "Tootsie" by Susan Dworkin * 1/2
60. 38 Nooses by Scott W. Berg ***
61. John Saturnall's Feast by Lawrence Norfolk ***
62. What's Left Of Me: The Hybrid Chronicles Book One by Kat Zhang *** 1/2
63. A Possible Life by Sebastian Faulks ***
64. Dead Cat Bounce by Nic Bennett ** 1/2
65. Emily And Jackson Hiding Out by Phyllis Reynolds Naylor **
Thanks for reading. Michael Giltz is the co-host of Showbiz Sandbox, a weekly pop culture podcast that reveals the industry take on entertainment news of the day and features top journalists and opinion makers as guests. It's available for free on iTunes. Visit Michael Giltz at his website and his daily blog. Download his podcast of celebrity interviews and his radio show, also called Popsurfing and also available for free on iTunes. Link to him on Netflix and gain access to thousands of ratings and reviews.
Note: Michael Giltz is provided with free galleys and/or final copies of books to consider for review.
REAL LIFE. REAL NEWS. REAL VOICES.
Help us tell more of the stories that matter from voices that too often remain unheard.