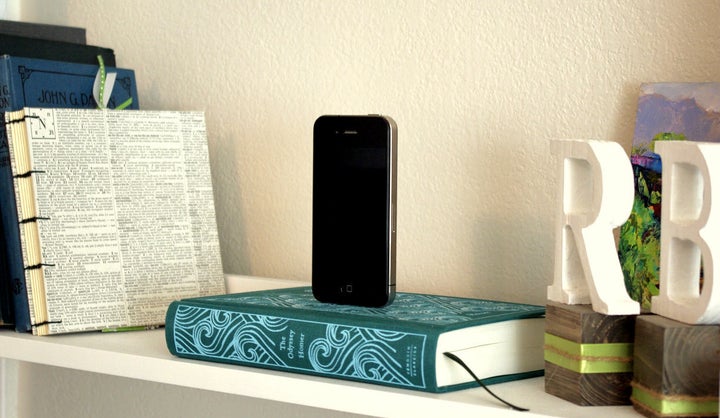 Print's not dead, it's just being put to new use. That's the idea behind booksi, a line of iPhone and iPad chargers made from old books. The designers behind booksi are Rich and Brenna Neeley of Rich Neeley Designs. They started selling their creations in February 2011 out of southern California and have been running an Etsy shop to peddle their literature meets tech designs. They are also currently hosting a deal at Fab.com.
Brenna majored in comparative literature in college and her love of books played large part in her wedding with Rich -- and the eventual inspiration for booksi. "We got married and Brenna's books took over the decoration," Rich recounted in an interview with Etsy. "Her dad made us bookshelves for the altar, and we had book centerpieces on the tables. Then, in the aftermath, she had piles of leftover books that didn't make the cut. This inspired me to create our product. I'd had the idea for a long time, but I hadn't done anything with it. After the wedding I had the time to think and stacks of books to work with."
Apart from the wedding the couple had also used books for home decor between coasters, shelves, paperweights and nightstands. Rich and Brenna find many of the books abandoned or forgotten and repurpose them for an entirely new function. Users can charge their iPods, iPhones and even iPads directly on top of their booksi, with the connection emerging and secured into the cover. The charger/dock books range from $42 to $80 on Etsy and Fab.
Related
Popular in the Community