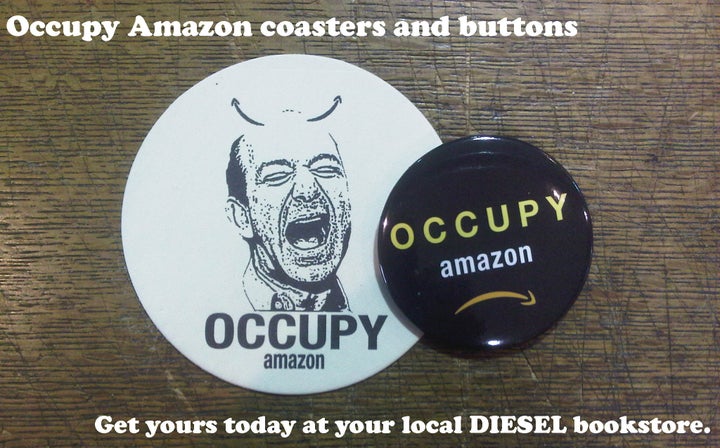 Should people boycott Amazon? Increasing numbers of retailers and publishers have been daring to ask the question, in the face of aggressive tactics by the book industry leader.
Although Amazon offers an unmatched selection of books and other products via its website, some of the Seattle-based company's recent moves, such as its book lending program and its sales tax policy, have led many retailers, publishers and politicians to turn against it. But would enough customers change their spending habits in order to force a shift in the company's behavior?
Earlier this year, a movement in California called on customers to boycott Amazon over the online store's attempts to avoid paying internet sales tax in the state.
The free application allows users to go into real-world stores and scan the barcodes of products that they want, using their smartphone's camera. The app then displays the cheapest price for that same product if bought via Amazon, and also allows the user to make the purchase directly from the online retailer.
As Amazon doesn't have to bear the real-world costs involved in running bricks-and-mortar retail outlets, its prices are often cheaper than those of local stores.
This Saturday, Amazon will offer Price Check customers an extra incentive: up to five dollars off products whose barcodes are scanned using their app. The effect of this is to encourage consumers to use their local brick-and-mortar stores as "showrooms," while not spending money supporting them.
Though this offer does not apply to books, many local booksellers still feel threatened. According to a survey conducted this October by the Codex Group, a book market research and consulting company, 39 percent of people who bought books from Amazon had first looked at the book in a real-world bookstore.
David Didriksen, president of Massachusetts-based Willow Books & Cafe, told Publishers Weekly that the offer is "another in a long series of predatory practices by Amazon. You would think that a company of that size would be willing to just live and let live for small retailers who can't possibly affect them. But, no, they want it all."
Yesterday, the CEO of America's Bookseller Association wrote an open letter to Amazon, describing the company's offer as "the latest in a series of steps to expand your market at the expense of cities and towns nationwide, stripping them of their unique character and the financial wherewithal to pay for essential needs like schools, fire and police departments, and libraries."
Maine senator Olympia Snow (R) released a statement calling on Amazon to cancel the promotion, stating that "paying consumers to visit small businesses and leave empty-handed is an attack on Main Street businesses that employ workers in our communities." She went on to describe use of the app as "incentivizing consumers to spy on local shops."
Some bookstores are fighting back. For the last few weeks, John Stich, the store manager at Diesel, A Bookstore in Oakland, Calif., has been handing patrons free "Occupy Amazon" buttons. Regarding Saturday's offer, he told The Huffington Post, "When we see shoppers taking pictures with their phones or using the app, we won't go so far as to be rude or ask them to leave, but sometimes we'll be sarcastic about it, and ask them, 'Hey, what's that app? How cool!' I think the only thing you can do is make people aware."
Meanwhile, Third Street Books in McMinnville, Oregon has chosen to mark Amazon's Price Check offer with a counter offer of their own: on Saturday, customers will get 15 percent off their purchase, plus a $5 gift certificate. All they have to do is provide proof that they have cancelled their Amazon account.
Amazon has thus far declined to comment about such practices that are perceived by many as predatory. It remains to be seen if enough anger can be stirred up, either by publishers, retailers or consumers, to persuade many customers to cancel their accounts.
There are many financial incentives offered by Amazon to shop on its site; the question some are asking is, are people prepared to pay for the true cost of its dominance in the marketplace?
Support HuffPost
The Stakes Have Never Been Higher
Related
Popular in the Community