When Sirisha was a third grader back in 2011, Room to Read established a library at her school in Andhra Pradesh, India. At that time, Sirisha was struggling with her reading skills, barely able to read a few words, but when the library's doors opened she was captivated by the visual appeal of the environment and a love affair instantly was born.
Sirisha now leaves home early each morning so that she has time to read a few stories in the library before class begins. With support from the school's head teacher, Sirisha is now an avid and skilled reader who reads stories to her classmates and her parents, who are illiterate and proud of their daughter's academic progress. "The library is my best friend -- I love spending time with all those books," Sirisha says. A Day in the Market, a children's book title published by Room to Read, has special significance for Sirisha as it reminds her of shopping trips she made often with her mother to purchase vegetables. "The day I could read it without faltering, I took the book home and read it aloud to (my mother)," Sirisha says proudly.
At Room to Read we aspire to eradicate the notion that a child was born in the wrong place at the wrong time to the wrong parents who could not provide him or her with access to a quality education. We continuously work to encourage education and action in support of literacy and gender equality in education, the two issues which we are focused on.
We have all seen how the power of one voice calling for change, when multiplied across communities and geographies can swell into an indelible force that demands the world's attention. We have seen this phenomenon through the galvanized following of Malala Yousafzai's awareness campaign on the importance of education around the world, particularly in societies where girls are kept out of school. Room to Read's global chapter network, comprised of 12,000 volunteers across 16 countries who serve as ambassadors and fundraisers for the organization, continuously amplify and invigorate our message through seasonal events and campaigns. They strive to give a voice to underserved children around the world who are all too often voiceless in the battle to gain an education and reach their full potential in life.

This October, Room to Read is launching our annual Booktober campaign--a month long movement, incubated by our chapter network, to raise awareness and funds for global literacy, because every child deserves to develop a habit and joy of reading which will bolster their chances of a successful future. During Booktober, it is simple to take action and turn the tide on illiteracy through one of three fun and engaging events -- a book swap, a costume party or Booktoberfest. Participants can choose to join an event already planned in their community (event listings can be found on our website) or host their own event with guidance from our event toolkits and pre-designed artwork and party favors.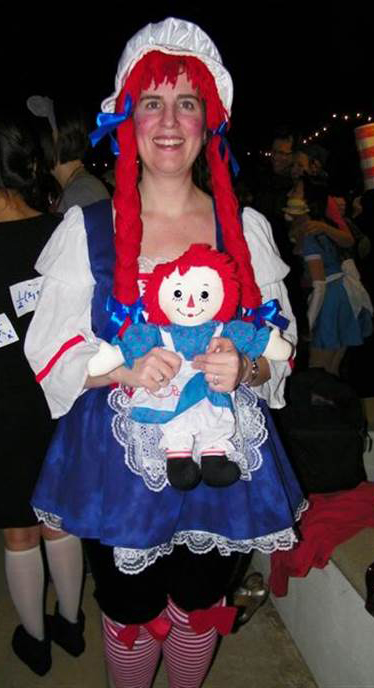 For your Booktober costume party, encourage guests to dress up as their favorite characters from literature.
We hope that Booktober will be a growing force and gain momentum as more and more passionate individuals turn their desire to see change in the world into inspired action. Even a small Booktober gathering of friends or coworkers to raise an investment in literacy can have significant impact on eager young learners in impoverished countries. Just $10 is enough to put 10 colorful and appealing children's books published in a local language into the hands of someone like Sirisha. And I can tell you from experience there is nothing that can match the big smile on a child's face when they crack open a bright new book written in their own language or witness the first school library opening in their community.
I invite you to learn more about Booktober by visiting www.roomtoread.org/booktober and hope you are inspired to join our global movement to end illiteracy and have fun while doing it. Together, we can ensure millions of children develop the lifelong love of learning that will ultimately make the world we live in more peaceful and prosperous.
Let's make this October one for the books.
Related
Popular in the Community