BOOM, a $250 million community in Rancho Mirage near Palm Springs, is still in the early stages of development but set to break ground in 2012. The high-design space geared toward LGBT senior citizens is the result of a collaboration between principal Matthias Hollwich of the New York architecture firm Hollwich Kushner and nine other architecture firms. The architects who designed the community's eight neighborhoods were given free reign but were also challenged to think outside the box when it comes to designing for a retired life. Co.design explains:
"Each firm was given a piece of the 100-acre plot and total freedom to inject their personal style into the space. The only requirements for the architects were that their structures had to epitomize high design in order to fight the stereotypical look of retirement communities, and that none of the firms could have ever done work around aging before, so they could come to the project with fresh ideas."
Originally conceived as an LGBT retirement community, it has evolved to include residents both straight and gay, young and old. The ground plans also include a boutique hotel, a health spa and wellness center, and a playground for visiting grandchildren (the Healing Funhouse designed by Arakawa plus Gins). We got in touch with Matthias Hollwich to ask about his unorthodox approach to designing for a retired life--and more importantly, when can we move in?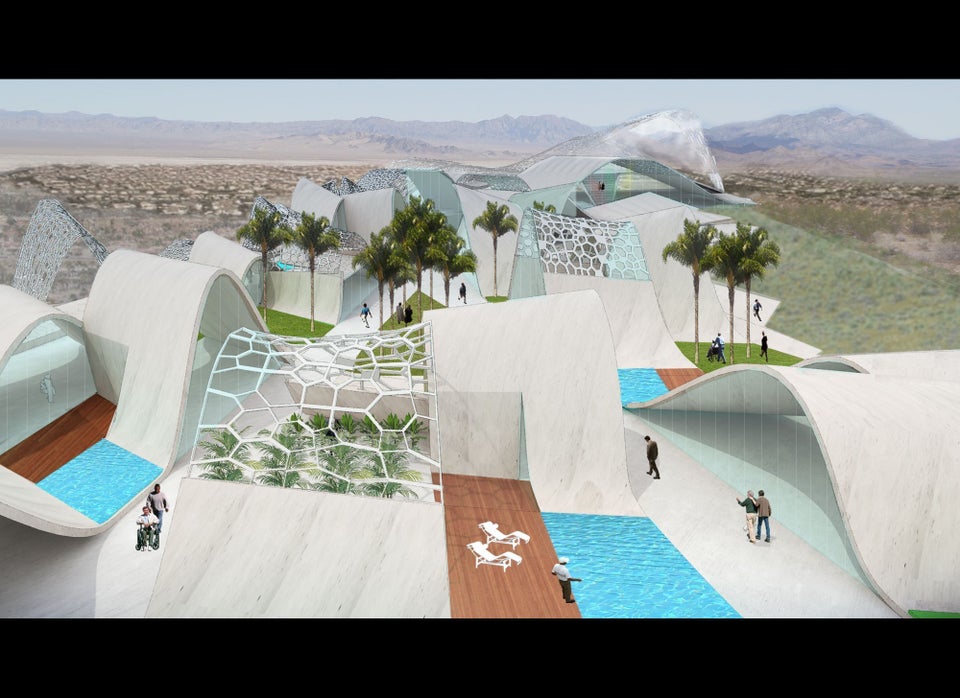 Gallery
HP: Talk about your decision to make BOOM a pedestrian-only community. It's good urban planning, but why is it especially important for senior citizens?
MH: One of the key issues is creating a different environment, and pedestrian community is something unique and novel. Since we can design a new urban condition, the choice was easy--nobody really wants to have a car in their leisure area--but when you look closely, every house is reachable by car, but you can walk to every other building / neighborhood without crossing a street.
HP: You've decided to include prospective BOOM residents in the development phase, as opposed to presenting a final product at the end of the construction. How are you accomplishing this?
Yes, this is one of the big missions we have. Right now we are building out our Facebook presence (BOOM Communities) and have a feedback tool on www.boomforlife.com. In the future we will have the "BOOM Configurator" on Facebook, where people can give feedback on the design, communicate with the architects, and also verify their activity interests with what BOOM is offering. And if we missed something in our planning, we will hear about it and incorporate it into the design.
Also, in 3-4 months we will start a 10 city tour with concerts and workshops where we invite people who are interested in the idea and / or the development to join us and work with some of the architects on the design, as well as sign up as BOOM ambassadors, community leaders, and much more.
HP: While BOOM is welcoming to all residents, you're focusing on LGBT senior citizens. What do you hope BOOM can provide LGBT residents that other senior citizen residences can't?
MH: BOOM started with the LGBT community in mind, because they are mavericks, have a different definition of family, and there is even more age discrimination than in the straight community. However, we decided that this is a 40+ community and open for all--and if retirement is part of that, then everything you need will be there for you (from socializing opportunities, continuing work / volunteering programs, health support, etc.). What BOOM will do different is that with beautiful architecture it also will have a social engine that is about community, integration, and uplift--basically prototyping a new way of life.
Related
Popular in the Community