As a contributor to AARP and host of The Best of Everything series on the AARP YouTube channel, I was invited to participate in the Ideas@50+ event recently in San Diego. My specific duties ran the gamut from greeting attendees while walking around the convention floor to chatting with a few of the celebrity speakers. And thanks to my handy little iPhone I managed to snag a few keepsake photos, too (see below). Not a bad gig.
The outstanding roster of well-known experts from different fields talked about understanding, embracing, exploring, preparing for, and celebrating life after 50 through keynote addresses and breakout sessions focusing on health, fitness, money, travel, and big ideas coming down the pipeline.
We also got to hear more about The Boomer List, a new PBS documentary supported by AARP that debuts on September 23rd, learned about breakthrough technology specific to this demo, saw John Mellencamp rock the last night, and watched five fantastically brave men and women over 50 sing their hearts out to win the first AARP/American Idol Boomer Superstar award. In the end, it was shared by two divinely talented people, who knocked the socks off of everyone in the audience.
We even had a "Community Day of Service" during which I, along with throngs of compassionate AARP volunteers from all over the country, swooped into San Diego neighborhoods to rebuild homes for people in need. It was a truly rewarding few days.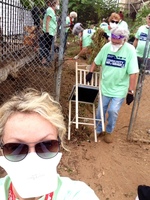 The highlight of my week, though, was listening to and meeting the celeb boomers, all of whom reminded me that a life re-imagined is a life filled with real possibilities and purpose.
Here are a few of the little kernels of wisdom I picked up here and there from some of the biggest names at the event:
Julia Louis-Dreyfus: Be Interested in What's Ahead of You
What she said: "My mother said you always have to have something to look forward to. It doesn't have to be a big thing -- it could be dinner."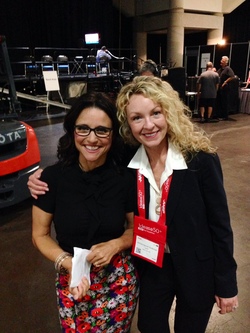 What I learned: If we stop engaging with the world, and lose interest in our own futures, that's the beginning of the end. To live our best lives, we can never stop learning, giving, loving, and embracing every day that's ahead.
What I wish I had asked when I had the chance: What's Joe Biden really like?
Arianna Huffington: Redefine the Meaning of Success
What she said: "The key to success after 50 is to realize that a lot of those things that dominated our lives at the beginning of our careers, and measuring everything in terms of money and power, is no longer what really defines a successful life. Now, the focus should be our well-being, giving back and more than just money. And it all gets better after 50!"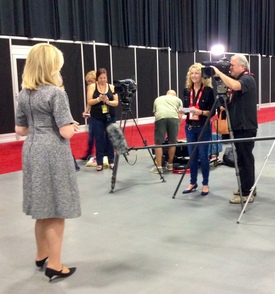 What I learned: Arianna's message resonated with everyone because we're looking for deeper meaning in our lives and relationships, not just more money and power. Fitness, well-being, inner peace, and the satisfaction of connecting with others and giving back are all essential keys to a successful life, especially as we get older.
What I wish I had asked when I had the chance: How many hours of sleep do you really get?
Martha Stewart: Exercise... A Lot
What she said: "Exercise adds years to our life and life to our years."
What I learned: It doesn't take much pushing from anyone, even someone as powerful as Martha Stewart, to convince me that regular exercise is one of the biggest keys to living your best life after 50. Being fit, and as healthy as possible, will help us do all the things we have to do -- and want to do -- as we get older. Exercise every single day.
What I wish I had asked her when I had the chance: How many minutes can you hold the Plank pose?
Erin Brockovich: Never Feel Marginalized
What she said: "First, I can't believe I'm actually a boomer! And second, I will never, ever feel invisible, marginalized or less than... just because I'm over 50! I am as vibrant, engaged and ready for what's next as I've ever been!"
What I learned: Too often people, especially women, start to feel as though they're slipping between the cracks, fading into the shadows, simply becoming invisible. But, Erin's powerful message is one that I've been feeling and living since I turned 50. It's a choice we all must make: either pull the proverbial blanket over your head, or live your life to the fullest after 50, without fear. Embrace your age and your life now. What will you choose?
What I wish I had asked when I had the chance: Are you still pinching yourself that Julia Roberts played you in the movie?
Kevin Spacey: Be Persistent Even In the Face of Failure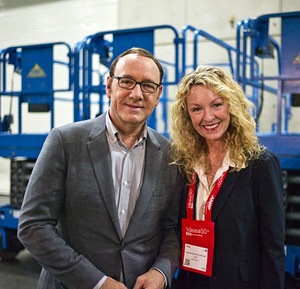 What he said: "For nine years I never got the part. After American Beauty I was at a crossroads. I chose to do something challenging -- something different. I also wanted to be a better actor, and that helped me be ready to play Frank Underwood."
What I learned: Sometimes we have to propel ourselves out of our comfort zones and be fearless, especially as we get older. The world can be intimidating and offer all the reasons why we shouldn't pursue our dreams, but that's the exact time when we need to push ourselves forward.
What I wish I had asked when I had the chance: Are you wearing Spanx?
Until next time, remember this: We can't control getting older, but, we can control how we do it!
Keep me posted on how you're doing by subscribing to me on Facebook and "tweeting" me on Twitter at @BGrufferman.
PHOTO GALLERY
Most Eligible Post 50s
Calling all HuffPost superfans!
Sign up for membership to become a founding member and help shape HuffPost's next chapter