"Life is an art project." She said it so matter-of-factly it was as if the rest of us are missing out if we do not see our lives as part of a grand masterpiece. Vicki Siptak of San Antonio, Texas spends most of her time going from one art project to the next. It might be an amazing statement necklace fashioned from a wind chime; or a thrift garment ripped, sewed and re-purposed; or a mural; or life-size doll. But one thing is for sure, whatever project she is making, it is for the benefit of other people.
Vicki's Art for Charity is known throughout the community for the funds provided to multiple charities. "I don't want to run a business," she said. "Who wants to keep up with a website and financials and taxes? I just want to help others." That is exactly what she does. In 2014 alone, she raised funds for 68 charities. Her high impact statement necklaces appear in auction after auction. If someone stops by her studio, they may purchase a one- of- a- kind necklace for $125, only if the check is made out to the local food bank or food pantry. In fact, according to the Food Bank, the $125 tax-deductible donation will turn into $1625 of groceries or 875 meals for the hungry. Some women actually follow the auctions where she donates her creations and, of course, Vicki wears them everywhere to raise attention for the event where the worn necklace will appear.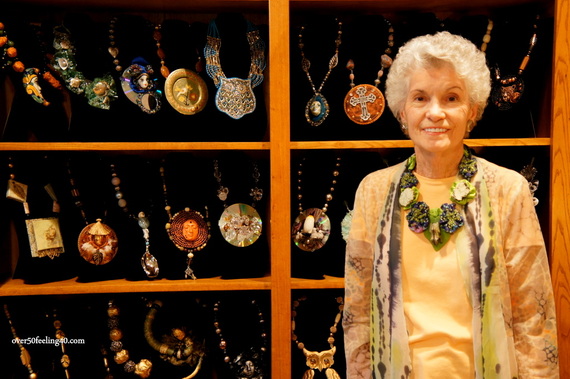 Vicki retired after 26 years in the insurance industry and knew it was time for a life dedicated to art. First, she provided a collection of large whimsical paintings to decorate the walls of the newly built Battered Women's Shelter. More paintings for nurseries, schools, nursing homes, and the San Antonio Animal Shelter followed, but in 2002, a passion for creating jewelry and fiber art captured her heart and attention. The necklaces are made from all types of materials including beads, metals, vintage photography, Pier I coasters, wind chimes, shells, and more. She donates them to the charities to be used for fund raising events. However, there are a few which are so deeply personal to her, she must keep them and not sell or donate. They are tributes to her heritage and she often wears those tributes to special events.
She is intelligent, feisty, creative, diligent and outspoken. Underneath healthy silver hair, she looked stern and said, "Why do you want to know my age? It's not important. This is about me and what I do...not my age. This is my best time of life."
She's right. This is about her creativity, her passion, and her purpose. All used to make a difference and help other people. It is easy to see that brings her great joy
Calling all HuffPost superfans!
Sign up for membership to become a founding member and help shape HuffPost's next chapter