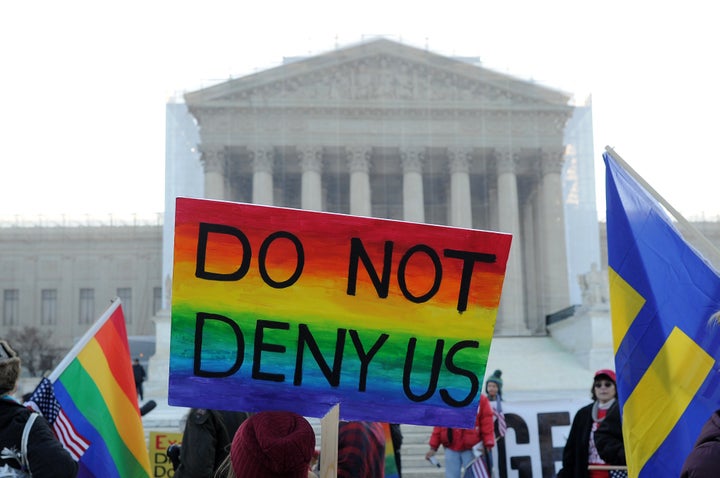 Though the debate continues, a majority of Americans support same-sex marriages -- 53 percent, according to a recent CBS News poll. It's a dramatic increase in support, considering just 10 years ago a Pew Research Center study found that 58 percent of Americans were against same-sex marriages.
That huge lift in support of gay marriage is coming from Millennials, according to Pew Research, with 70 percent of people born after 1980 saying they believed gays and lesbians should have the legal right to marry. We were a bit surprised to see how far boomers lagged behind in their support -- baby boomers, who were part of a generation defined by fighting for civil rights and equality. Support for gay marriage among boomers only rose five percentage points in 10 years, from 33 percent to 38 percent, according to the Pew Research Center. (Their parents in the Silent generation jumped from 17 percent to 31 percent from 2003-2013.)
The Pew study found that 14 percent of all Americans had changed their minds over the 10-year period for a variety of reasons, the biggest being because they now know someone who is gay or lesbian (32 percent), closely followed by a belief that they have become more open to the idea or because they have gotten older.
We asked Huff/Post50 readers what they thought about same-sex marriage and if their views had changed over time. The answers, of course, were just as varied as you would imagine. (To read all of our readers' responses on Facebook, visit our page.)
Deb Hancock Tullos, a self-identified Christian, said that she believed gay couples had the right to get married. "It is not a religious issue, it is a civil rights issue," she wrote on Huff/Post50's Facebook page. "I wish people would understand [that] the [same] consitution that gives us the freedom of worship also protects all citizens not just who is 'chosen.' ... I am 54 and have this same attitude since my mid 20s."
"I hate to admit it," wrote Diane Daly, "but my liberal ass actually believed no at first -- several years ago. I'm ashamed of that, but being honest.....first LOVE IS LOVE. 2nd -- our divorce rate is out of this world. 3rd -- we need more loving couples raising our children -- SO YES !!!"
"Whether you agree or not it is coming," wrote Max Brill. "So we will have to accept it."
"...Always remember you can change the laws in America but you can't change the laws of God," wrote Kathy Metz-Barreiro.
The Supreme Court's decision is expected to be announced in June, but we all know the conversations won't end with that landmark ruling.
What are your thoughts on gay marriage? And has your stance changed as you've grown older? Tell us about it in the comments.
Popular in the Community