Colorado's Contemporary Dance powerhouse Wonderbound (formerly known as Ballet Nouveau Colorado) has established itself as a major force with a variety of successful collaborations. The company closes this season with a new collaborator, Chimney Choir. The new work called BOOMTOWN includes more than twenty-five original songs by the multifaceted folk/rock band.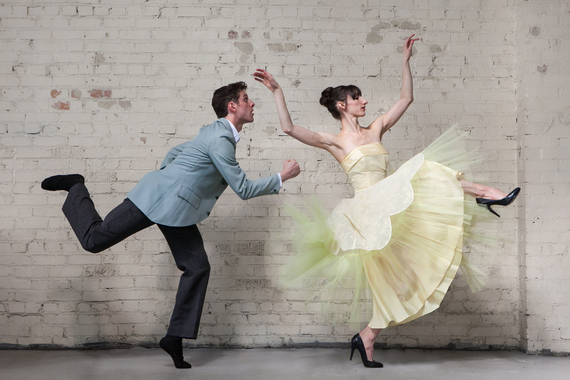 "From the moment I heard Chimney Choir, I was ensorcelled by their immense talent and daring enthusiasm." explained Wonderbound artistic director and BOOMTOWN choreographer Garrett Ammon "Ideas and possibilities flowed easily from our first conversation and it wasn't long before we decided to take the leap into this big, new project together."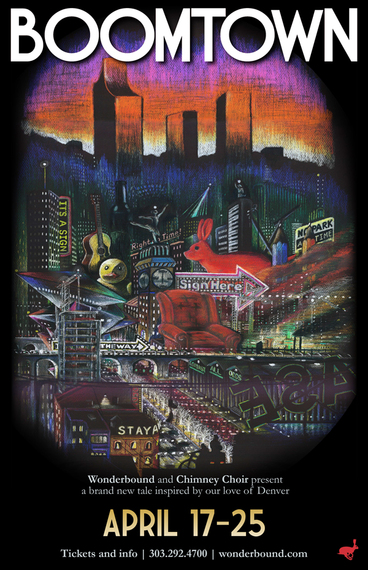 This is clearly a Denver story with strong visual references mixed with recognizable people and places; it's also an adventure mixed with social commentary and more than a bit a humor. Explosive growth, media, romance, and the politics/economics of marijuana are unexpected topics in a ballet, but the artists of Wonderbound and Chimney Choir navigate them with ease.
The storytelling is carried as much by the music and the band as the action on stage. Chimney Choir's five members are not only visible during the performance, they participate with the dancers as the musicians become Foley Artists, Greek Chorus, and even seem to be characters in the action in a few scenes.
BOOMTOWN is the most theatrical creation from Wonderbound so far, by that I mean the most like a musical theater piece rather than a story ballet. Ammon often asks the dancers to speak and certainly develop character, and they deliver. What feels different here is the linear script, structure to the scenes, and the action. The tone reminded me of Gene Kelly's storytelling dances.
The movement style remains true to the vocabulary established by Ammon while managing to remain fresh. Dance purists will find plenty of challenging content to satisfy them, thrilling leaps, unbelievable extensions, and clever lifts. Everyone will be able to appreciate the sexy partner work, creative pas de trois, and energetic ensemble.
This collaboration is my first exposure to this fantastic group of musicians, and I confess I've become an instant fan. The sound isn't easy to categorize, and that is delightful.
"Chimney Choir has always been most interested in experimenting, constantly moving, to discover music and expression. Over the past few years, Denver has proven to be an open and supportive environment." David Rynhart, Chimney Choir continues, "Wonderbound has been at the heart of some of this city's most exciting collaborations, and we are very inspired by their fearless and adventurous spirit. Together, we have decided to explore Denver. Not only as a city, but as a unique circumstance that has brought us all together. It is changing every minute. It is becoming the face of all those moving here, living here, creating here. As we find ourselves in Denver, Denver finds itself in us. "
BOOMTOWN left me eager to see more, and talking about it through the next day.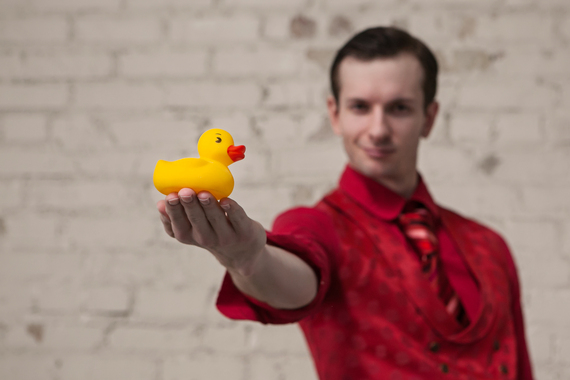 Wonderbound and Chimney Choir take BOOMTOWN to the Lone Tree Arts Center on April 25th. 10075 Commons Street Lone Tree, CO 80124
Tickets 720.509.1000 or lonetreeartscenter.org
Calling all HuffPost superfans!
Sign up for membership to become a founding member and help shape HuffPost's next chapter