"Bartram's Mile will be a great addition to the Southwest Philadelphia community, not only to showcase the Garden's hidden treasure, but to also promote healthy living in an area where people face significant health risks," stated Pennsylvania State Senator Anthony Williams.
Moving Philadelphia toward a more sustainable future, the trail runs along the west bank of the Schuylkill River, between Grays Ferry Avenue and 56th Street, on both sides of Bartram's Garden. The greenway connects to the Grays Ferry Crescent via the Schuylkill Crossing.
"The trail is an opportunity for Southwest Philadelphians to connect to the river and our city's amazing park system for the first time in generations and [will] anchor Bartram's Garden as our community's outdoor living room," said Maitreyi Roy, Executive Director at Bartram's Garden.
Owned by the City of Philadelphia and managed in partnership with the Schuylkill River Development Corporation, the Green2015 plan, released in December 2010, highlighted Bartram's Mile as a major opportunity to convert publicly owned vacant land into public green space. Five years ago, the University of Pennsylvania School of Design's non-profit, PennPraxis, conducted a rigorous community engagement and public planning process, which led to the multi-million dollar project being the first renovation the 46-acre botanic garden has received in nearly a century.
Designated a National Historic Landmark, John Bartram's granddaughter, Ann Bartram Carr, opened the garden to the public and was "one of the first women to run a gardening business in our young nation," according to Roy. "Ann taught her visitors and customers about the need for beautiful plants and open spaces in their lives, paralleling a time when heavy industry was blossoming in the Philadelphia area."
In the spirit of the garden's matriarch and her respect for nature, the opening day of the Bartram's Mile will feature a host of engaging activities recognizing Earth Day. Other activities include Fourth Saturdays at the Farm volunteering (April is National Volunteer Month), the annual Spring Open House and Plant Sale, boating, music and a bike ride hosted by State Senator Williams.
"We're excited to promote healthy transportation and sustainable commerce in the city," said Christian Rwakazina, Chief Executive Officer of Booomers USA. A manufacturer of high quality bamboo bicycle frames, Booomers will lead State Senator Williams' bike ride and showcase their beautifully functional bikes built from nature.
"Our bikes are made by people in Philadelphia and Ghana. We have a social enterprise philosophy and operate our company such that it is good for the planet and the people that purchase our products," said Rwakazina.
In Ghana, Booomers International operates "The Bike To School Program," with support from UNICEF Ghana and the Afram Plains Development Organization, providing 150 of their bikes to girls in the Nchumuru District of the country. In addition, the company donates 15% of its profits to the Yonso Project, which provides scholarship assistance, libraries, and training to students and teachers in rural Ghanaian communities.
Rwakazina, and his partner Georges Beyiha — a Cameroonian and Chestnut Hill College alum who was a member of the school's soccer team — viewed celebrating Earth Day with State Senator Williams as a "no brainer," describing Philadelphia as "truly a global city." The pair aim to replicate much of the work being done in Ghana, throughout the United States, starting in the city of brotherly love, encouraging potential customers to try a different form of transportation and recreation.
"There were a lot of people that wanted ball fields or soccer courts, things that I think of as more traditional recreation," said Joe Syrnick, President and CEO of the Schuylkill River Development Corporation. "That's not what the Schuylkill Trail is. It's more passive recreation."
In line with the Philadelphia's Office of Transportation & Infrastructure Systems' (oTIS) Philadelphia Pedestrian & Bicycle Plan and Better Bike Share Partnership, Booomers represents the type of company working to build equitable and replicable systems that positively impact the city and its residents.
"With the support of Senator Williams and organizations like the United Nations Association of Greater Philadelphia, we're confident that our bike will become more popular and our production will increase," stated Rwakazina. "We're looking forward to this weekend!"
Along with State Senator Williams and other distinguished guests, musician and advocate, Leslie Edward Pridgen — also known as Freeway — will attend Bartram's Mile ribbon cutting. The ceremony begins at 11:00am, on Saturday, April 22, at the new 56th Street Plaza. Senator Williams' bike ride begins at noon; bike rental is free or you can bring your own. Contact Desaree Jones at 215.492.2980 for more details.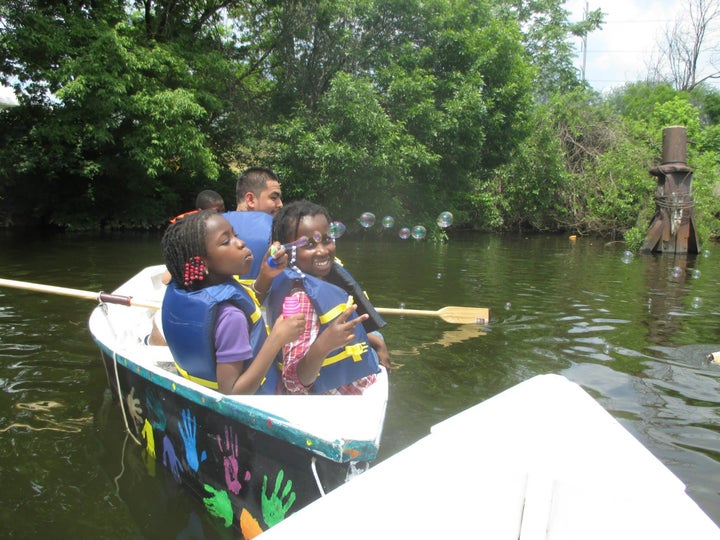 Related
Popular in the Community