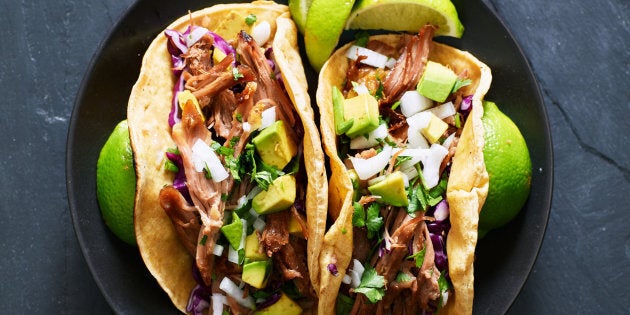 Iron in our diets is something we often forget about in favour of antioxidants, superfoods and strange ingredients which promise superlative health.
We get it, iron isn't a sexy mineral by any means, and frankly, it reminds us of (failing) high school chemistry.
But it is important, and luckily you can boost your iron in ways that are very easy and delicious. Promise.
"Iron is an essential mineral which helps to make red blood cells, and red blood cells help to carry oxygen around the body," accredited practising dietitian Joel Feren told The Huffington Post Australia.
"Iron deficiency can cause things like fatigue, general tiredness, weakness, dizziness and decreased immunity. Pale skin is another symptom.
"Some groups of people are more at risk of iron deficiency -- athletes, teenage girls, woman in general (due to regular menstrual blood loss), toddlers and babies."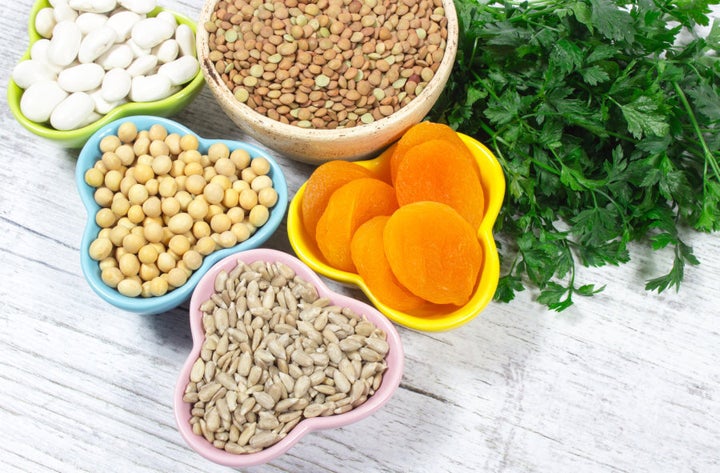 There are two types of iron people can consume, and it's important to know the difference.
"Heme iron is derived from animal sources, and nonheme is vegetarian," Feren explained.
"There's a slight difference in its chemical structure. Heme sources of iron are more bioavailable and are better absorbed by the body. Nonheme sources aren't as bioavailable. It's actually dependent on some vitamin C, which helps to convert the nonheme iron into a more bioavailable form."
While having a small glass of orange juice with your vegetarian sources of iron helps, Feren recommends including whole sources of vitamin C rich foods, such as fruit, vegetables and legumes.
"I try not to encourage too much juice, but certainly combining iron sources with whole vitamin C rich foods like vegetables and fruit," Feren said.
"Fruit can work really well in salads. Even things like lemon juice and zest, and lime juice and zest are great to add to dishes."
Sources of iron

Your best sources of iron are meat, particularly red meat, so things like kangaroo, lamb and beef.
Good sources of iron include legumes, beans and dried fruit. Tofu is also a wonderful source of iron.
Okay sources of iron are green leafy veggies (spinach, kale, brussels sprouts, silverbeet, etc.), nuts, seeds, tahini, dried fruit and eggs.
"Kangaroo is incredibly lean and it's also a fantastic source of iron. Kangaroo steaks on the barbie, roast lamb or beef steaks are great," Feren said.
Chicken and fish also contain some iron, so we certainly don't have to exclude those.
"The recommendation of red meat are 3-4 serves a week, but that doesn't mean you need a slab of meat on your plate. It's about being mindful of getting that balance right and including the veggies and salad."
Whether you're vegetarian or not, Feren recommends including legumes and tofu in your diet.
"I think that's one that often gets overlooked. Tofu is incredibly versatile," Feren told HuffPost Australia.
"Think of barbecues in summer, rather than chucking on snags, steaks and chops, try some marinated tofu. The beauty of tofu is that it takes on the flavour of whatever you're cooking with it. Then you can try things like tempeh.
"I'm big on things like legumes and beans. They are so versatile -- you can use them in stir frys, salads and soup."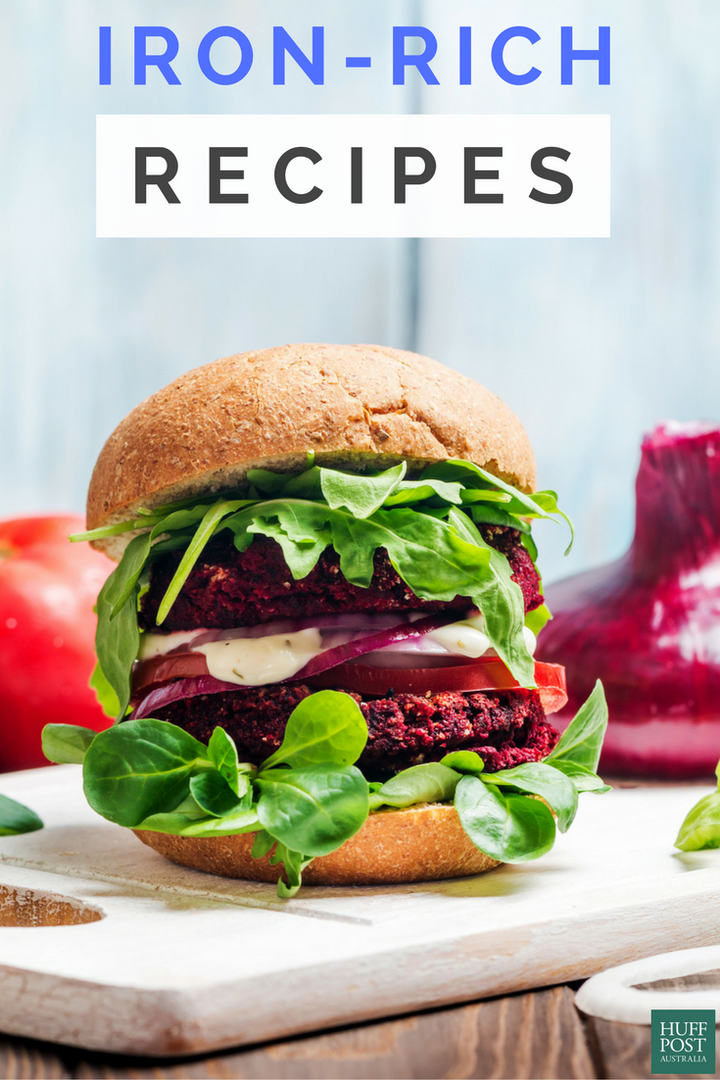 Ready to eat? Here are 12 recipe ideas to boost your iron.
1. Black bean and shredded beef tacos with coriander and lime dressing
Pack your tacos with iron by using blacks beans and beef (or just beans if you're vego or vegan), and adding capsicum for some vitamin C. To finish them off, drizzle over a coriander and lime dressing for an extra vitamin C boost.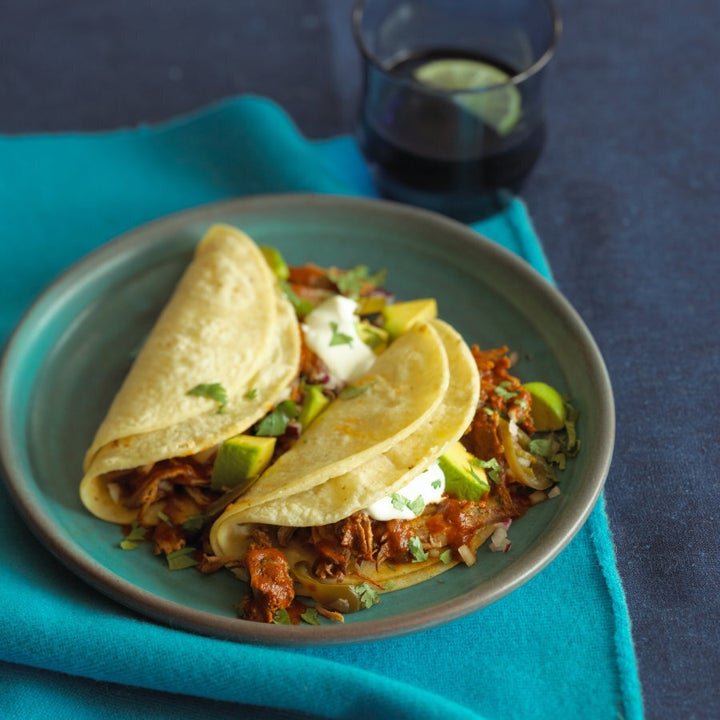 2. Veggie stir fry with marinated tofu or chicken and edamame
Try marinating your tofu or chicken in a homemade satay sauce (thanks peanuts for the extra iron!) and stir fry them with veggies (for vitamin C), edamame and brown rice.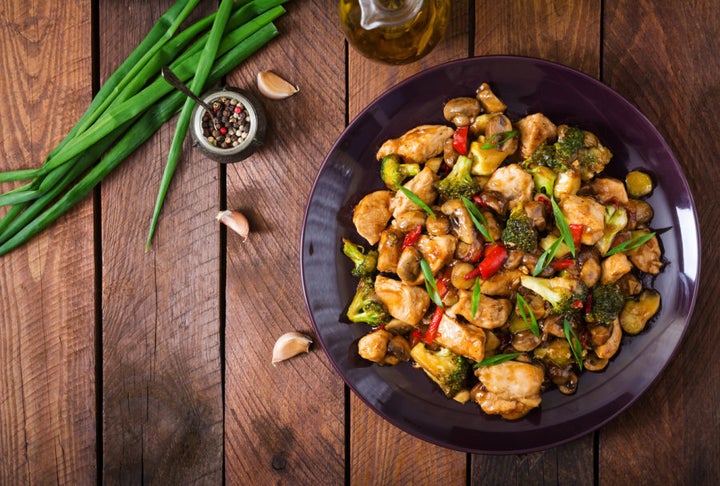 3. Mediterranean bean and vegetable salad
"The legumes and beans work really well in a salad, so combining it with tomato and red capsicum will give you that vitamin C," Feren said. "Even chuck in some dried fruit (currants and legumes are a nice fit)."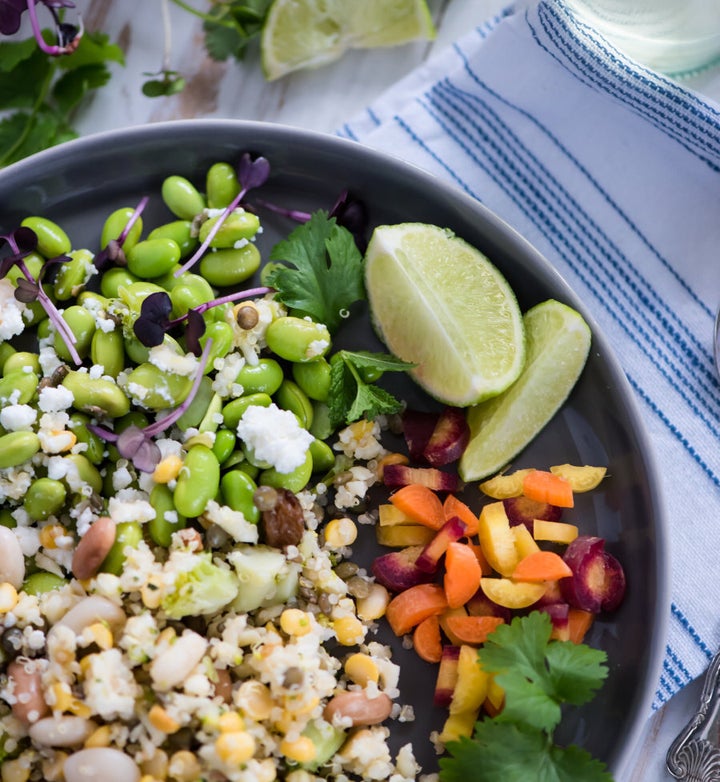 4. Thai beef salad
Thai beef salad is always a top pick when you go out for Thai food, and there's no reason why you can't recreate it at home. The combination of beef and veggies makes this meal full of iron and vitamin C.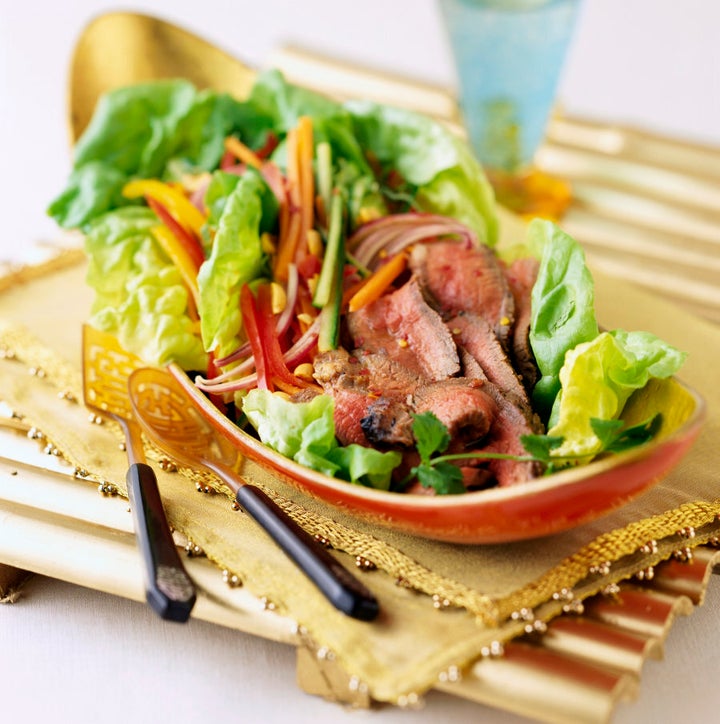 5. Cashew and lamb curry
Iron rich lamb and cashews happen to be a delectable combination, especially when married with fragrant Indian spices. Serve the curry with a cucumber and tomato salad for that vitamin C boost.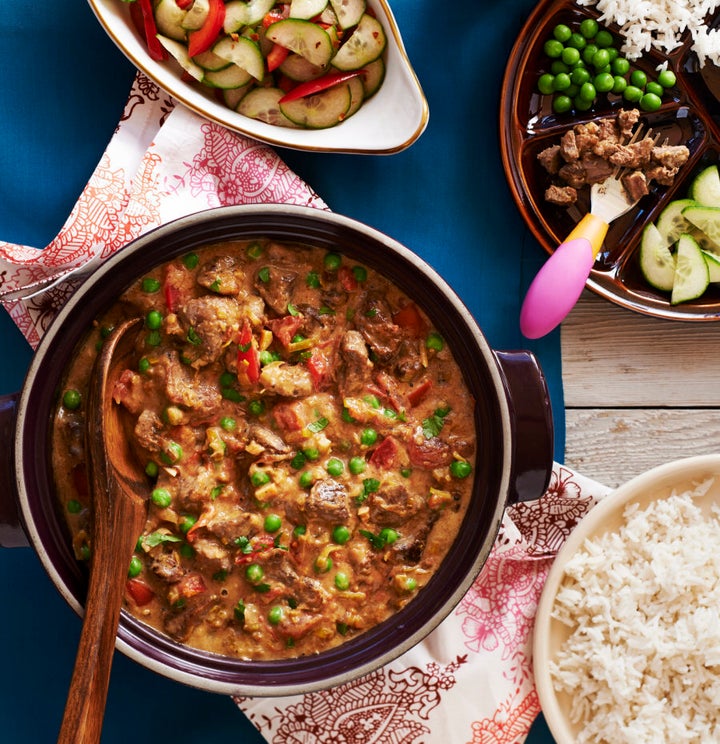 6. Vegetable and bean soup
Soup filled with seasonal vegetables and beans is an easy way to get in not only iron, but fibre, slow releasing carbohydrates, protein and essential vitamins and minerals.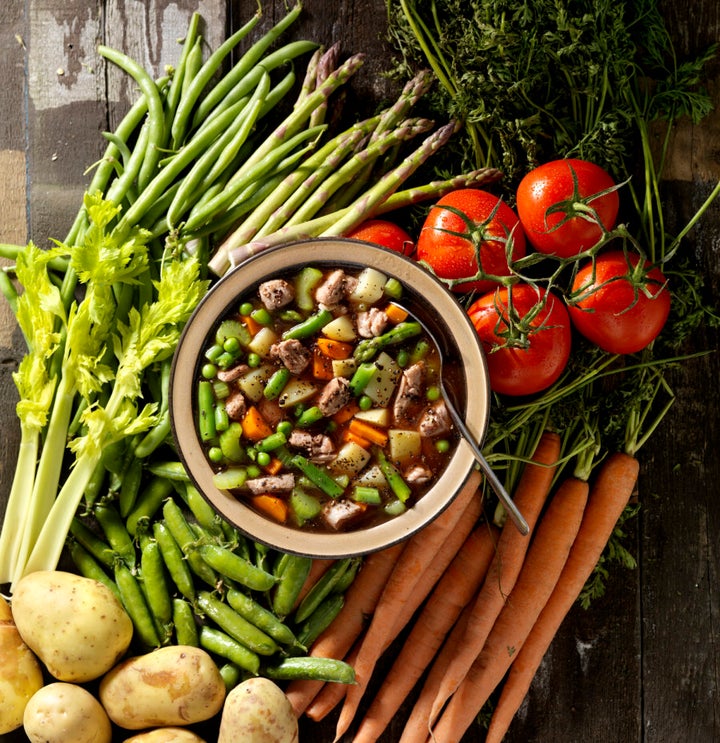 7. Lentil dal
Dal is the ultimate comfort food, especially with lots of buttery naan bread on the side. The lentils make this dish iron rich, and if you want to add extra vitamin C, try grating in some carrot and zucchini.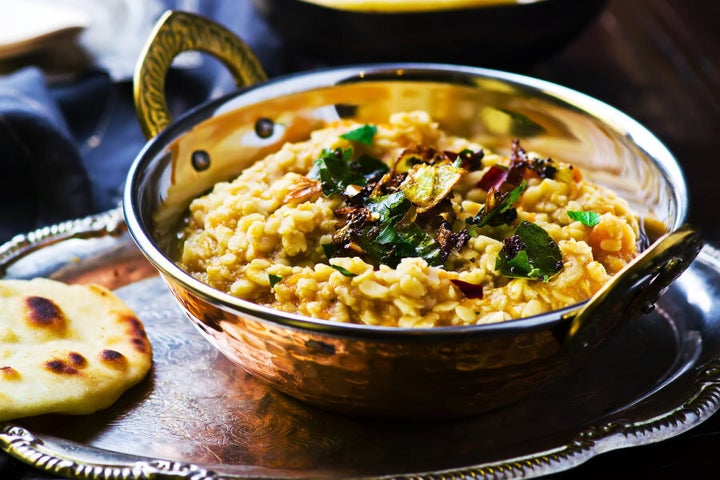 8. Quinoa salad with tofu, toasted almonds, cranberries and tahini dressing
For a hearty, warming salad, combine fluffy quinoa with marinated tofu, dried cranberries, roasted veggies and toasted almonds. Finish with a tahini dressing and you're set.
"Tahini is a good source of iron and it's a wonderful dressing," Feren said.
"If your salad has legumes, tofu and veggies, dress it up with tahini and lemon juice. Not only are you getting iron from the tahini, but you're also getting the vitamin C you need to convert it. It's a win-win and it's bloody delicious."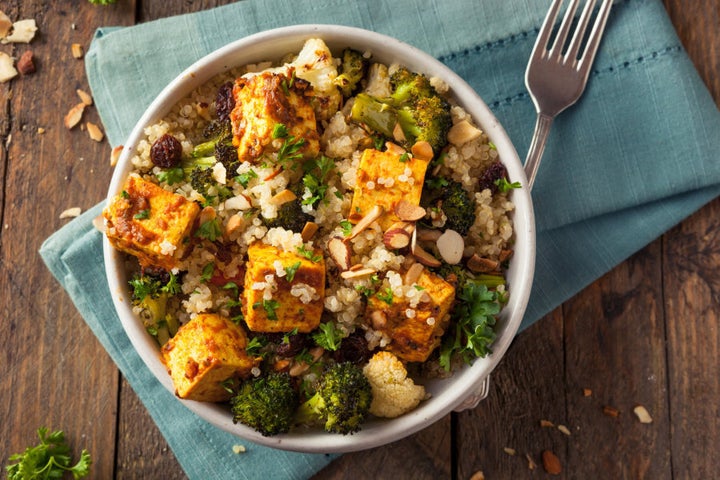 9. Pesto pasta with beans, peas and roasted capsicum
Pesto is a genius way to eat loads of greens, which are a good source of iron. Pair the pesto with whole grain pasta, beans (broad beans or butter beans are perfect) and roasted capsicum or artichoke hearts.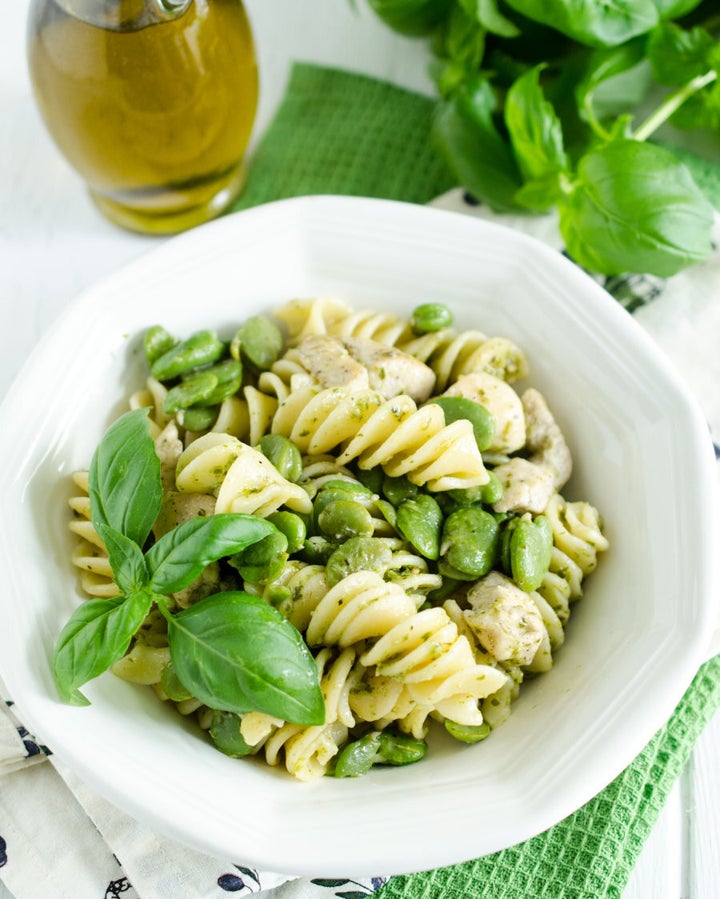 10. Mediterranean wrap with tofu or chicken and mixed greens
If you love wraps and souvlaki, you'll be pleased to know you can tweak it to amp up the iron content. Use tofu or chicken as a base, add lots of greens and salad veggies, and finish with a lemon tahini and yoghurt sauce.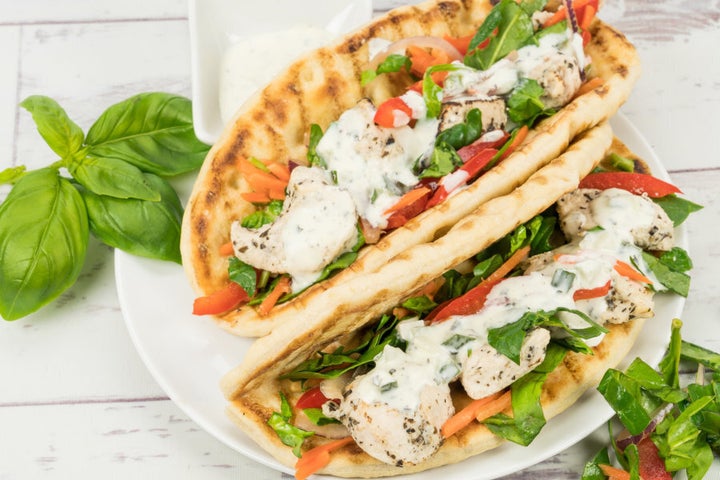 11. Kangaroo or tofu burger with grilled capsicum, salad and pickles
Love burgers? Try a kangaroo mince patty, or make your own vegetarian burger patties using beans and rice. Fill the burgers with lots of salad and greens -- and don't forget the pickles.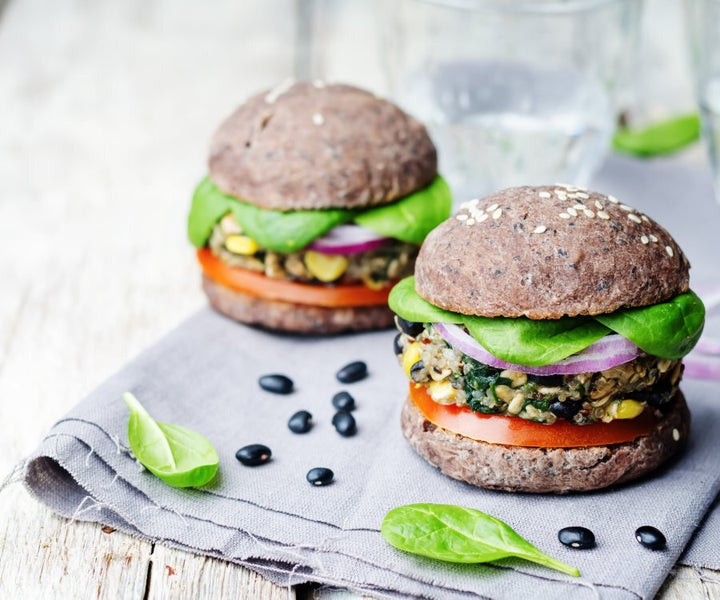 12. Veggie layered lasagna with kangaroo mince or lentils
If lasagna is your favourite comfort food, try mixing it up with kangaroo mince. Or, for a vego version, try using lentils. Either way, make sure you layer lots of vegetables like eggplant, zucchini and tomatoes.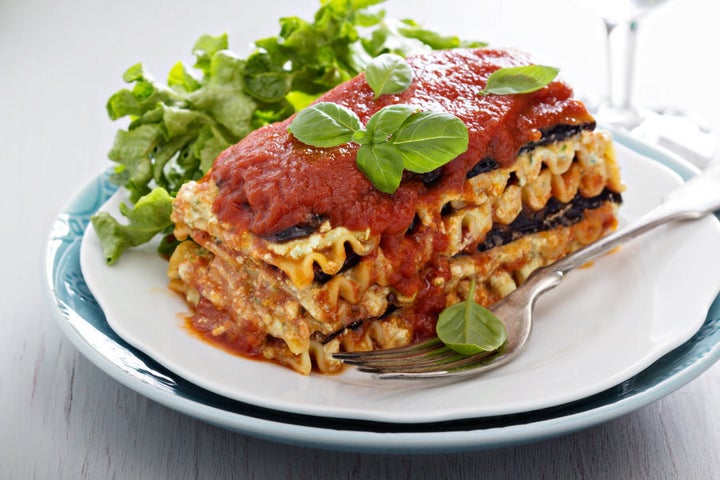 If you are experiencing any symptoms consistent with iron deficiency, check in with your GP immediately.
"Don't self-diagnose," Feren said. "Taking an iron supplement if you don't need one can be toxic. The idea of more is better is nonsense when it comes to iron.
"If you are concerned, go to your GP and get a blood test. There's no point popping an iron supplement for the fun of it -- they can cause things like constipation and are not too kind on your gut. Only take it if you need it."
ALSO ON HUFFPOST AUSTRALIA