After winning the "Most Competitive Games of 2016" by Google, IGG, creators of the hit real-time strategy game Lords Mobile (available on iOS and Google Play), is partnering with Boostinsider and its over 100,000 social media influencers to take over the Nasdaq big screen and wish everyone a Happy New Year.
The Nasdaq campaign which runs from December 29 to January 4 kickstarts a big influencer marketing campaign with IGG and Boostinsider to promote the Lords Mobile game. Boostinsider's famous influencers which include those with as many as 10 million followers will be creatively sharing the game with their audience throughout January 2017.
I interview Heidi Yu, CEO and Co-Founder of Boostinsider, to get her thoughts on why advertise in Time Square and the future of influencer marketing.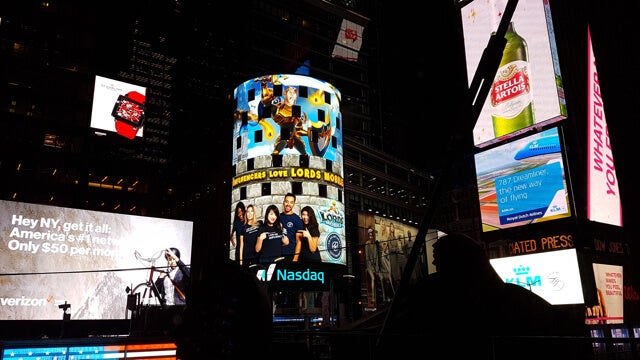 Tell us about this partnership with IGG.
IGG is partnering with us by have our best influencers to play their games and share cool things with their fans.
Why run a Nasdaq advertisement?
It is a join venture where we want to say Happy New Year to everyone to the world.
The background story is that we want to promote positive influential spirits and creative thinking. Social media influencers are making amazingly creative content that can impact a brand new audience. In addition, gaming is one of the most creative things ever.
If we've learned anything from history it's that young energy and millennials are changing the world. Boostinsider is a young startup working with successful companies like IGG to use influencers who make cool content to creatively promote the hit Lords Mobile game.
Let's keep the war in the online game only and peace in real life. The people in the photo all have stories: from left to right: Ruthie the yoga instructor and fitness influencer; Madeline, college student influencer; Heidi, the influencer in the startup industry; Dario the singer, music influencer; and Jade, the Jazz dancer.
Everybody is happy and positive about life, and everyone can be influencers to impact people in different ways. The most important is that we all love Lords Mobile, which recently won Google Play's Most Competitive Game of 2016.
We, the young energy are competitive, innovative, creative, fun, and love peace.
How do you see influencer marketing evolving?
It is the future of the advertising. Google Adwords and Facebook ads are getting expensive and are a form of push advertisement.
Influencer marketing is all about pull advertising. Influencers understand their audience and create content that draws and appeals to their base providing a strong impression for the promoted company.
Push advertisement is weak because you are the person saying that you are good.
Pull advertisement is stronger because other people are saying that you are good.
It's the right combination of earned and paid media since influencers are less likely to promote anything that damages their brand.
It can spread out very fast. For brands, it is cheap and creative. It is a crowd sourcing of creative content building that includes the influencer's endorsement and IP. You have everything right away, thus saving time and money.
At the same time, influencers can also run their online promotion business. They can make money and make more creative things.
But there is a standard. Influencers have to be genuine, only promote the things they really like and believe in. Good influencer are like that, from our experience, they never taken things they don't like just for the money. They know it will bite back and they will lose followers. That's why Boostinsider is establishing a influencer marketing organization to welcome all influencers and influencer agencies to join so together we can create this new industry standard and norm. We don't just take anything for the money.
What's one tip for someone looking to run an influencer marketing campaign?
Run the campaign when your product is really good and stable or no one will take your campaign. Or worst the reviews will magnify what's wrong with your product.
Free T-Shirt
If you think you are an cool influencer, you can go to apply to join Boostinsider. Also share this article on social media and tag @heidihanyu @boostinsider with #boostinsiderFTW. The most shared post will have the chance win an "I am an influencer" t-shirt courtesy of Boostinsider.
Related
Popular in the Community