On a scale of one to ten, I'd rank my husband's style at about a seven. His closet is a little reserved, a bit preppy, somewhat trendy and very comfortable in terms of how he feels (but not in a sweatpant kind of way). A bold move for him would be a bright polo shirt; there aren't even enough days in the week for him to get through his stack of muted cotton T-shirts.
On Friday, he takes the liberty of busting out a pale pink oxford shirt for "casual day." When the weekend rolls around, you can find him in a pair of shorts, a T-shirt and Vans or boat shoes. Going out on a limb style-wise for my husband is his red-framed Ermenegildo Zegna glasses or his lace-up Vans.
Because his closet is basically a watered-down J. Crew catalog, we went to the store in search of new shoes ... two years ago. And, two years later, I'm still frustrated that the brown suede ankle boots he bought have been worn a total of two times -- once out of the store and once on a rainy day in New York City with the intent of ruining them so he would be off the hook for wearing them ever again. Fortunately for me they survived the inclement weather. When I ask him why he doesn't wear them, he tells me "they're ridiculous," which I'm convinced is guy-speak for "they make me feel ridiculous and inadequate in the style department."
He thinks his feet look like sailboats beneath him and although he'll admit they're actually comfortable, he refuses to leave the house in them. No matter how many times I tell him how cool they are or how great they look on him, they stay tucked away on the bottom shelf of our closet, keeping his rarely-worn tuxedo shoes company. He's admired them on other people and some of his best-dressed friends own similar pairs, but that doesn't stem his very strong aversion to them. In an attempt to show me how serious he was about trying to incorporate them into his wardrobe, he purchased a pair of new shoelaces, attributing his distaste for the shoes to the laces they came with ... to no avail. The kicks definitely have a stigma at this point, there have been more than a few times he's had them on and right as we're walking out of the house, he'll kick them off and say "I can't wear these!" and then he'll happily return to his loafers.
His sense of what he can get away with isn't always on par though. His favorite polo shirt is a hand-me-down from his father, with a business logo on the chest and two small moth holes over his left pectoral. I guess we all have our favorite slub shirts, so I can't exactly harp on him for that. Have I mentioned that he's 6'5" and owns three yellow polo shirts? He once wore to a pick-up game of basketball and all the guys on the court kept referring to him as "Big Bird" -- a pet name I have now adopted for him from time to time.
Don't get me wrong, I'm not saying I wish my husband focused more on his wardrobe or was the type to shop til he drops -- because after all, if that were the case I'd have to sacrifice valuable closet space. There's something nice and manly about a guy who can just throw something on and look presentable, which is where I'm grateful for his preppy influence. Now if only he'd put the damn boots on (and get rid of his yellow polo shirts).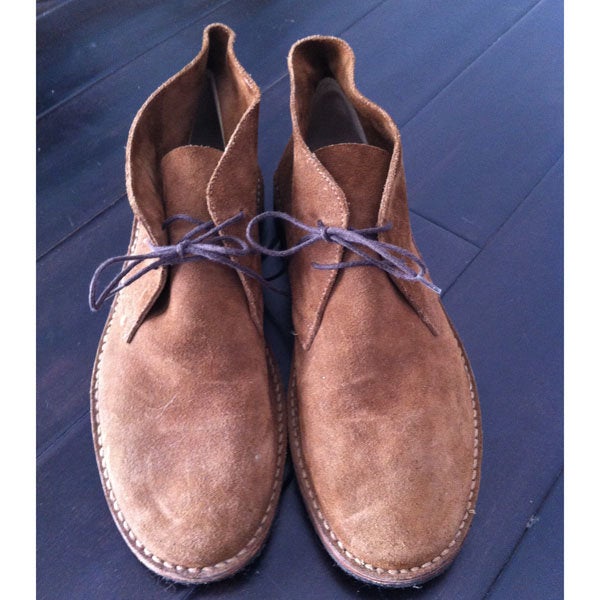 My Husband's Style Drives Me Nuts